Don't be put off from doing a creative textiles course because you feel that you lack creativity or art and design skills. When Judith Mott started a Level 3 in Patchwork & Quilting course with the School of Stitched Textiles she didn't consider herself to be 'a creative person'. Read Judith's story and discover how our courses have nurtured her design skills and unlocked her creative confidence to open up 'all sorts of new possibilities'.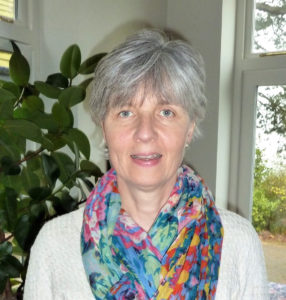 'I would never consider myself to be a creative person. At school I was advised to give up Art at 14. Although I have taken adult education courses over the years, from cake decorating and bread making to batik and bridge, it is my sister in New Zealand who has been considered the 'arty one'. Over the years I have admired her beautiful patchwork quilts and wall hangings. Five years ago she shipped me back home with a cutting mat and rotary cutter – not the easiest things to fit into a suitcase.  The Patchwork Basket in Newent near Gloucester was my starting point and a year-long sampler quilt course provided a sound base of patchwork skills.  I followed this with a medallion quilt, a couple of jelly roll quilts, attended appliqué workshops and gained wonderful support and friendship from my fellow quilters.
Gaining creative confidence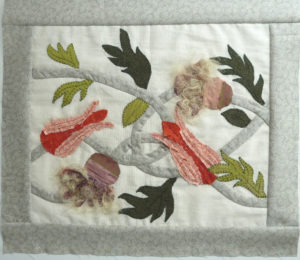 In January 2016 I decided to start the City and Guilds Level 3 Certificate in Design and Craft Patchwork and Quilting accredited course.  My motivation was to give direction and purpose to my quilt-making as well as to learn new skills, and gain creative confidence.  I have enjoyed the research required for each module, especially my focus on the Arts and Crafts movement, which took me from Wolverhampton to Walthamstow, via the Cheltenham Museum, Rodmarton and Kelmscott Manors, the V & A, and Blackwell in Cumbria as well.  Now I go into art galleries and museums, rather than walk past them, see design and colour everywhere and visit as many quilt shows and exhibitions as possible.
I have found that my taste in fabrics and styles of quilting has changed considerably with each passing year. Whilst early in my patchwork journey I was drawn to country styles, I am now leaning towards the clean cut modern designs which can often be seen in international work.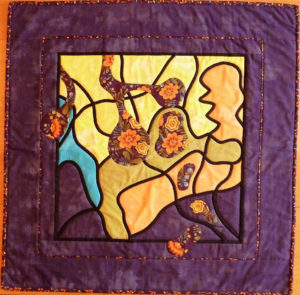 It's wonderful that I have been able to share my City and Guilds experience with my sister. Even though she is on the other side of the world, I am pretty sure I have been to every patchwork shop in the South Island of New Zealand on a 'tiki tour'. I enjoy sourcing fabrics you wouldn't normally find in the UK for specific modules. It's often challenging finding the space in my suitcase for all the exciting textiles I have found.
The Level 3 Certificate is demanding, especially when tackling it as a distance learning course. Some modules I have found relatively easy to complete whilst others have been decidedly more challenging.  Fortunately, one of my fellow quilters has also enrolled on this course, so we text and meet up sharing experiences and thoughts which helps keep us on track. Gail Cowley, my tutor at the School of Stitched Textiles, has always been very encouraging and helpful when I have emailed for advice and so far things seem to have gone well.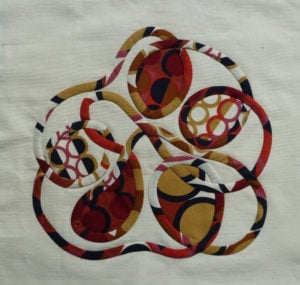 I recently gave up full time employment on the understanding that I would stop saying 'no' to things and embrace opportunities as they arise.  I am just over halfway through the course and although I don't know where this certificate will lead me, I do know that it will open up all sorts of possibilities as far as creating patchwork projects are concerned – no longer will I go for the kits nor will I be so afraid of free-motion quilting!  What I also know is that you don't have to be a brilliant artist to take this course, just have enthusiasm and determination and a love of sewing.'
Thank you Judith for sharing your story with us. It is lovely to see the enthusiasm and the passion that you have for sewing and patchwork.
We are firm believers that everyone has the ability to be creative. If you're a stitching enthusiast then take a look a the courses we offer and discover how we can grow your creative confidence.