Because our textile craft courses are lengthy, comprehensive programmes, for many they provide a much needed focus and direction. Whether it's for a personal achievement, crafting for mindfulness or to advance professionally, hear from our graduate, Anne Hartland, who says our textiles courses were the very thing she'd been seeking to fill a gap.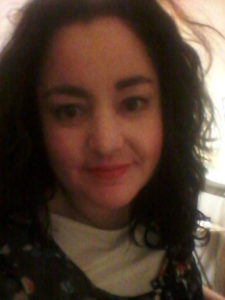 'My name is Anne, and I'm delighted to be able to share my textiles story with you.
I'm sitting at my table at home to write this, and this is now my happiest place to be. These days, I can sit for hours working on my course designs, or stitching sample blocks. My relationship with textiles began when I was very little. My mum can knit, crochet, sew, and embroider, and makes the most beautiful cross-stitch. She patiently taught me all the basics. I remember being about 7 years old and trying to make a pair of shoes out of cardboard and fabric!  I've always loved to sew and have usually had some small project on the go (some worked out better than the fabric shoes!). But life wasn't always this peaceful.
School life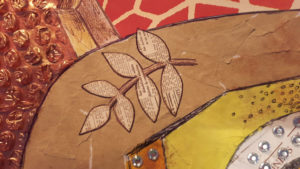 When I was young, I had always enjoyed school and tried hard. But around the age of 13, I began to struggle to engage with any of the work. My behaviour changed, and I left school with just a few exams and not much idea of what to do next.  I always felt that something was missing, somehow, and I could never seem to settle into anything for long. I knew I couldn't control my behaviour in the way other people seemed to, and some of the things I started doing were not very healthy, but it took me many years to recognise that something wasn't right. Lots of people in recovery will talk about this feeling, that there is a "gap" inside that they have to try and fill in some way.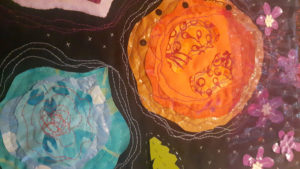 Eventually, I went back to college and studied for a BTEC in Art and Design. My teacher thought I was quite good at ceramics, so I went on to study it at University in both Plymouth and London. Life outside college was quite chaotic, but I did manage to scrape through both courses. I was grateful to have had the chance to get my degree because after selling my work for a short time, I went abroad to teach English. I worked in South Korea, Hong Kong, Eritrea and Poland, and was privileged to be able to spend time travelling around South East Asia, Australia and New Zealand. I loved learning about the different places I visited, but I also learnt that you can't easily leave your problems behind. They always seem to follow you around.  On a trip to New York, I visited the American Folk Art Museum, and found the most beautiful quilts, made by the early settlers.  I really fell in love with those quilts, and never forgot them. That was back in 2008.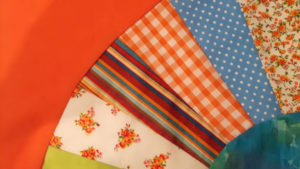 My first quilt
I really enjoyed the teaching, and came to Bournemouth eight years ago to train as a Montessori teacher. I loved the work, but two years ago my health issues finally caught up with me, and a lot of things happened at once. I had to stop work, and I began to access the support networks available. I was finally diagnosed and treated with medication, and I used the local recovery services. It took time to get things right, but life has become calmer and much more manageable. I also had more time to try new things, and in the first year I bought some fabric and a book, and made my very first quilt. It was a simple strip-pieced quilt for my bed, but I was so happy with having finished it! I made a few smaller quilts and other projects, but I felt there was only so much I could learn by myself. I had some ideas for source material, but I didn't know how to develop these into my own designs.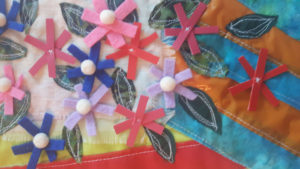 I found a course locally, and applied to City and Guilds for a bursary. It is a very thorough process through which to apply, but I was invited up to London for an interview, and was absolutely delighted when I was offered the grant for my course. The local course was cancelled at the last minute, but luckily I found School of Stitched Textiles and they advised me on the right level for me to study at. I wasn't sure how it would work, studying a practical course online, but the course was easy to follow right from the beginning, and is laid out in a fun and engaging way.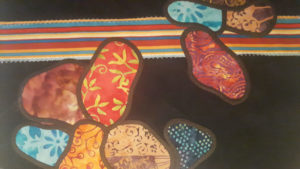 The course is well-structured, and takes the student right through the design process, step by step: from collecting source material to realising a finished sample. I am now on the penultimate design module, and it has been a dramatic (but painless!) learning curve. I find it useful to look back at my progress.
Filling a gap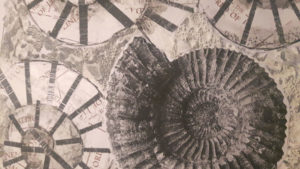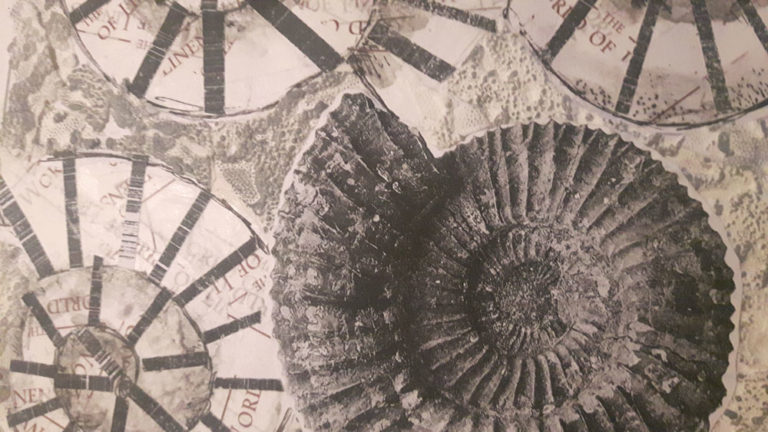 The course is helping me to push the boundaries of what textiles can be, and I've particularly enjoyed creating the experimental samples. I'm learning to find inspiration all around me, and I'm gaining confidence in what I do. I've started looking at everything as a possible source of inspiration, and the coursework has become a part of my daily routine. I feel as though I am laying the foundations for a future as an independent crafts person, and that is a very satisfying place to be. Tutors are always on hand for support and to offer encouraging and positive feedback. For me, my work is helping fill the gap that people in recovery talk about with something positive and meaningful.
 As far as the future goes, I want to keep learning as long as I can, and then look into selling my work. I've been to see a careers adviser who has given me some pointers for when the time comes, which proved very helpful. I help run some drop-in art groups for women in the local area, and am interested in working within my community on creative projects, as I know how much this has helped me. I'd like to be able to pass that on to others. But for now, I am just enjoying the learning, and being able to spend time every day doing something I love.'
We'd like to thank Anne for sharing her very personal and positive story with us. We know that crafting and textiles can really enhance the lives of so many, and we're very happy that our craft courses provide a great focus.