At the School of Stitched Textiles we're passionate about three things: 
Textile Education (it's what we do)
Promoting crafts and creativity (it's so good for mindfulness and wellbeing)
Independent craft and haberdashery stores (we'd be miserable without them)
So, we've come up with a way to combine our passions in the hope that it will get more of you utilising our amazing indie stores, and get crafting this Christmas. We've put together an amazing list of Christmas related products, kits, and workshops, provided by the independent businesses from our Stitch Directory. So whether you're looking for a cute project, gorgeous gift wrap or a stocking filler for a stitch enthusiast then this is the blog for you. 
Why Craft?
Studies suggest that activities like sewing, knitting and drawing are some of the best ways to achieve mindfulness. When we practise mindfulness it can positively change the way we feel about our lives and help manage stress. Creativity has also been proven to slow cognitive aging, generates a sense of fulfilment, and helps to build social connections. It's also a really inexpensive way to enjoy some much needed downtime.
What is the Stitch Directory?
In the UK many of our haberdashery shops have been around for decades. They were established to support homemakers or were born around a thriving industrial revolution. At the start of the Pandemic we feared that independent craft stores wouldn't survive so we set up the Stitch Directory: A free resource where independent shops can promote themselves to our huge cohort of students and followers. 
We got in touch with our Stitch Directory businesses to ask them about the Crafty delights on offer this Christmas. We were inundated with festive fabrics, Christmas Kits and holiday themed haberdashery. We've hand-picked our favourites to inspire you to find time this Christmas to enjoy the art of Christmas Crafting.
Northern Yarn
One for knitters! Indulge yourself or a loved one with this limited edition, unique, festive gift box full of hand made, exclusive treats for some well deserved down time during the busiest part of year. The Pine Snow Festive Box includes local yarn, an exclusive pattern, award-winning chocolate and tea, as well as a music playlist you can download. 
Leave a review on the Stitch Directory.
Fabric Fox
Fabric Fox sell beautiful modern fabrics that are unique and fun. Get into the Christmas spirit with their range of modern Christmas fabrics. Their quilting and patchwork fabrics are 100% premium cotton and are created by modern fabric designers, so you will never have to compromise on quality or style!
Leave a review on the Stitch Directory.
Appletons
Established in 1835, Appletons stock pure British wool which is all sourced in the Yorkshire Wool Markets. All of their wool is dyed and spun in Britain! For the perfect Christmas project why not try their gorgeous Michaelmas Goose. Suitable for experienced needleworkers, it consists of a variety of embroidery stitches to create a textured and vibrant image measuring 32 x 32cm.
Leave a review on the Stitch Directory.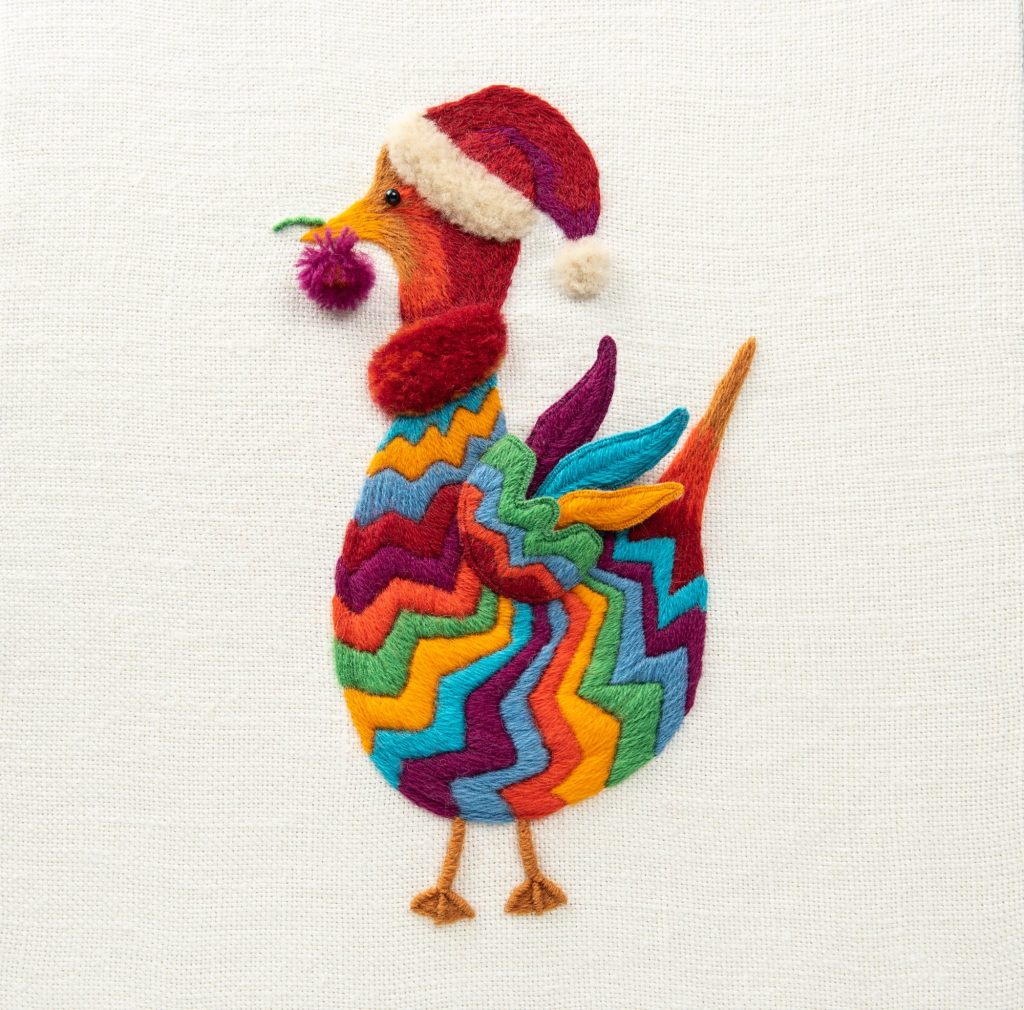 Creative Thread Studio
In the run up to Christmas and for those that want to escape the World Cup, Creative Thread Studio are offering a range of festive craft workshops. Each conveniently 90 minutes long! Workshops include Dorset Button making, Hearty the Snowman and Concertina Advent Calendar. If you're not in Lancashire they also offer some lovely festive kits that you can make at home.
Sew Confident
Sew Confident run classes in Chorley, Dundee and Glasgow. They also stock a range of stitch supplies and equipment and offer lovely DIY projects for beginners and experts. This Christmas they're offering gorgeous hand embroidery kits,  Christmas decoration panels and advent calendars, and an advent calendar full of unique sew in labels.
Review them on the Stitch Directory.
The Little Craft House
The Little Craft House want you to share their passion for crafting this Christmas. If you're in the Shipley area then check out their collection of workshops on offer.
Review them on the Stitch Directory.
Good Fabric
The online store – Good Fabric – have put together a lovely collection of stocking fillers for sewist. They come beautifully packaged and are great for those secret santa gifts. Their orange magnetic pin holder bracelet is really popular.
Review then on the Stitch Directory.
Always Knitting and Sewing
If you're looking for something a little different, Always Knitting and Sewing have lots of beautiful festive fabrics. They stock traditional Christmas prints as well as Liberty fat quarter bundles. We also love their lipstick pin case.
Review then on the Stitch Directory.
William Gee
William Gee are a leading stockist & distributor of all haberdashery. For stitching enthusiasts they're offering a special sewing advent calendar from Hemline, packed with 24 essential sewing items. As well as fabrics, threads, and host of haberdashery they also have a lovely range of needlecraft related gifts.
Review then on the Stitch Directory.
Treasure Kave
The Treasure Kave offer ready made hand stitched gifts, like their Christmas Berry Brooch,  as well as kits for beginners. If you're looking for complete an achievable Christmas themed project then Treasure Kave have some great options.
Review them on the Stitch Directory.
M Courts
Wrap your gifts and trim your tree in style this Christmas! M Courts have the biggest range of Christmas Ribbons. From rustic wired ribbon to metallic spot Christmas ribbon there are so, so many gorgeous styles to choose from.
Review them on the Stitch Directory.
So go ahead and enjoy some Christmas crafting! Enjoy some downtime and support these amazing independent businesses. Feel free to share your projects and purchases with by leaving a comment below.