Cornwall based pattern designer, Samantha Hussey- commonly known as Mrs H – could be described as quintessentially British. However with a worldwide following of 'bagineers' (fans), her patterns have global appeal! Mrs H is the founder of Sewing Patters by Mrs H and The Bag Retreat. She also co-hosts the Bag of the Month Club and is manager of Swoon Patterns.
Mrs H's patterns are designed for all sewers! With simple instructions and photo illustrations, Mrs H's goal is simple: to empower the bag maker within us all! Her site includes a wealth of bag patterns, from toiletry totes to simple swimming bags and all are instantly accessible from the Mrs H Site. You'll also find details of face-to-face 'retreats', and a catalogue of helpful tutorials. We had the pleasure of catching up with Mrs H to ask her about her latest project and life during lockdown. If you're after a nice new bag or just looking to try something new then we'd definitely recommend taking a look at Mrs H's bag patterns.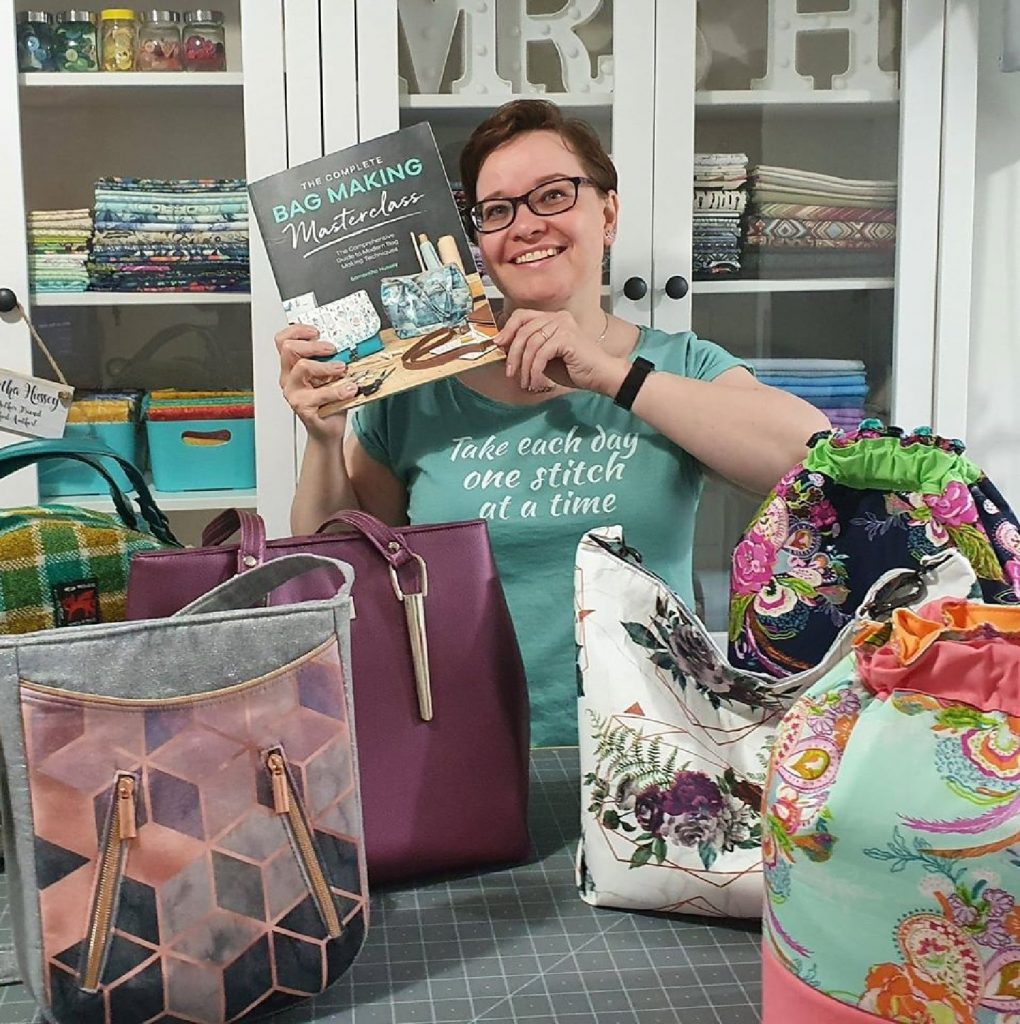 Tell us about the piece you're currently working on. What was your inspiration for it, and what's your process?
I've just moved my studio from Wales to Cornwall, so right now all of my projects are packed away in boxes!
However, the inspiration for my sewing patterns usually comes from either a skill-building technique or from a beautiful piece of bag hardware. With my most recent project I knew I wanted to create a handbag, rather than a crossbody, shoulder, or backpack style, so I started with a rolled grab handle, and worked outwards from there.
My original inspiration for The Button Lock Bag, which I released towards the end of January, came from the idea of using darts on a front panel of a bag to give more room inside a bag, while keeping a modern, fashionable shape. While looking for the right catch for the flap, I fell in love with the beautiful big Button Lock from Emmaline Bags and the design became a twofer – teaching two techniques in the same pattern.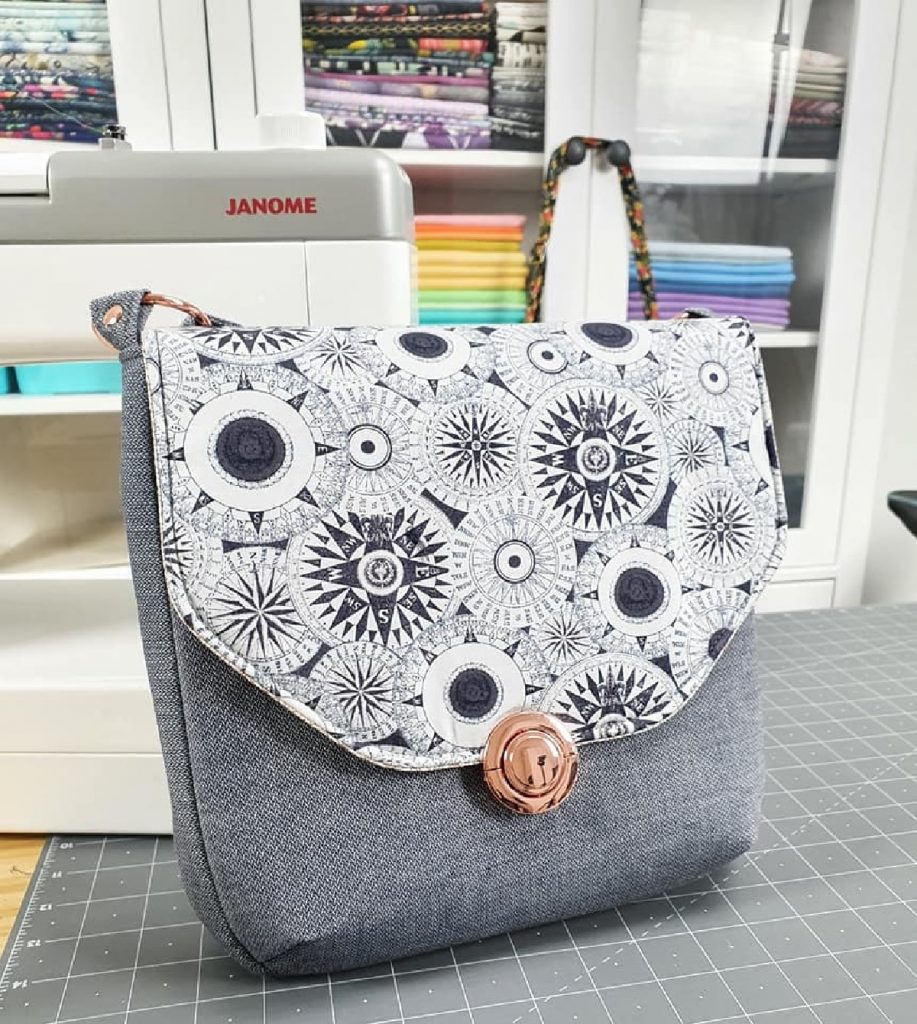 As to the process of design, I'm able to visualise 3D shapes as their 2D components, so I'll usually begin by making a very rough sketch in my notebook, draft a set of pattern pieces, then sew up a sample to see if it works. Sometimes it takes a few tries to achieve my aims. For instance, with The Ring Sling bag, my goal was to design a bag that would require very little stabliser, instead maximising stability through structure by offsetting the seams. I think I made three test bags before I was happy with the final design concept.
Once I'm satisfied with the design, I send my pattern pieces off to my graphic designer. Then  the less-fun process starts of turning the design into a written pattern! I write down the steps as I sew them, and take photos as I go. These instructions and pattern pieces go out to my testing team – a wonderful and diverse group of bagmakers with different levels of bagmaking experience. They are great at identifying errors or any issues of clarity – I don't know what I'd do without them!
And, they are so creative! It's wonderful seeing the many different ways that bagmakers interpret my sewing patterns!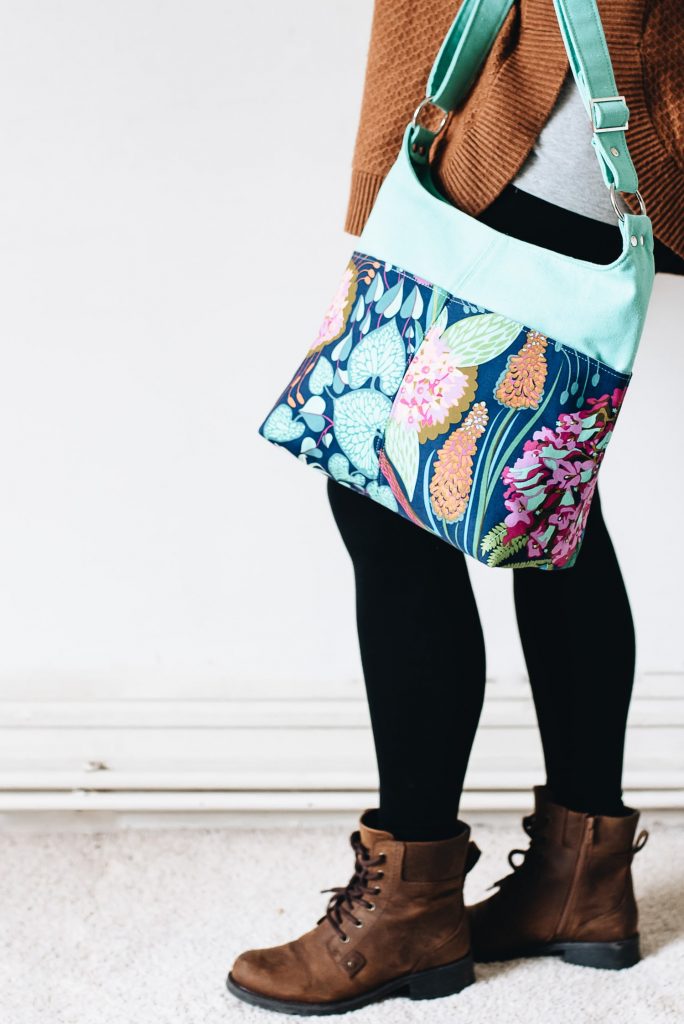 How did you get into sewing?
Oh wow! That's a tricky one! I have fuzzy memories of crafting with my grandmother when I was very, very young, but my first clear memories of sewing are from my high school textiles teacher, Mrs Randall.
What is funny about this, though, is that from school up until around eleven years ago I actually sewed very little. It's only when I needed a thrifty gift that I found bagmaking, which became my passion and then my career!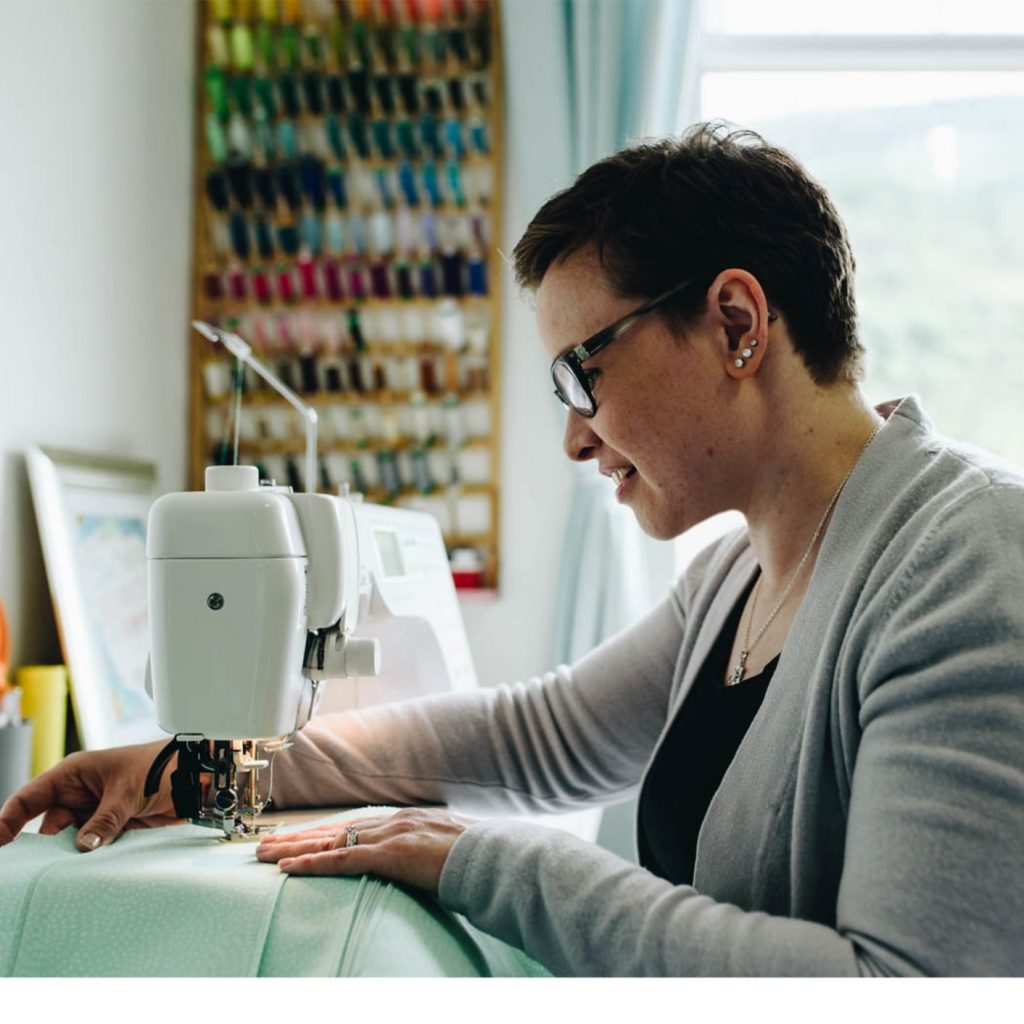 Can you tell us more about where you get your inspiration for your patterns?
I am inspired by the bagineers who sew my designs, by fabric designers, and by bag hardware producers. I've just received a fabric order that includes a lovely large-scale print. I'm already mulling over in my mind ideas for bag shapes and styles that might best show off the print.
When I started designing The Hope Handbag for The Bag of the Month Club we were in full lockdown. I was very conscious of the fact that many people are having to be careful about their budget. So, I challenged myself to create a pattern that uses very little hardware, hopefully making it a little more budget-friendly for my bagineers.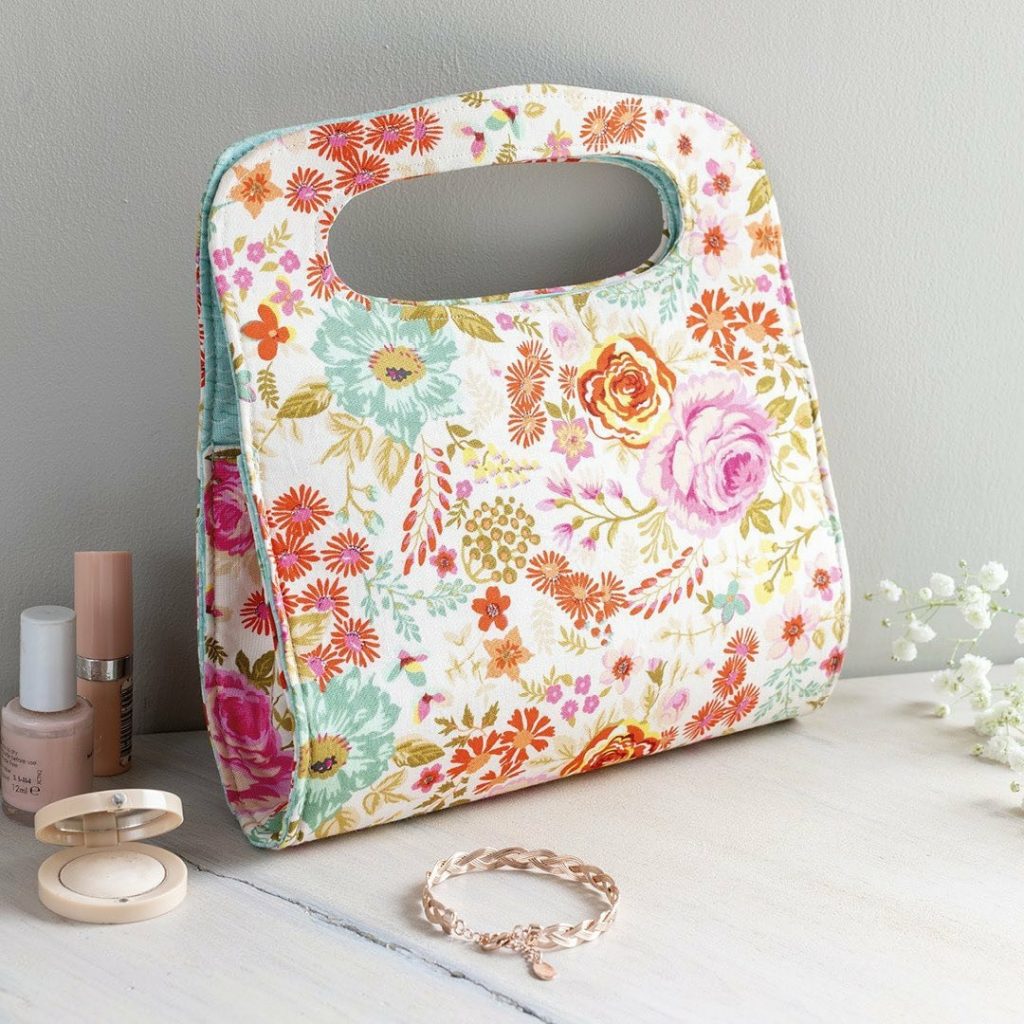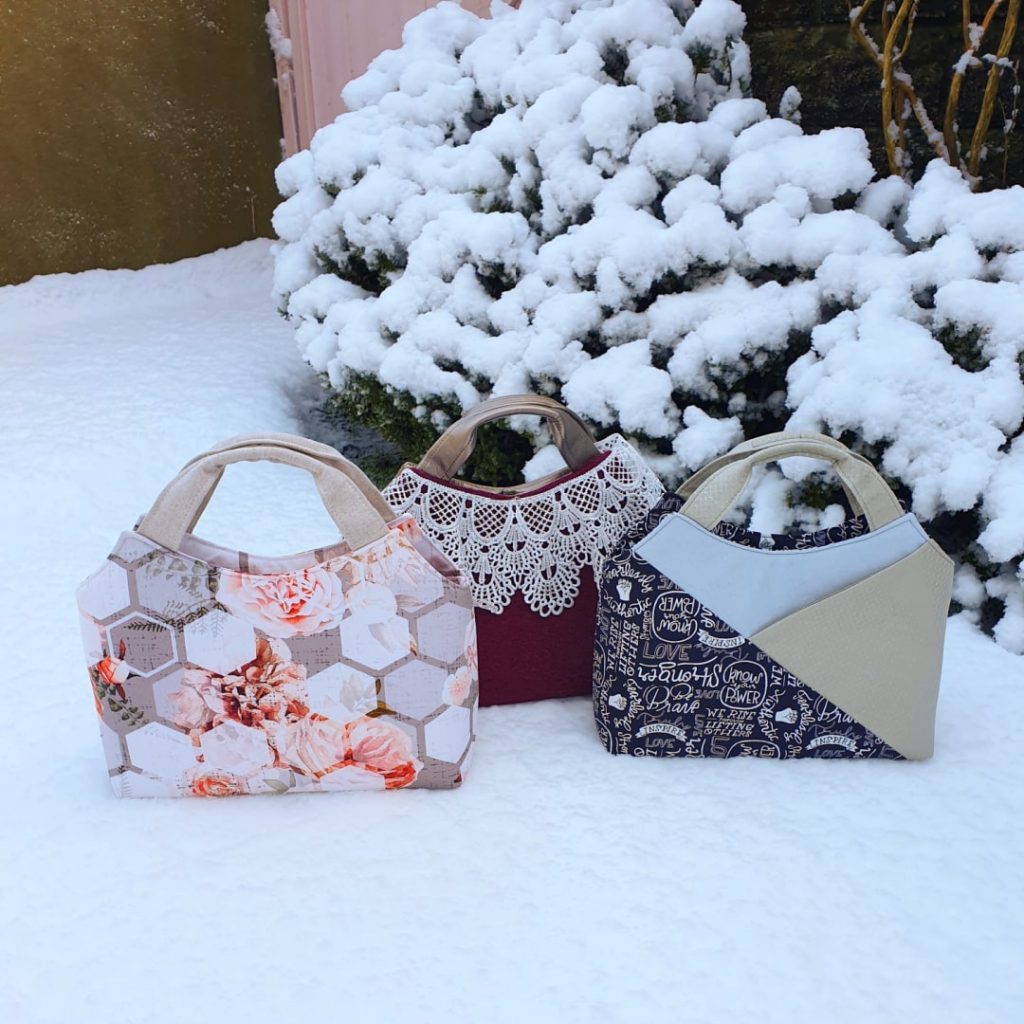 As someone who was recently shortlisted for Best British Brand, how do you feel about using and purchasing British products and designs?
First, I'd love to thank any of your students who voted in the Craft Business Awards. It's such an honour to be recognised in this way, both in the shortlisting for Best British Brand, and being selected under the Best Stitching Brand and Most Inspiring Product Range categories!
A core part of my brand's ethos is community over competition. My team and I think it's really important to look out for our neighbours, and to help support or lift up those brands where possible. We're blessed to have had the opportunity to develop fantastic relationships with British fabric designers such as Lewis & Irene, and Chatham Glyn, and UK retailers like Sew Hot, BST Fabrics, The Little British Fabric Shop, The Sewcial Studio – I could go on!
With that said, we have bagineers worldwide, so we do try to recognise and support our peers internationally too!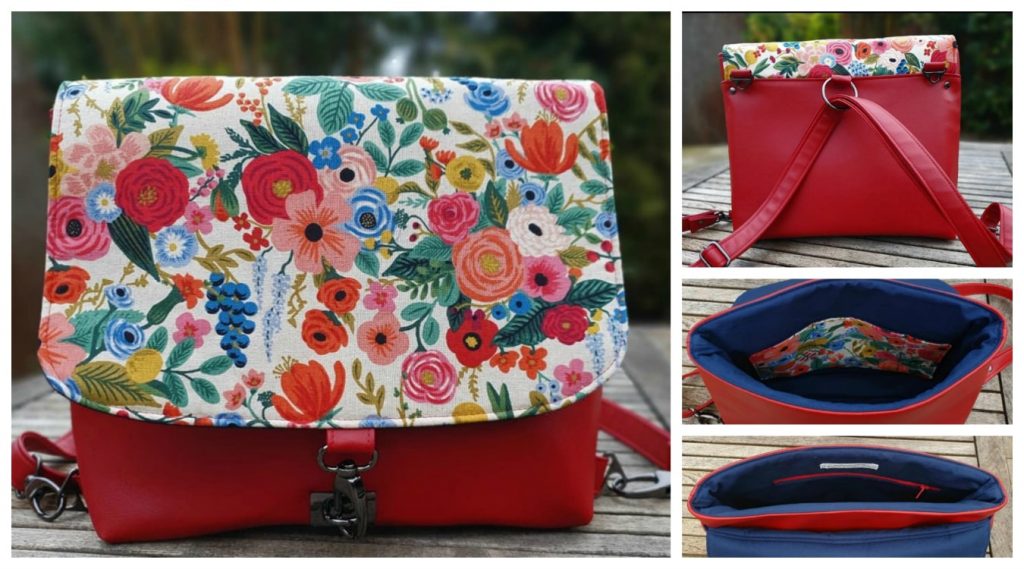 Our students often use bags as a way of showcasing their other crafts – for example patchwork or embroidery. Can you suggest things they may wish to consider when doing this?
I love patchwork for scrap busting! You may be surprised what you can create with your scraps when you turn your creative mind to it. For instance, I saved my selvedges for a while and used them to create patchwork for a pillow!
Also, a fair number of my designs have good-sized outer panels perfect for adding a bit of machine embroidery. A beautiful example of this is The Hope Handbag made by one of my testers – Elizabeth at Quilt Angel Creations. We've also recently seen what looks like the start of a trend with bagineers who enjoy embroidering by hand. Some of my followers have been selecting a black and white print fabric for their bag outers, then 'colouring in' the spaces with embroidery. It makes for a really fun, and effective feature!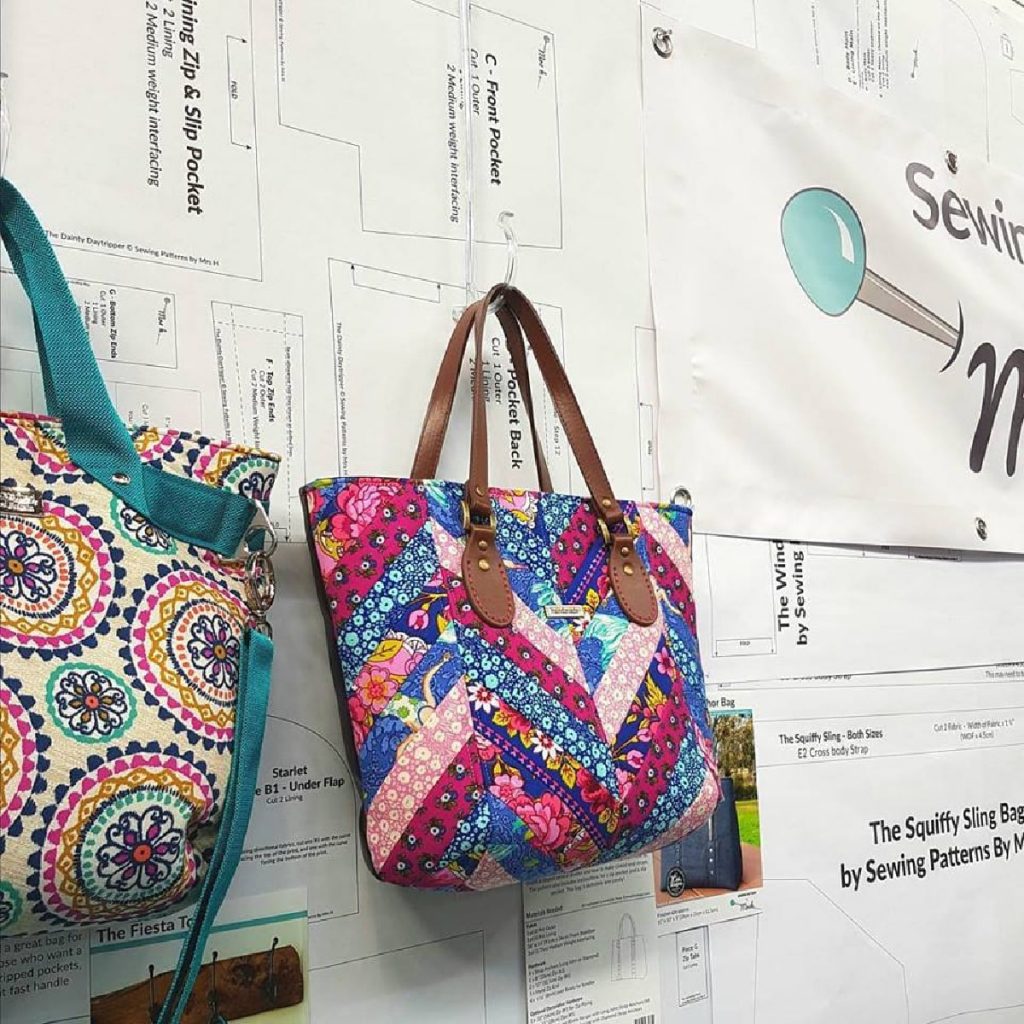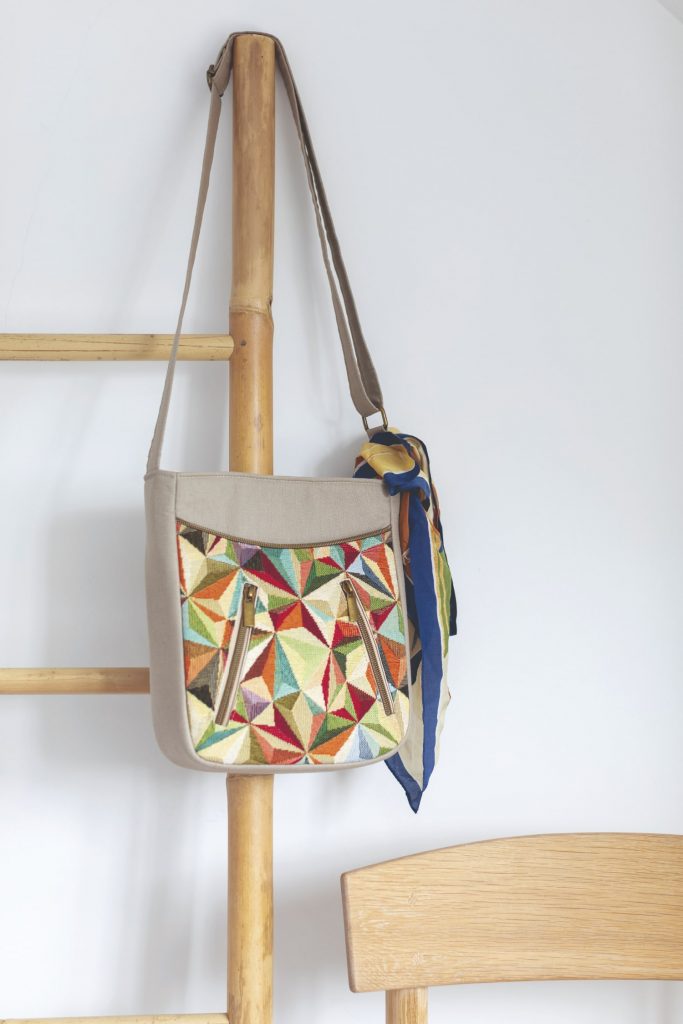 As a small business now situated in Cornwall, how has the pandemic affected you over the last year? What difference has it made to your plans going forward?
I think the biggest thing is that it's made my team and I refocus on our community. Many of our bagineers have been going through a really tough time with the pandemic. Some are on their own, or need that extra little bit of community support. So, we've put business plans on hold and really diverted our energies towards that extra community support.
This has meant stepping up engagement in our community groups, going live to demonstrate bagmaking techniques, to sew along, or to just chat with our bagmakers. My team are continuing this with a new series of sew-alongs that just started this February.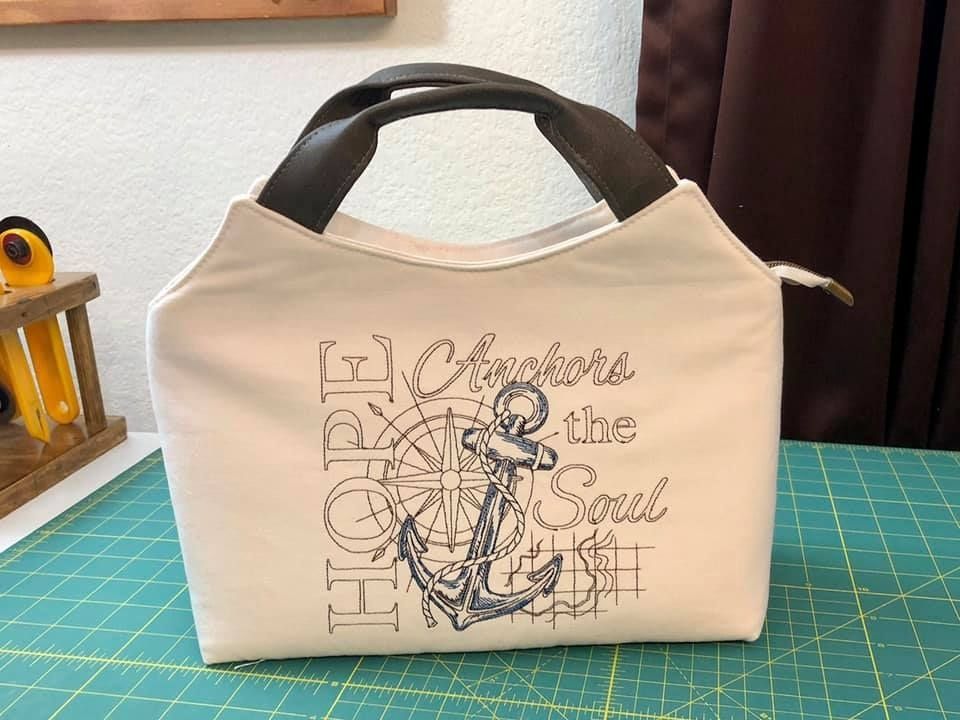 What's next? Do you have patterns or new books underway that you could tell us a little about?
Now that I'm (mostly) settled into my new studio in Cornwall, I've started work on my next two sewing patterns. I can't tell you much about them at the moment as they are surprise patterns!

The first is currently in testing. That design is going to be for a Mystery Box that we'll be releasing soon. The Mystery Box is a collection of sewing-related goodies, including some of my favourite bagmaking bits and bobs. The sewing pattern I'm designing for The Mystery Box will be exclusive to purchasers of the box for a period of time. It features one of my favourite techniques, so I'm quite excited to see how our bagineers will make this design their own.

And I'm on my second draft of a design for The Bag of the Month Club, which is our subscription-based bag sewing patterns club. Our subscribers receive a mystery bag sewing pattern at the beginning of each of the three months of the Club. I've set myself quite a challenge for this Club design, but I think our bagineers will love it once I've figured out how to… Oops! I nearly gave away the surprise then! You'll have to check in with me this autumn to find out what's special about this sewing pattern!
Fancy becoming a bagineer? Follow Mrs H on Instagram, Facebook or visit her website.