As Winter approaches the UK I'm sure we're all looking forward to those long nights, dark mornings, terrifying gritter lorries, extortionate heating bills, and bitterly cold winds. Right?
At the School of Stitched Textiles, we welcome Winter. For creative crafting obsessives like ourselves, Winter legitimises our desire to stay tucked up indoors, indulging in all things crafty. From making Christmas decorations, to unique gifts; creating perfect Winter knits to developing new designs, there really is no better excuse or time in the year to get crafting.
If you're not looking forward to the Winter months ahead but love crafting, we're going to share some top tips – inspired by our Danish friends – about how to embrace Winter and crafting for a deep sense of joy. Even though Denmark has more annual rainfall than the UK, poorer summers and colder winters, Denmark is ranked as the 2nd happiest country in the world. We'll be uncovering their secrets to happiness and showing you how to adopt a Danish approach to winter crafting.
The Secret to Winter Happiness.
There's no doubt about it, the Danish are happy folks. This could be to do with their shorter work days, a relaxed approach to education, favouring learning through play, excellent worker's rights, substantial access to benefits or a general approach to life that encourages mutual respect as well as a little self- indulgence. These are the principles known as Hygge.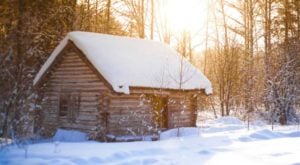 What is Hygge?
Hygge (pronounced "HUE-gah") is uniquely Danish. With very few direct translations it is interpreted as a ritual, a mantra or set of principles to live by and includes being respectful of environments we share with others, creating a sense of cosiness and well-being, inviting friends and family round for food and entertainment and enjoying the warmth of a real fire. Ultimately, it's about sharing and indulging in food, company and the good things in life – Hurray to that!
So, with this in mind, here's how to adopt a Danish approach to your crafting this winter.
1. Create the perfect crafting environment
When crafting, and especially for those taking our craft courses, good lighting, warmth and a comfortable chair are essential. However, if you've recently started, or are hoping to enrol onto a course it's important to make your craft space as cosy, indulgent and as inviting as possible. We know that starting a new course or module can be challenging at first and requires motivation and self-discipline. By creating a welcoming, cosy craft space – away from the family noise  – it will provide you with the perfect excuse to knuckle down.
Why not add candles or twinkling lights to your craft space, fill it with soft cushions and a music player full of your favourite motivational tunes?
2. Sharing stories, ideas and things we create
Family life plays an important part in the Hygge concept. Families are encouraged to come together without TVs, radios, books or other distractions and simply talk, share and enjoy each other's company. It also emphasises the importance of sharing experiences, culture and talking about things that you have created. So, teach your little ones (and older ones) how to knit, or get them to create something from any spare pieces of fabric, wool or felt.
If you've finished an SST course you will have a great portfolio of your own unique designs for your final assessments. Talk through them, share the information you have about the designers you studied and tell people about the pieces you've lovingly designed and created.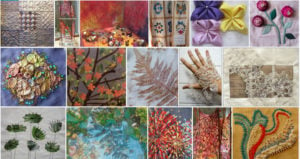 3. Making things for others
Another important element of Hygge is to be respectful of the environment you share with others, so this set us thinking of ways to craft something lovely for the home.
Make your home extra cosy and inviting this Winter by adding some personal finishing touches. How about hand knitting some cushion covers, sewing and stuffing some draft excluders or door stoppers, making curtains to cover breezy doors or turning your patchwork panels into blankets that can be shared with all the family. Add a warm fire, hot chocolate and some festive snacks and you've got the perfect Hygge evening.
4. Seek reward in the simple pleasures
The Danish actively pursue happiness. They make sure they never work too hard and reward themselves by always making time to enjoy the things they like. Too many of us probably feel rather guilty when doing something we enjoy, especially when there are always more important tasks to be done around the house. But, like the Danes, we should make more time for our pleasure activities and we'll surely feel more fulfilled and certainly a lot happier.
Don't forget that there are a lot of mental health benefits of crafting, like delaying the onset of dementia. Complex crafting keeps the mind agile, responsive and induces calm, happiness and mindfulness.
5. Getting together
Our courses are very useful for those with other commitments. As an online distance learning course, you can pick it up and put it down when it suits you. However, we know that learning online can be challenging. If you're lacking motivation and direction then connecting with fellow students and crafters is important. We encourage students to participate in online group discussions and join the Facebook groups where you can share ideas, thoughts, experiences and support one another.
We also hold regular live video chat sessions with tutors, so that you can discuss approaches directly with us. Or just get together with other crafters. They don't need to be studying on a course.
6. Food for the soul
Food is often at the centre of family life and social occasions so it's also an important aspect of the Hygge philosophy. When crafting make sure you have plenty of food to fuel the mind and body. Alternatively, you could try rustling up some tasty snacks from scratch and enjoying them with friends. It sounds like the perfect opportunity to show off your latest craft projects completed on your SST course.
Do you love crafting but hate the Winter? Take some inspiration from our Danish friends and turn your home into a Hygge haven. Create a cosy, welcoming environment for you and your guests. Get some tasty food, hot beverages and enjoy your crafting paradise without guilt. Winter is about indulging in the little things that you enjoy the most and we can't wait!
So, be happy this Winter – Hygge style.