Roxanne Evans Stout describes herself as an 'artist and teacher, wanderer and dreamer garden dweller and river walker, child of the forest… daughter of the sea.' It's therefore no surprise that much of her work is inspired by her love of nature and the outdoors.
Roxanne lives and creates in the beautiful Pacific Northwest, a place with an abundance of natural inspiration. Her mixed media collages are stories of her life and a window into her world that is so often reimaged through her work. Roxanne forages for her medium and incorporates colours and texture through dying and stitching. Many of her techniques have been shared through her best-selling publications, international exhibitions and global online workshops.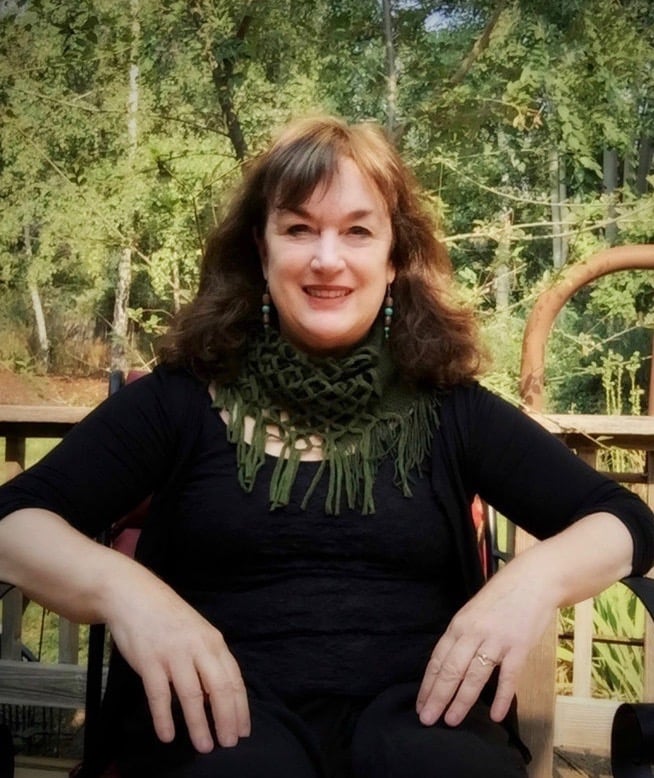 TELL US ABOUT THE PIECE YOU'RE CURRENTLY WORKING ON?
The piece I am working on right now is a fabric book, although it has a bit of paper in it as well. I have been stitching it together as I go in an intuitive and unplanned way, and each page is a different size. Often, I play with colours and textures as I go, looking at each spread not only by itself and how it looks with the pages that peak out behind it.
I often use eco-dyed pieces that I made with friends.
Stitching to me is another way of mark making.  Although I use mostly neutral colours, I love to explore how different coloured threads look next to each other and the simple marks of blacks and whites.
I also am intrigued with stitching on paper or right on a canvas. To do this I use an awl first, to poke the holes. Sometimes they are random and sometimes I draw my design first.
I love using circles for my inspiration and bending the shapes out of wire and stitching them on fabric or paper. Stitching is a wonderful way to attach objects to a book or piece of art.
A circle represents cycles to me, the seasons, the changing times in a day, and the cycle of life.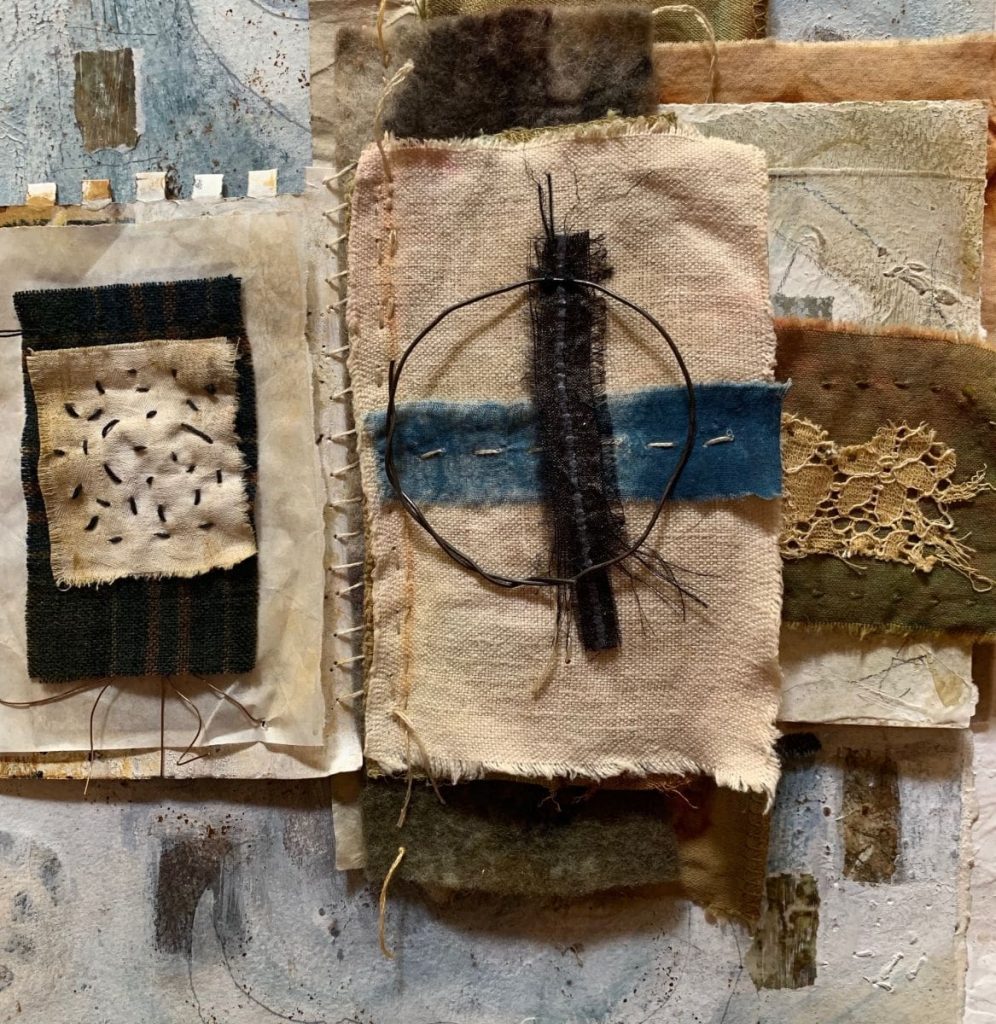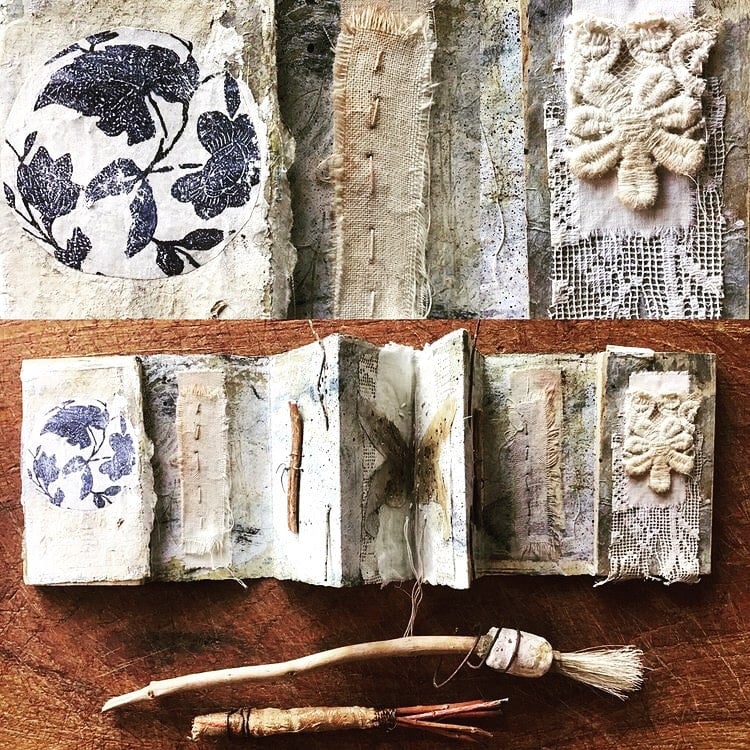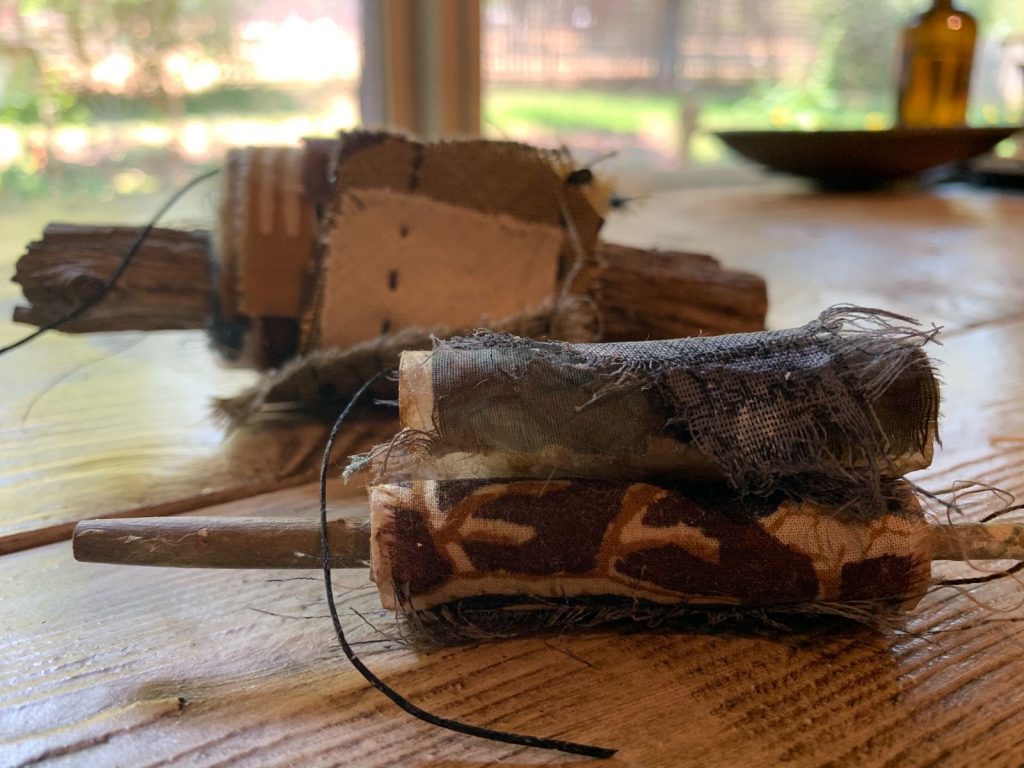 WHAT WAS YOUR FIRST MEMORY OF STITCHING – WHO TAUGHT YOU?
My mother was not only an artist but loved to sew. She made my sister and I beautiful clothes for our dolls and bears, and lovely little dolls called "dollhouse people." So of course my first projects were sewing doll clothes. Although they were much simpler than the beautiful ones my mother made me I loved them too!
My mother made me many of my own clothes and they were wonderful to me. I was involved in modern dance and she designed and sewed my costumes when I had a performance.  When I got older I began to help her and then making my own clothes as well.
She also made tapestries that were wall hangings, and now I can see how that influenced me in my own work. Looking back I can see that she was always making something, often more than one thing at once. And I take after her in this way.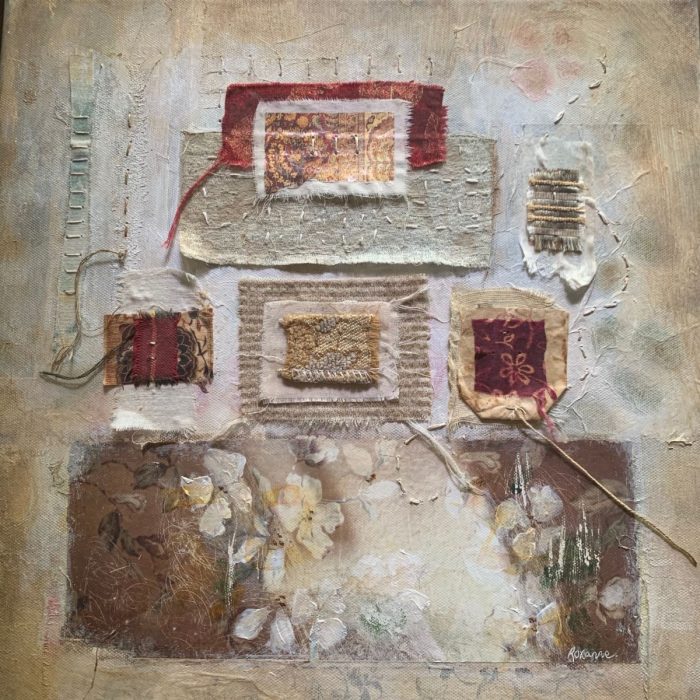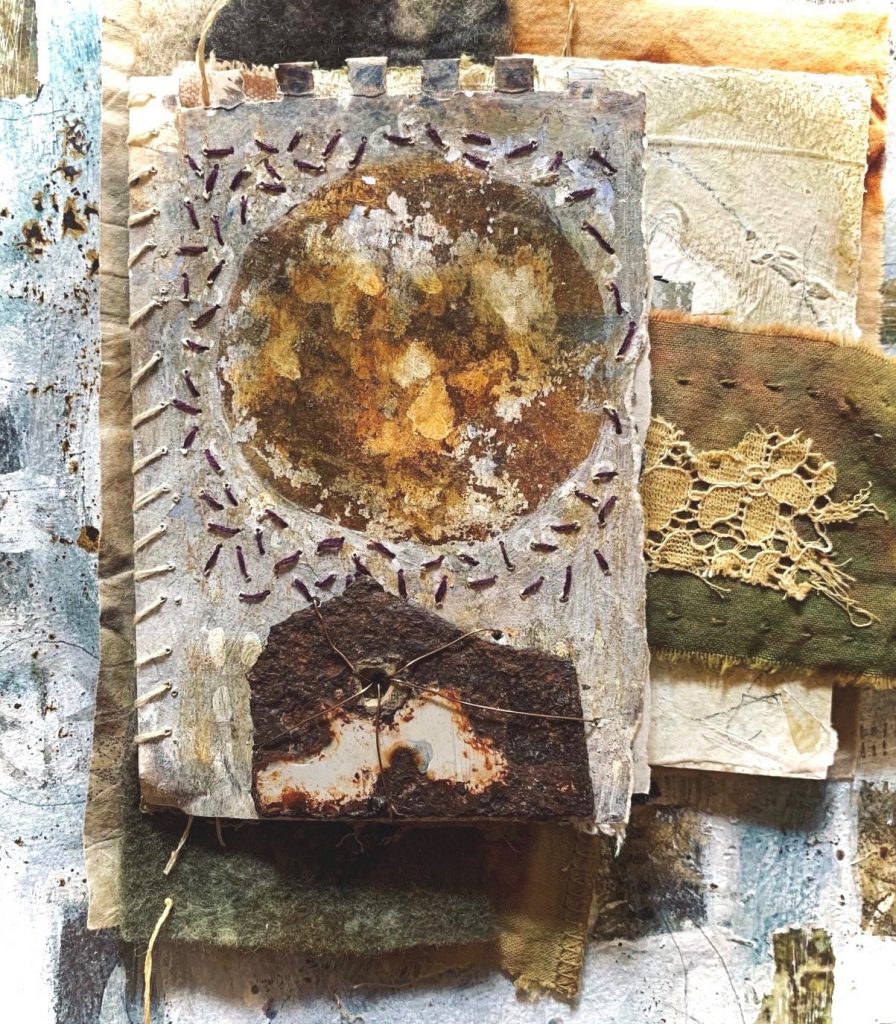 LIVING IN SUCH A WONDERFUL AREA OF THE UNITED STATES, YOU MUST DERIVE SO MUCH INSPIRATION FROM YOUR SURROUNDINGS. HOW DO YOU GO ABOUT INTERPRETING THIS INTO YOUR COMPLETED PIECES?
Living in the Pacific Northwest has made me who I am. I really feel that I belong here. My husband and I live in Oregon with our wild puppy, Molly. We have a house in a small town on the eastern side of the Cascade Mountains. There is a pine forest behind us and river lands and farm fields below, and we have many gardens that always need tending and re-imagining.
We also live on the Pacific Flyway- the ancient sky path that thousands of birds use as they migrate north to south and back again, and rest in our wetlands.
In my corner of Oregon we have milder summers than other areas because we are quite high in elevation. And we have snow in the winter. Coming from Southern California this is quite a treat for me! My work is influenced by the colors of the seasons, the skies and the river and I love watching the changing light inside and outside of our house. The natural history of this area is also fascinating to me especially the birds, the wildlife and the first people who inhabited this land.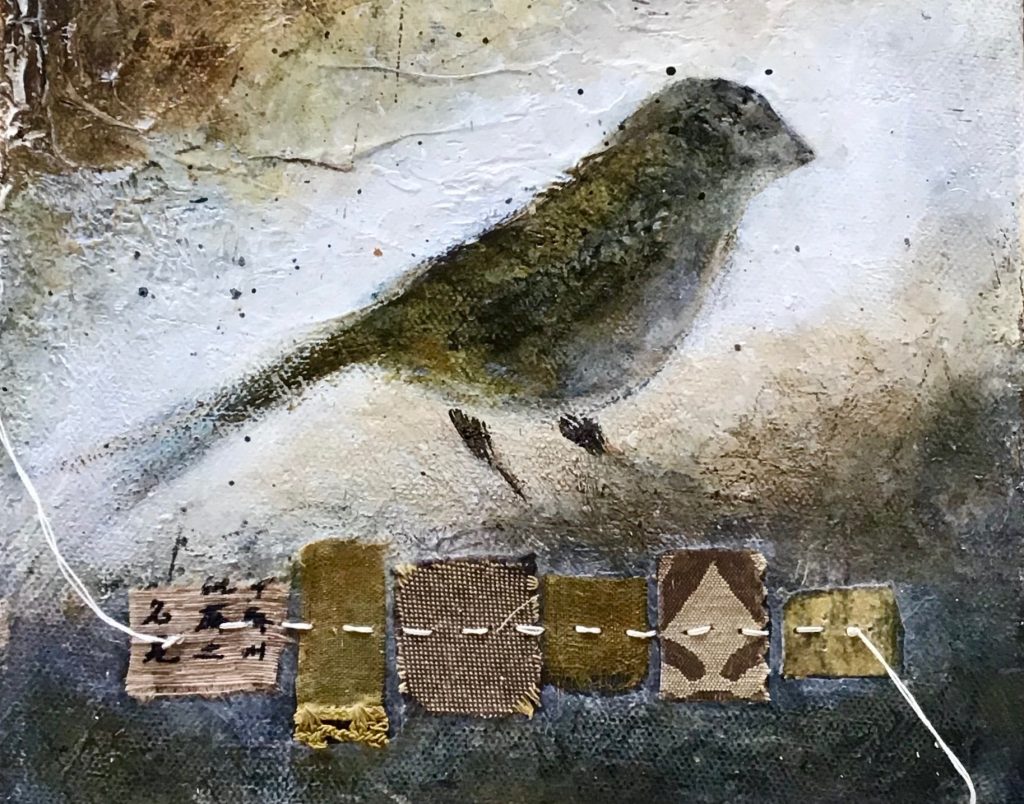 WE KNOW THAT YOU LOVE TO TEACH AND WATCH YOUR STUDENTS DEVELOP THEIR OWN STYLE AND PROCESS. CAN YOU TELL US A LITTLE ABOUT HOW YOU HELP THEM ALONG THIS ROAD?
When I am teaching or working with students in a workshop, I try to make sure that they are comfortable and feel safe to create. I feel that the creative process is magical, and if we let ourselves get lost in the process and not think about the end result too much we will feel that magic.
I like to do warm-up activities, especially in longer workshops, and these usually have to do with nature and immersing ourselves in the environment. As a teacher I am encouraging, and can always find beauty or a connection in my students work. I talk about using colours and mark makings that are meaningful to them, not a replica of what I do.
My projects also are for open ended, with enough structure to make everyone feel comfortable. All of this together seems to help my students find their own styles. In a loving environment, filled with inspiration, acceptance and creativity, anything is possible!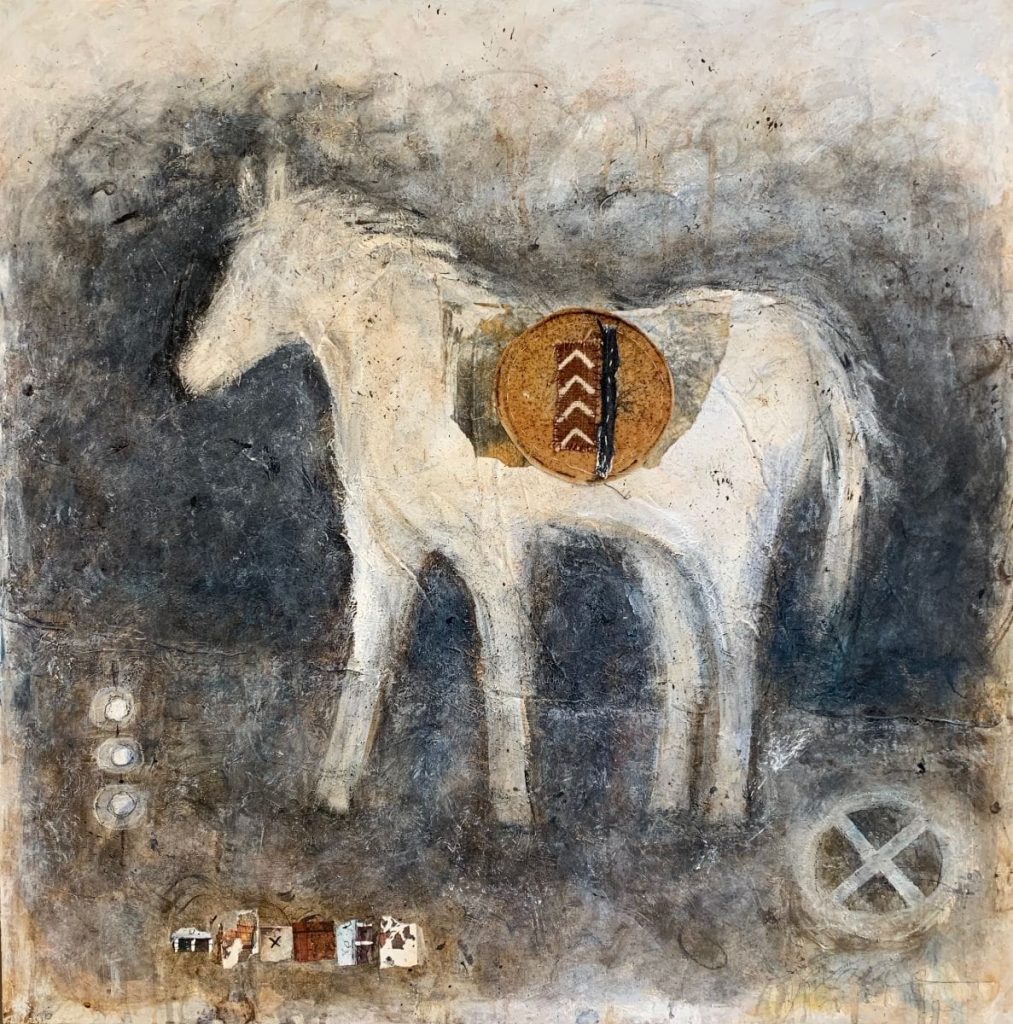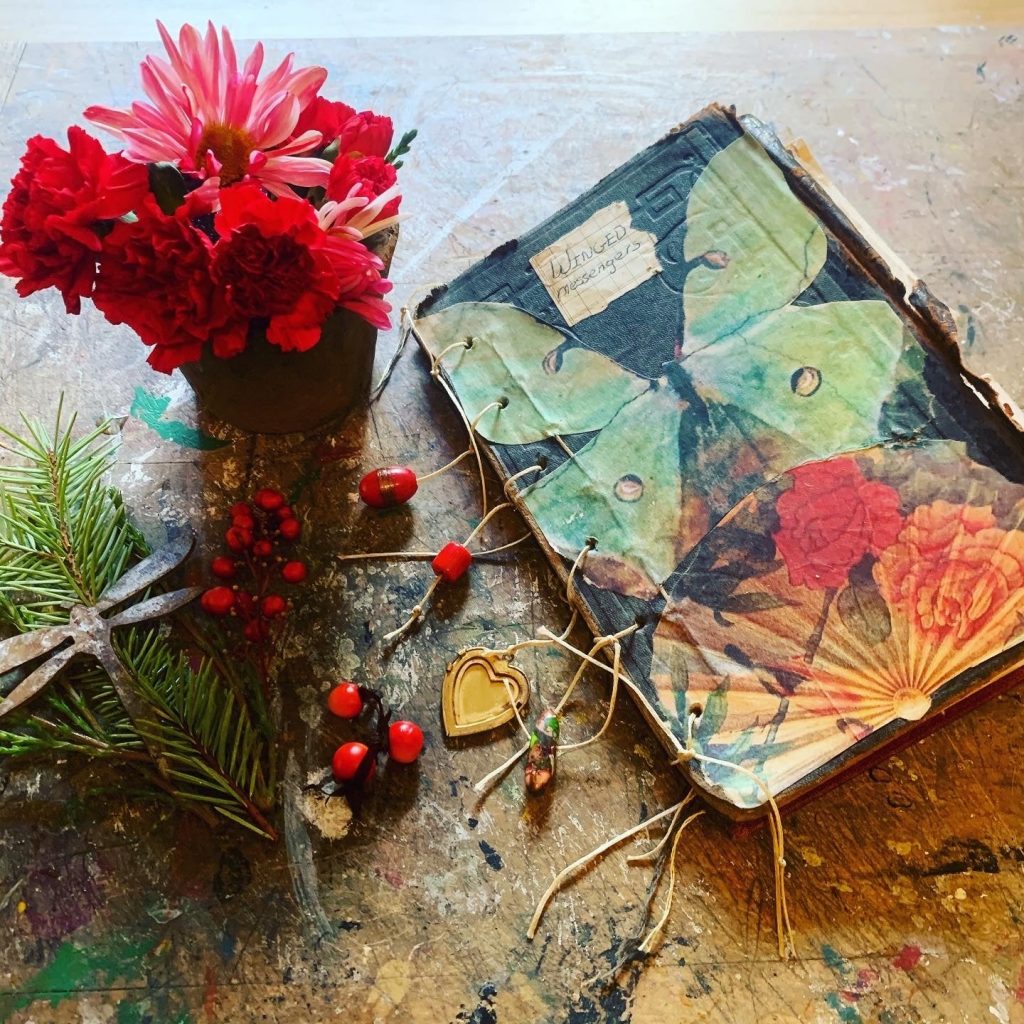 YOUR SITE AND BOOKS CONTAIN SOME TRULY WONDERFUL IMAGES AND PHOTOGRAPHY. CAN YOU SUGGEST WAYS OR PROCESSES WHEREBY OUR STUDENTS COULD BEGIN TO ACHIEVE SIMILAR PHOTOGRAPHY WITH THEIR OWN WORK?
I love to photograph my work, not necessarily the finished piece but as I am working on it in my studio. Earlier I mentioned the way lighting is so important to me, and watching the way light changes in my studio, especially when the sun is lower in the autumn, winter and spring- that's when the lighting is magical.
For my students I try to show them different angles to take a photograph, and how to keep meaningful object or pieces of nature on their worktable that can hold a place in their photographs and be shared in this story, reflecting this moment in time.
WHAT ARTISTS INSPIRE YOU PERSONALLY – WHO WOULD YOU LIKE TO SIT NEXT TO AT A DINNER PARTY?
The artist who is a great inspiration to me is Australian Artist Lorna Crane. To sit next to her at a dinner party would be such an honour and I would be thrilled!!
Lorna's works on paper and fabrics, and her assemblages of natural objects are all very moving to me. I love her sense of beauty, her inventiveness and the way she photographs and displays her work. To me, her work tells the story of the landscapes of her world. I am hoping that I get to meet Lorna when I teach in Australia for Fibre Arts Australia in a year and a half! This workshop was supposed to be next year but has been postponed to 2022 because of the Covid Virus.
WHAT'S NEXT?
This year has been a quiet one. Like so many teaching artists, I had a full year scheduled of live workshops, which have all been postponed to next year or the year after. I will have my 2021 Workshop schedule up on my website before the end of this year and am hoping the world will be safer.
I've enjoyed making the most of my art time in the studio, and my life at home… spending time outside, and training and playing with our puppy.
I have two galleries where I have my work sold, one here in Southern Oregon:  Ashland Artworks and one in Northern California: The Gallery in Mount Shasta . I'm always working on new works to replace pieces that are sold for both galleries.  I am very thankful to have people purchasing my work for their homes.
Registration opened in September 2020 for my online workshop with Jeanne Oliver Designs, called The Bookmaker.  In it I guide you through creating a book inside of a vintage tin and using fabric and found objects on the pages. We also will be making fabric scrolls! I love the projects I have made for samples and cannot wait to share my ideas with the art world!
My other online workshop, Notebook Journeys, is a different kind of workshop for me as it is presented on Facebook and I film it live in real time. It has been a huge success with hundreds of students, and so much fun that I am now offering Notebook Journeys II.
I have many other amazing online workshops, (see the link below), and all are on sale during the Covid virus and include fabric, paper and found objects. I have also am working on some new stencil designs for StencilGirl Products. And I will be working on symbols of different animals and am very excited about this.
Lastly I have just received the news that my book, Storytelling with Collage, sold out and the new publisher, Penguin Random House is reprinting it!! This will be the third re-print!!