Mandy Pattullo is an inspiring British textile artist, based near Hadrian's Wall in the picturesque countryside of Northumberland. Today we talk to Mandy about discovering her inner creative voice, drawing inspiration from nature, and the environment around her and pursuing her dreams and visions – the very principles we try to impart on our own students.
Having exhibited across the UK and taught internationally for many years, Mandy's style and ability to constantly adapt, experiment and evolve her work is what makes her so inspiring to so many people.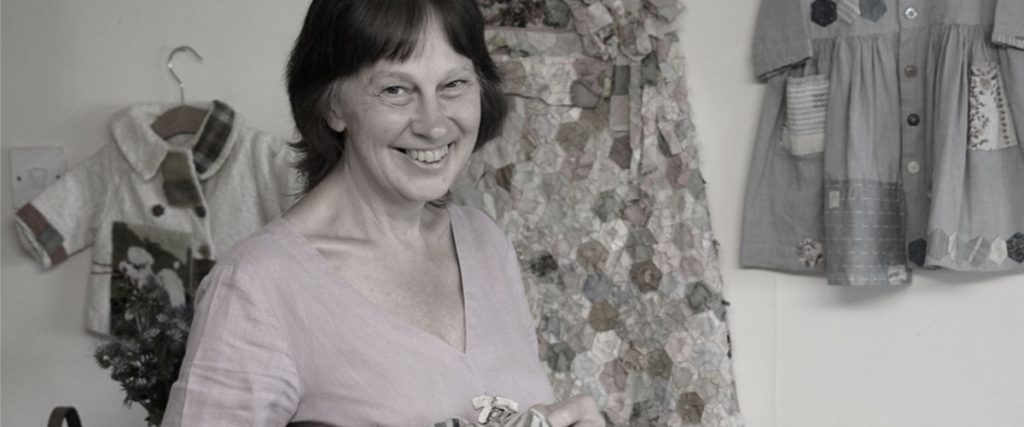 How did you get into textile collage? What is your background and did you study?
I have a degree in Surface Pattern Design so learnt how to design furnishing fabrics and wallpapers and to make trends driven fashion embroidery samples. This means that although I am mostly hand sewing now I am well grounded in the history of textiles and the decorative arts, and my degree allows me to contextualise my work because it has taught me that research is the key to any project.
I graduated 20 years ago but previously trained as a teacher so found myself in charge of textile courses at a local art college. The entire time I was there I constantly encouraged experimentation and trends driven work. I poured all of my creativity in to backing up student's areas of interest. I was the course leader and taught a little bit of stitch, design, art history, print and machine embroidery. When I resigned from the job to pursue my own practice again, I then thought long and hard about what I wanted to do. I decided I wanted to slow down and just hand stitch and base my work on playing with fabric combinations, referring to traditional techniques and folk traditions. I decided that at the heart would be a recycling and using old things ethos.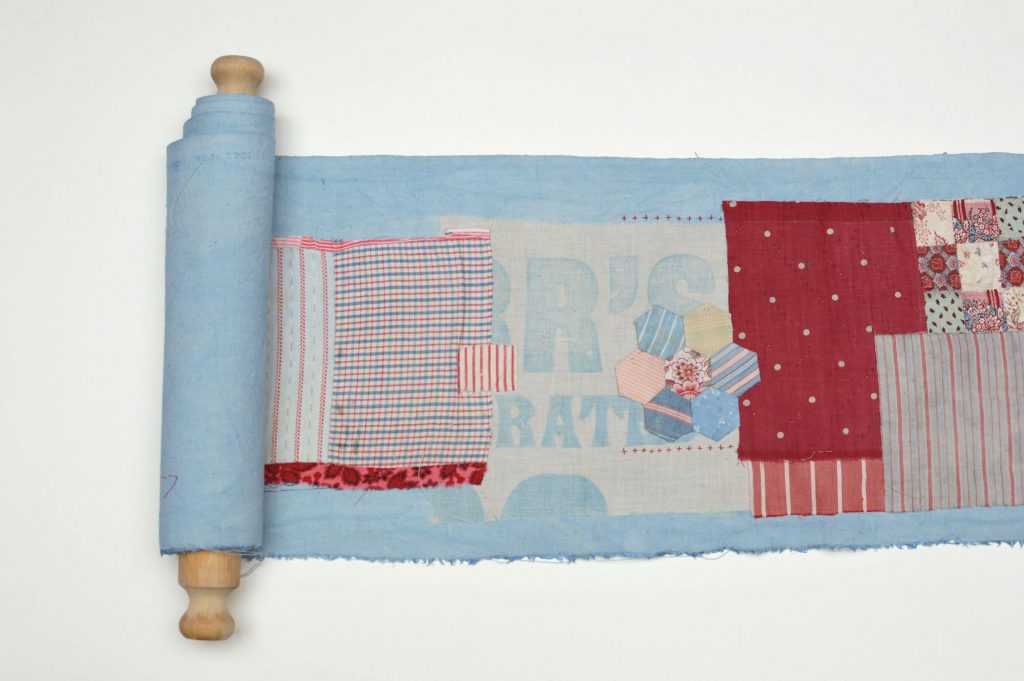 How would you describe your work. Medium used, form, style?
I live and work in Northumberland and one of the key attributes of my work is using materials, especially north country quilts, sourced from my local area. I take these worn and discarded objects and breathe new life in to them; working on to the surface, unpicking and sharing the stories of the quilts with students in workshops.  
I work instinctively with the fabrics themselves and feel a deep connection with the women who made them. I have always loved patchworks which use little bits of fabric from clothing, – particularly naive and thrifty quilts with uneven edges – and I try to bring a little of this in to my work using perhaps a fragment of domestic embroidery which has a familiarity and the potential to spark memories. Allowing imperfection to happen lets a piece be a bit more lively and interesting.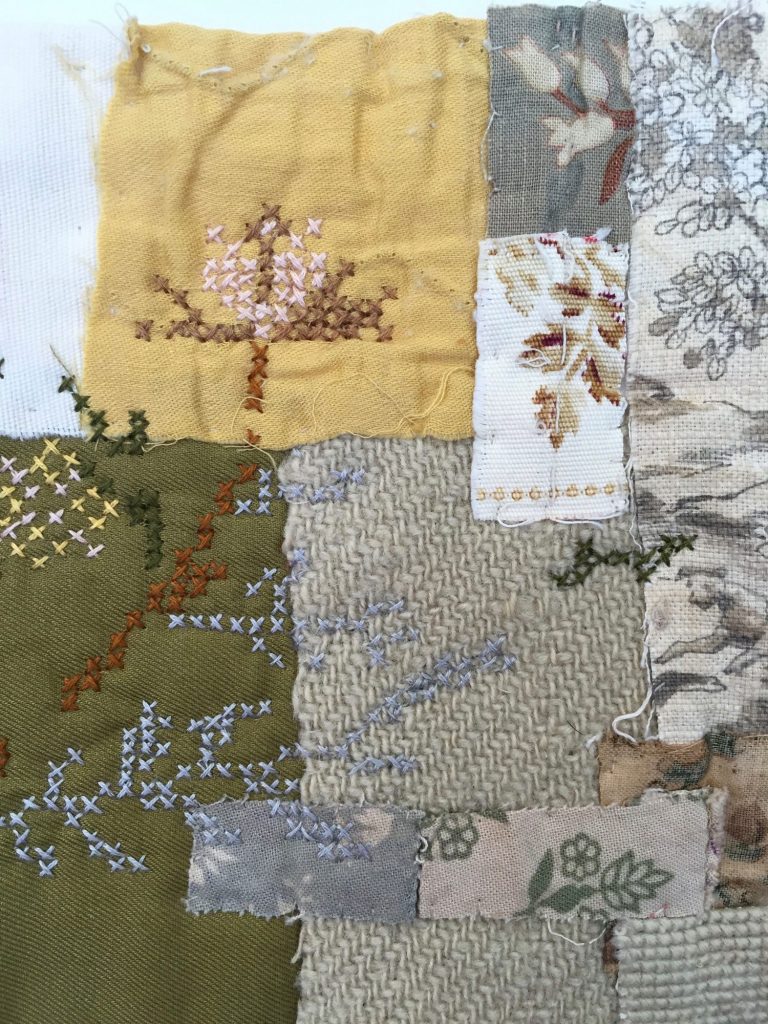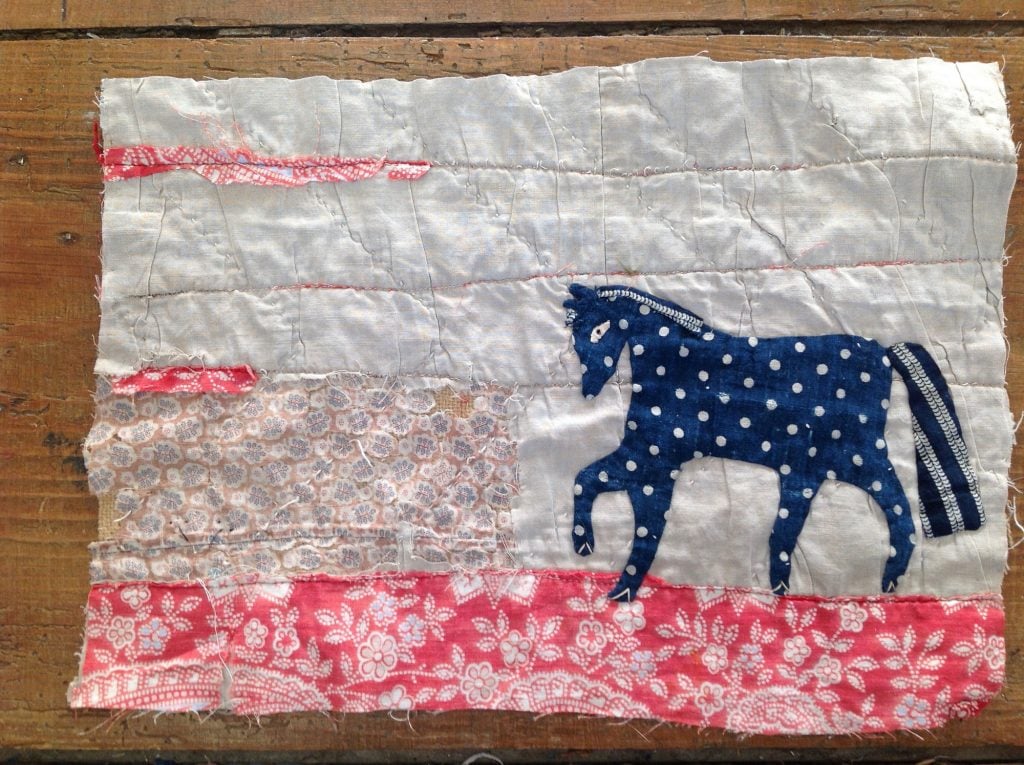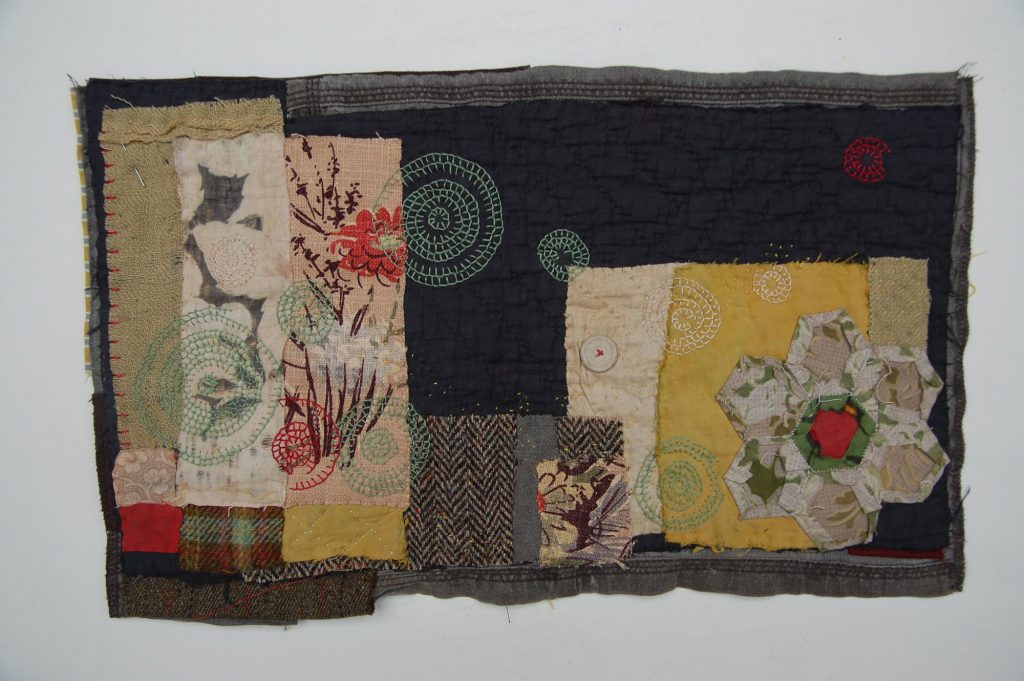 I work on to a foundation fabric, sometimes a bit of quilt or blanket and layer up in the way you would with paper collage but stitch the pieces together rather than glue. I then use traditional embroidery stitches as another layer of embellishment. Some of the collages are abstract compositions but with maybe one central focal point and others can be recognised as belonging to a folk art tradition. I have been to many museums and drawn or photographed details from not just textiles but also ceramics and other decorative arts and these feed in to my work. For example, I have recently been building up a collection of appliques based on research in to Staffordshire animals.
Tell us about your inspiration from landscapes and death – can you tell us how this came about?
When I gave up teaching I reconnected with other things in my life such as my allotment. To get to the allotment I have to walk through a cemetery and this has influenced a lot of personal creative work which is still ongoing. I had become familiar with the names on gravestones and had an awareness of the scale of death of infants and mothers in the Victorian era and wanted to try and draw attention to the tragedies engraved in to stones which we just walk past.
I did a lot of drawings of the carvings on the gravestones and of the decaying floral tributes which fed into the development of a series of infant dresses and printed white gloves. These   told the sad stories and were later exhibited. The research into the use of white gloves at funerals eventually led me to Old St Stephens Church in Fylingdales, North Yorkshire and I made a response to the maiden's garlands hanging at the back of the church. I was allowed to use the whole church and hand embroidered the names of all the maidens and single dead young men in the church yard buried at the time the garlands were made. The garlands were made for Virgins of the parish. More about them can be found HERE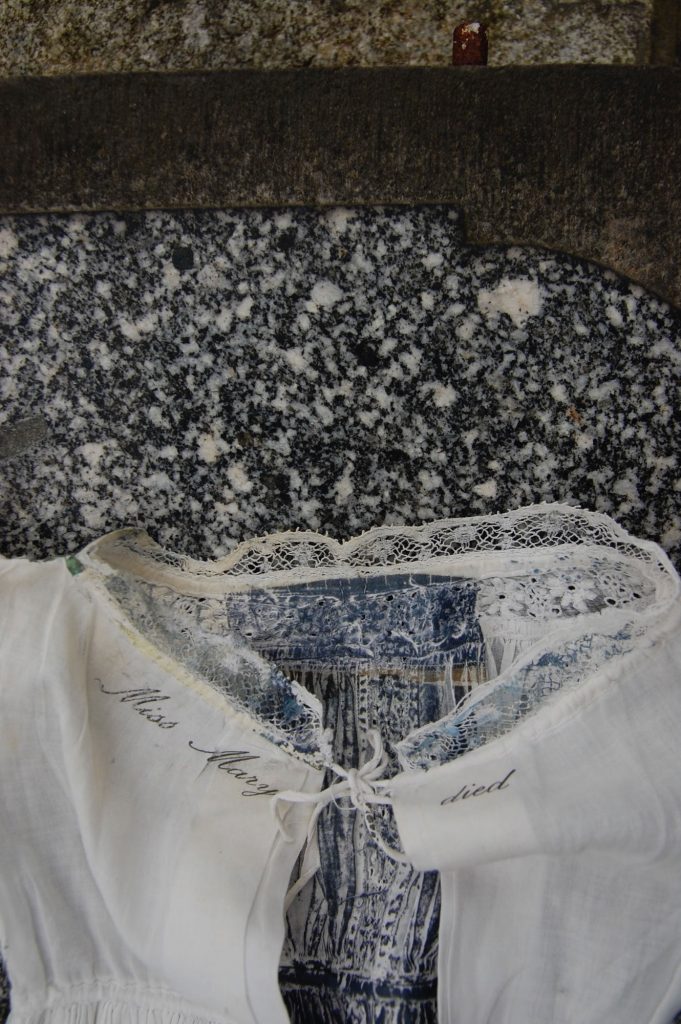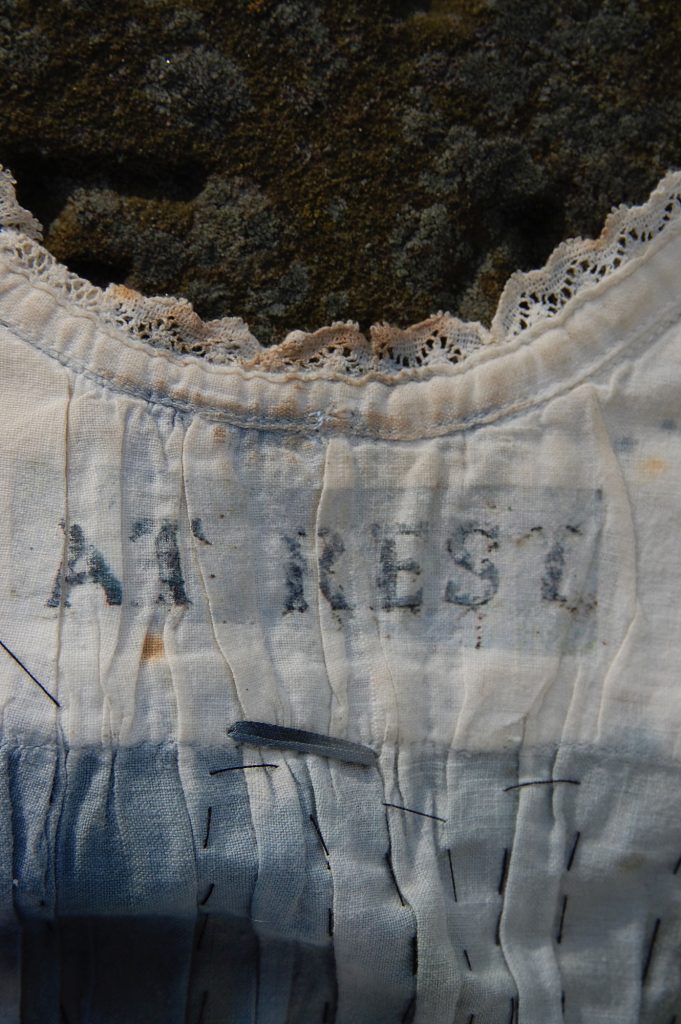 Which artists inspire you?
I love the way Louise Bourgeois has used textiles in much of her work to put over many messages about anger, sex, being a woman, relationships with parents. There is a great integrity to everything she did but I particularly love her fabric books.
In terms of applique the simple cut paper work of children in the Terezin concentration camp has been influential as well as the paper cuts of Hans Christian Anderson. I also love Baltimore quilts and bible quilts from the USA.
I carry the Japanese philosophy of wabi sabi into everything I do (beauty in imperfection) and like many textile artists admire the Boro tradition of 'make do and mend.'
Fine artists who inspire me include Robert Rauschenberg for his collage work and layering, Cy Twombly for his markmaking  and Howard Hodgkin for colour.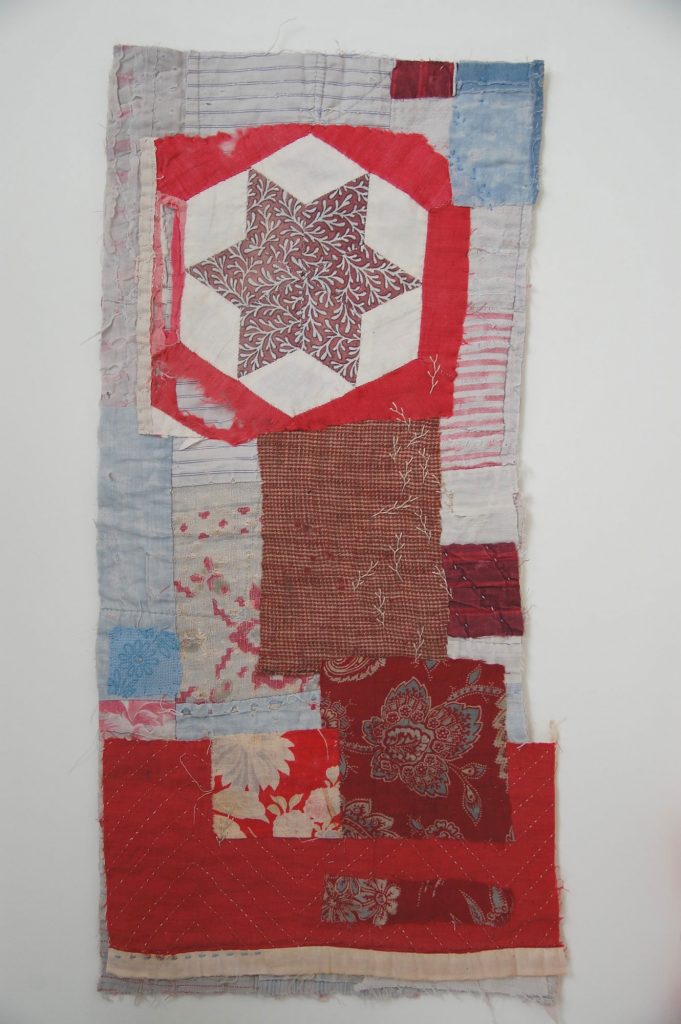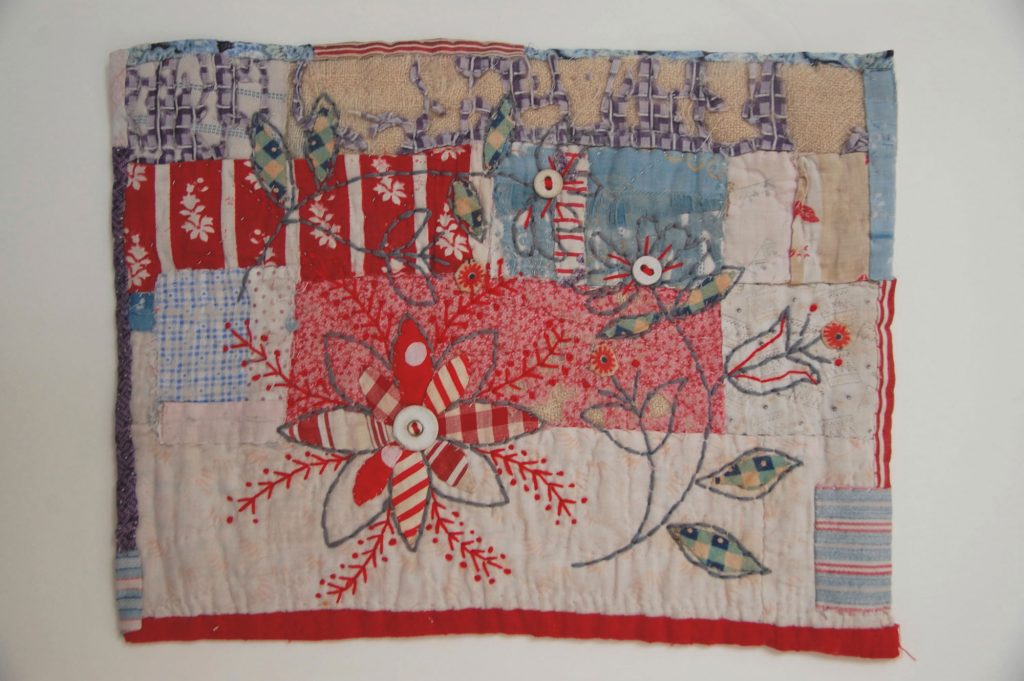 What's your development process for your designs, if any?
I always use January to develop ideas and make myself fill a sketchbook in this month. I don't have time the rest of the year. I try out things that are not based on selling, try out things that are time consuming and read and research. I spend this month looking back at embroidery magazines and through my collection of books. From all of this a collection of work might start to develop. So this year I have been clearing my mother's house and she had always done cross stitch so I looked at the way cross stitch had been used across cultures and then started to try some myself but working it in to my own textile collages.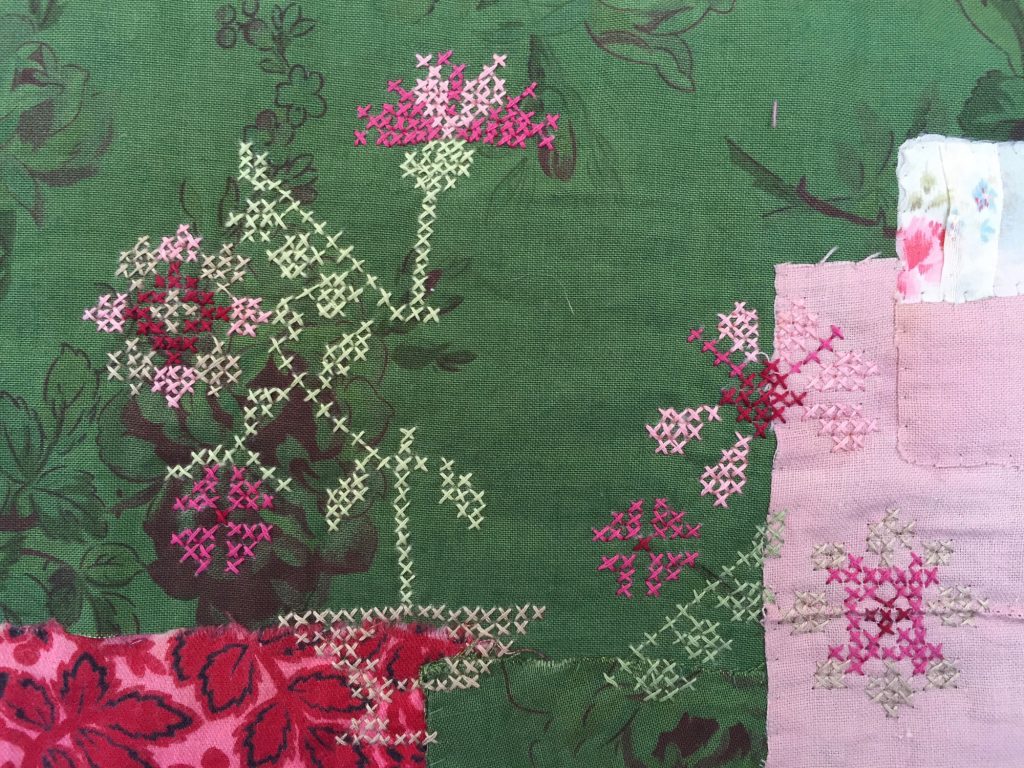 How did you develop your own style and inner voice? Was there a defining moment for you or was it a gradual process?
For me it was a definite process after I left work. I wanted to do something I absolutely loved but have a defining style so people could look at my work and recognise it as one of my pieces. Unfortunately as it so happens when you teach so much then people copy and emulate, but in some ways this forces you to move on.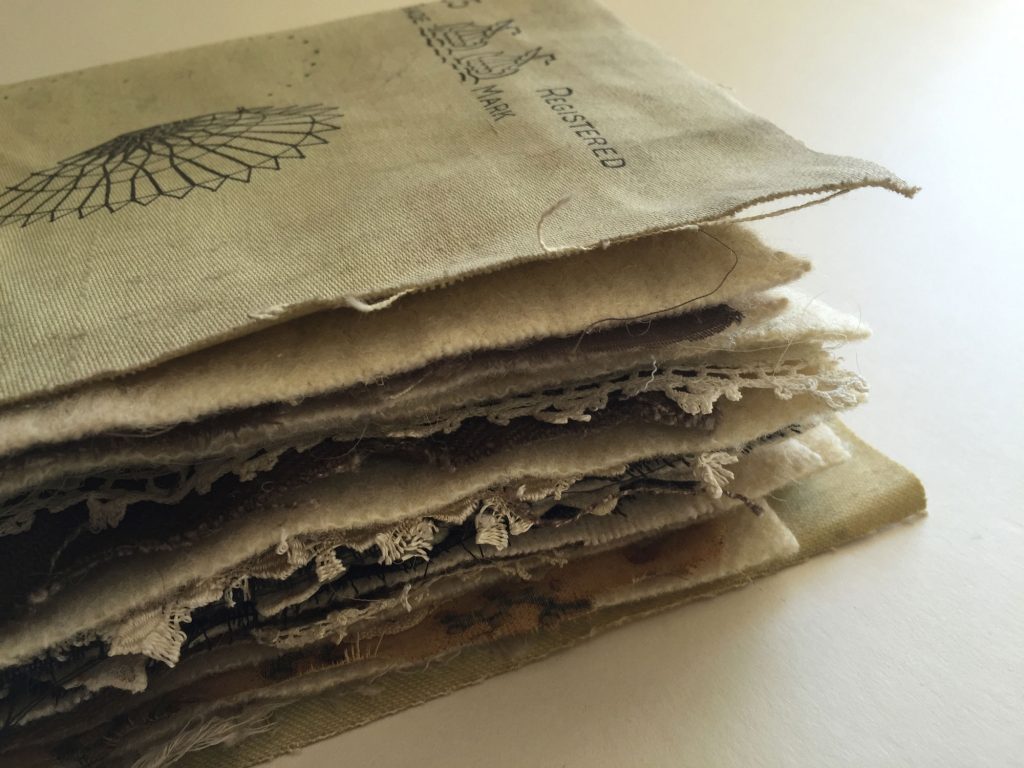 Do you struggle to be creative?
I never ever feel unmotivated I just feel I don't have enough time in my life to carry out all I want to do. Someone once told me that you should walk away from your work at the end of the day at an exciting part so that when you rejoin it the next day you are motivated to carry on. I keep notebooks of ideas so am never stuck.
If I am really having an off day then there is always fabric to be folded. Tidying up and ironing fabric is a time for contemplation.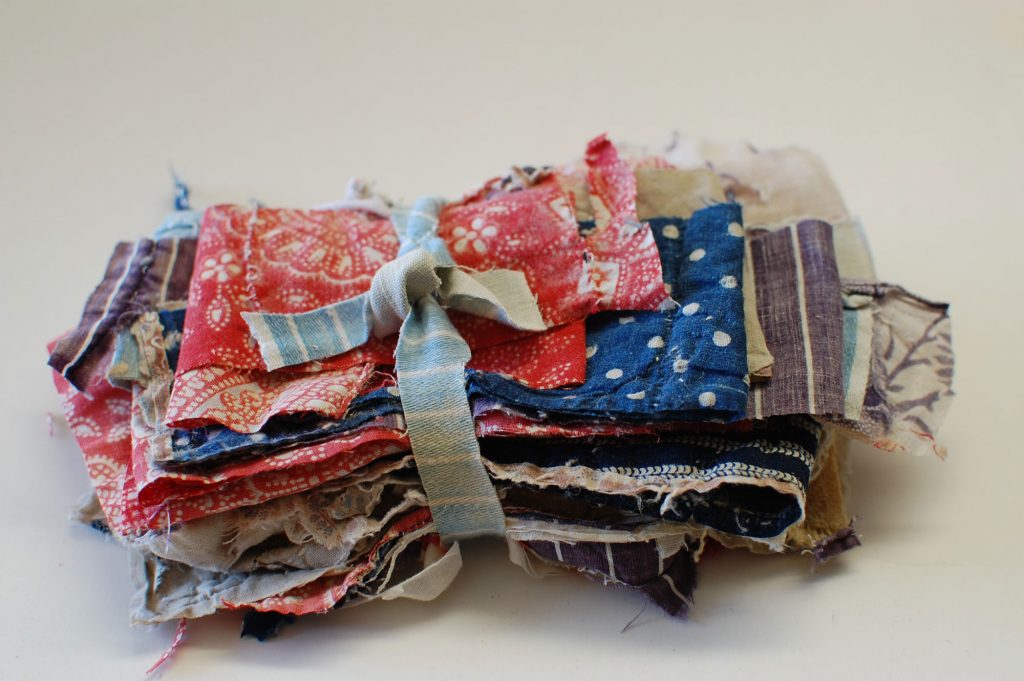 What advice would you give our students who are taking our courses?
Don't be dependent on the internet for visual imagery and research. Visit museums, look at and draw real objects, read real books. Know what you like and don't like and the reasons for your taste. Don't try to please anyone else but make work that pleases you so you are always absorbed in it and and wanting to improve it and this will help you develop a unique vision and a personal visual language.