Ever wondered why your crochet doesn't look like the pattern? Or perhaps you're just started out and you don't know what a 'stitch gauge' is? This is the blog for you! With the help form our expert tutors we're explaining everything you need to know about the difference between crochet hooks. Covering what they are made from, how they are sized and general guidelines on which crochet hook to use with each type of yarn. So, if you want to know what size crochet hook you should be using for chunky wool, or maybe you want to know what size an H hook is in metric? You'll find all the answers you need, including conversion charts. 
Crochet hooks come in a variety of types and sizes and with different handle types. So, when you first start to crochet, you may wonder what size crochet hook to use for your project and find the number of different ones quite confusing. Especially as there are UK, US, Metric and Japanese sizes available, and they are all sized differently. So, for example, a 3.25mm crochet hook is a D3 in the US, and a size 10 in the UK. It is worth noting that crochet stitches and terms also vary from country to country too. 
Ever wondered why a crochet hook you're just picked up has 3 different sizes marked on it?  It can be confusing! Crochet hook sizes/labels vary from country to country, so we've given you a handy chart for comparing them later in the article. For example, the US uses a system of letters and numbers. The UK and Canada use a different numbering system, and other countries like Australia and New Zealand use metric sizes.  
How Do You Know What Size Crochet Hook To Use?
There are 2 main places to look for what size of crochet hook to use. Firstly, if you're using a pattern, then follow their recommendation for hook size. Secondly, most balls of yarn now contain a hook size, so in the absence of a pattern, you can always use the recommended hook size given on the ball band. Somewhere on the back of the label, you'll find a series of squares. Look for the square with the drawing of a crochet hook inside. The numbers next to the crochet hook give you the recommended size hook for that yarn. The number above the hook is the metric size, and the number under the hook is the US letter and number.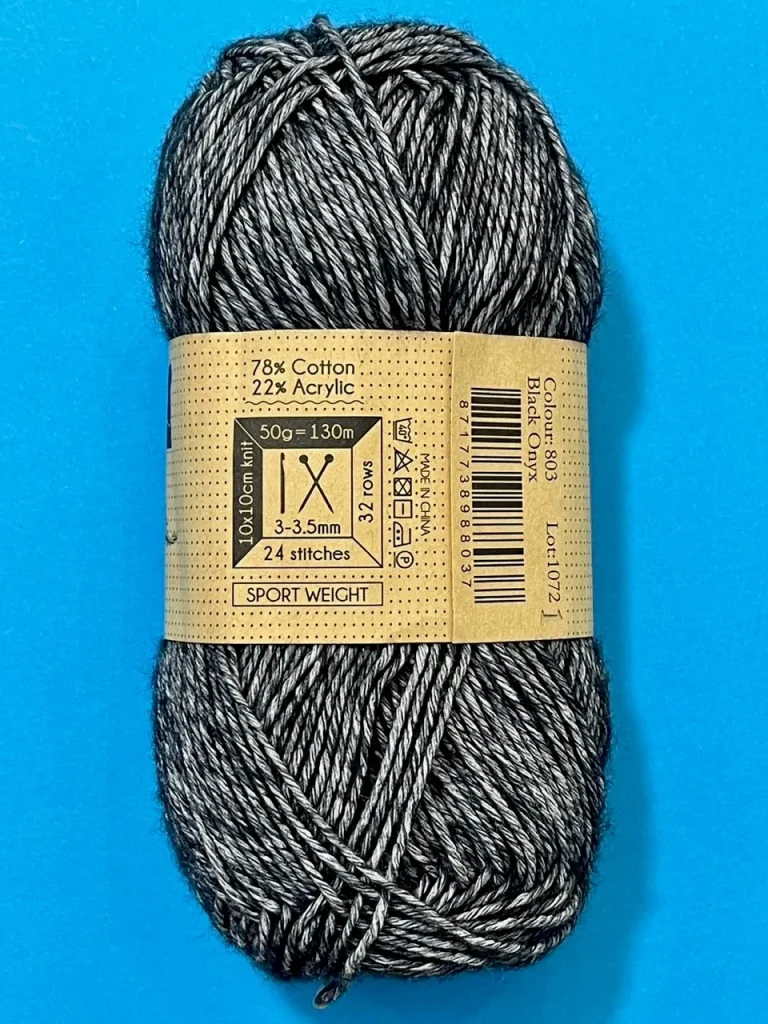 Crochet Hook Sizes
So, how do you know what size crochet hook to use?  If you're wondering what size crochet hook for chunky wool, in general, large crochet hooks are used with thicker yarns. The thicker the yarn, the larger the hook. Smaller crochet hooks are used with thinner yarns. The size of a crochet hook is determined by the diameter of its shaft. The size of the shaft determines the size of the yarn loops in the crochet fabric. 
These days, the good news is that most crochet hook manufacturers label their hooks with both numbers or letters and metric sizing. You can use the crochet hook size charts below to help you convert one measurement system to another.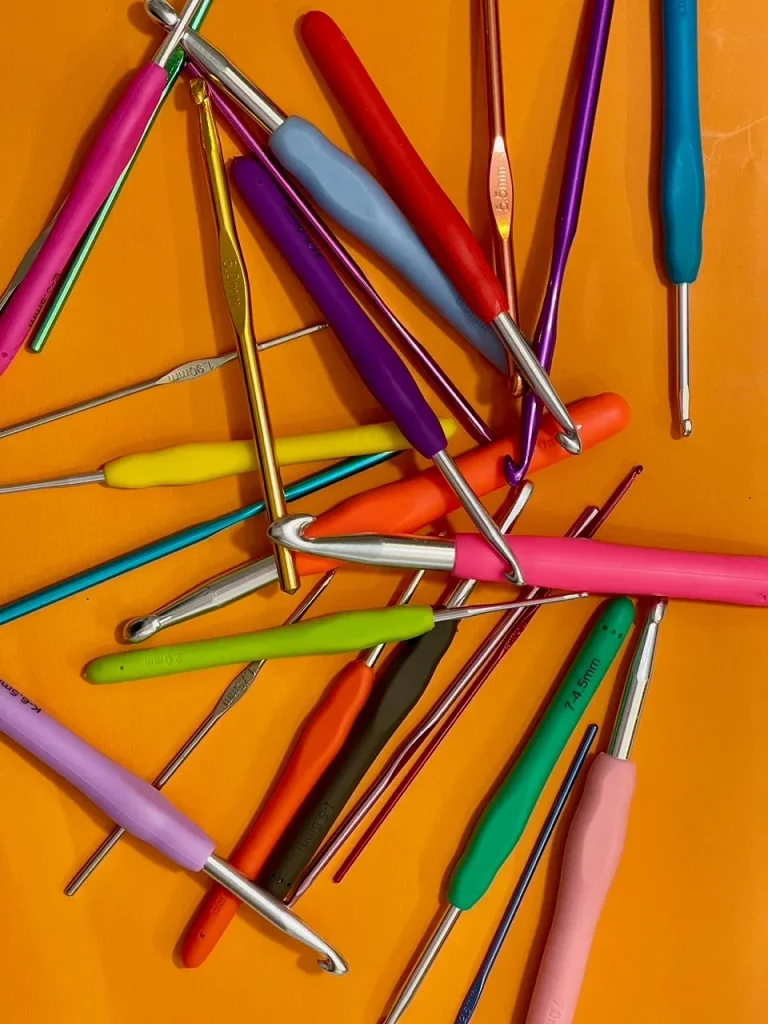 Regular Crochet Hook Size Chart
The size chart below shows standard crochet hooks – the sort made from aluminium, wood, or plastic. These are the kind of crochet hooks you use with yarn – from sock yarn to chunky wool. In the US, the higher the number, the larger the hook. As letter and number sizing can vary by brand and region, you can always rely on the metric (mm/millimetre) sizing for an accurate measurement.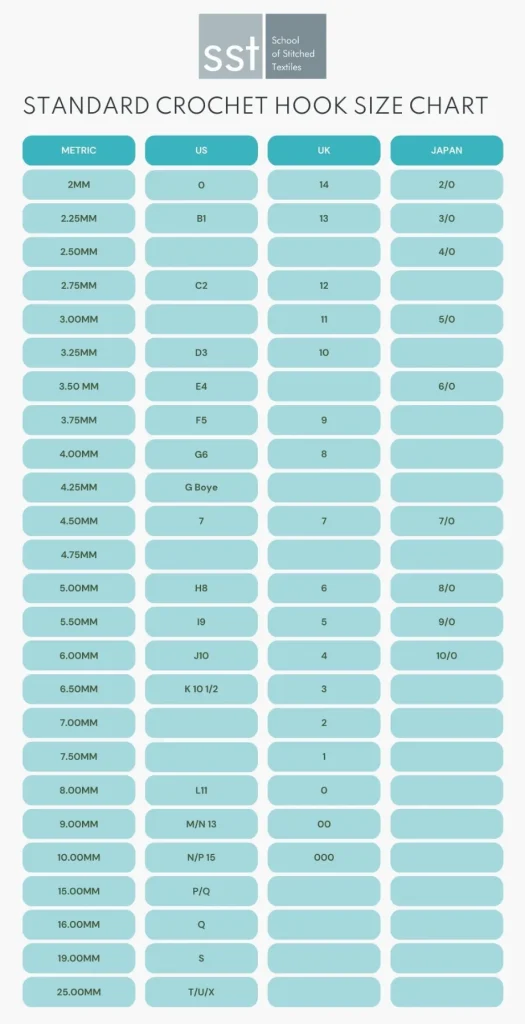 Steel Crochet Hook Size Chart 
The chart below gives steel crochet hook sizes, which are the kind of hooks you use with crochet thread or other fine yarn. These steel hooks have a different numbering system than the normal hooks shown in the chart above.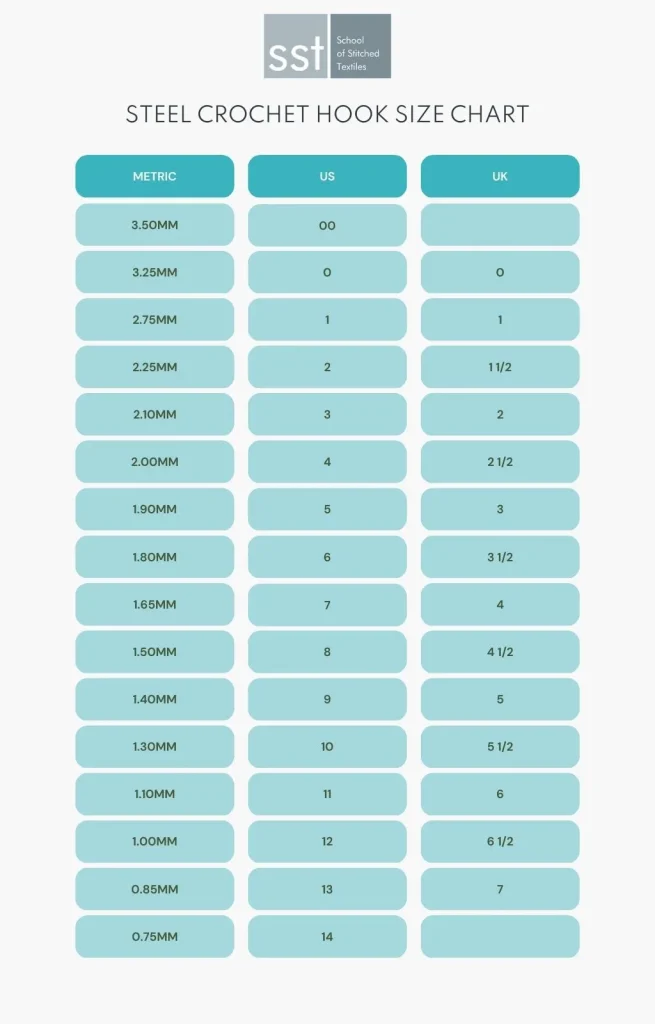 How to Measure a Crochet Hook
A crochet hook size is determined by the diameter of the hook shaft. The size of the shaft in turn determines the size of the yarn loops. You can measure a hook by using a hook gauge for a more accurate measurement. A hook gauge is a small plastic or metal card you can buy from yarn shops with a series of small holes, each marked with its size. Insert your hook into each of the holes to find the one that it fits fully into. Then, read the size to know what size crochet hook you have.
Crochet a Small Swatch 
If you're still unsure what size hook to use, make a gauge swatch and compare it to the pattern gauge information, if you're using a pattern. If not, and you're doing something really simple, like a long scarf, then you can decide by eye if it is the size you require. As a general rule, if your gauge is too large, use a smaller hook. If your gauge is too small, you can use a larger hook. 
Types of Crochet Hooks
There are many types of crochet hooks on offer. The kind of crochet hook you use depends on the project and your personal preference. We're listed some of the more common ones below for you. 
Aluminium crochet hooks are pretty cheap and are widely available. They are often the ones beginners start with first. The advantage of them is that the yarn glides smoothly over the smooth surface. However some people with arthritis or other mobility disorders find them hard to grip. 
Plastic and resin hooks are colourful and lightweight. They are often used for larger sizes and are easy to work with because of their lack of weight but can have sharp ends where the plastic  has been joined.   
Ergonomic hooks have large, soft handles to reduce strain on your hands. They can be made from wood or plastic. 
So, we hope by now you'll have all the information you'll need to know what size crochet hook to use. If you want to take an introductory, structured course to Learn Crochet, then we have one in our Creative Classroom that you can study online. Alternatively, if you are looking for a qualification in Crochet, then we offer a wide variety of City & Guild's accredited textile craft courses studied online at two different Skill Stages. Skill Stage 2 is for those who have some knowledge of Crochet and Skill Stage 3 is for those who are at an intermediate to advanced skill level. 
Let us know how you get on and please feel free to share your work with us by leaving a comment below.