We're thrilled to announce an exciting new partnership. We're partnering with one of our Stitch Directory suppliers, the amazing, The Fabric Fox to provide exclusive offers and benefits to our subscribers and students. So, to kick things off we wanted to share a little bit about this brilliant, blossoming business and let you know how you can get your hands on some amazing offers. 
About The Fabric Fox
Launched in 2014, The Fabric Fox is owned by husband and wife duo, Kirsty and Lee. A fully on-line shop, their store offers modern, unique and fun fabrics that promise to add a 'bit of personality' to any makes. Although Kirsty has always been an avid creative, Lee admittedly, did not know much about fabric or sewing. However, he was enthusiastic about the business and has since learned a lot. Today, all decisions about the choice of fabric to stock are made together! 
Over on their site, you'll find a lovely range of fabrics, accessories, kits and fat quarter bundles. You can also choose fabrics by type, manufacturer, colour or theme. They also offer a useful shopping guide and a loyalty scheme, so do check them out or read on for more about The Fabric Fox.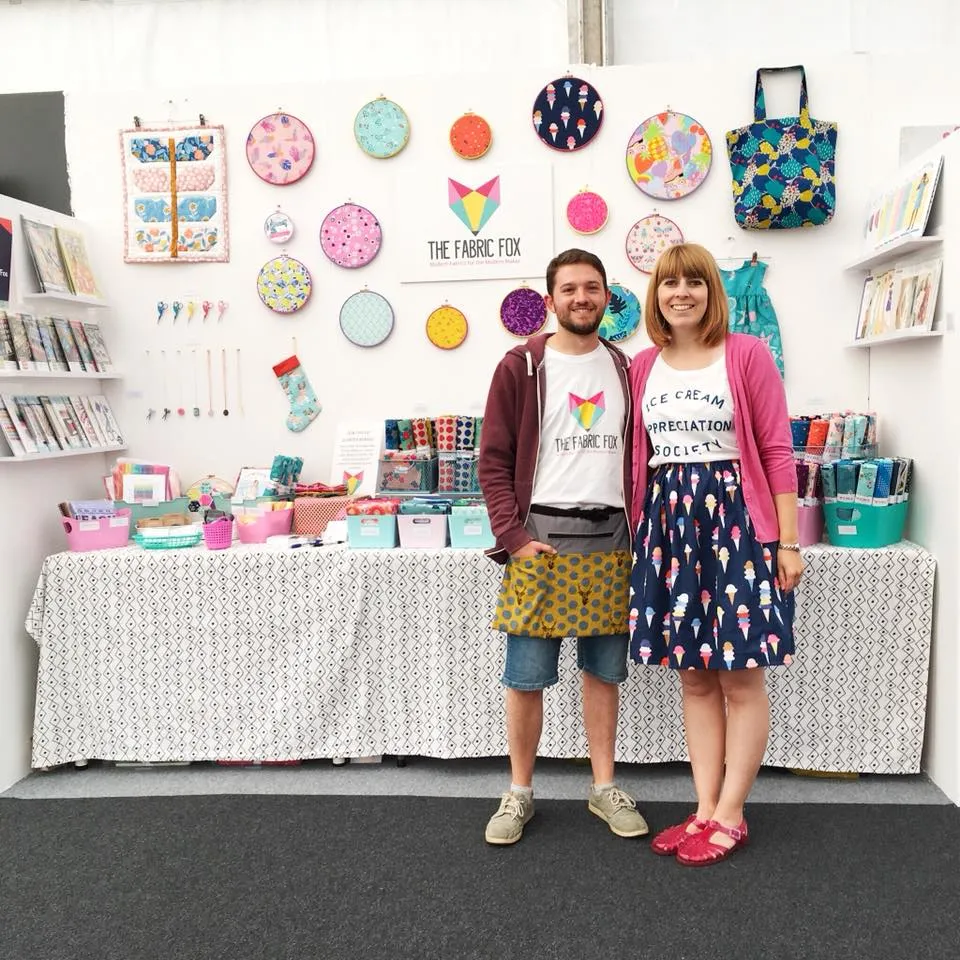 About the Stitch Directory
Back in 2021, during the height of the Pandemic we established the Stitch Directory! It's a dedicated platform that exists to help independent craft stores and haberdashers promote their business to our ever-growing community of crafters, makers and artists. 
For us, the Stitch Directory was an essential initiative that we wanted to create. Not only would it help our cohort of students – who are always asking for recommendations about stockists, suppliers and retailers, but it would also help businesses gain vital visibility.
The Stitch Directory is a completely FREE resource for businesses. As long as you're an independent business, you can sign up for free and add details about what you offer, include pictures of products and links to your website and social media channels. We'll also show you how to develop your listing for better visibility and give you the opportunity to gain more exposure through a number of ways. If that wasn't enough, we also periodically share some of our top stories with businesses which they can use in their own newsletters or as social content.
The Fabric Fox joined the Stitch Directory about a year ago and have really embraced the opportunities we've offered them.  We also knew that they had a lot to offer our students. Since so many of our beginner courses and accredited courses require fabrics, we've been looking for a supplier to partner with to provide students with a little incentive to shop at their store and help them to save a few pennies along the way. 
What the Partnership Will Provide. 
The Fabric Fox have very generously agreed to give all of our students a 15% discount. Students will be able to find their discount codes in their course materials. Plus, for 6 months, The Fabric Fox are also providing a 15% to our subscribers. If you're not already on our mailing list, then subscribe today for your discount. 
We caught up with co-founder Kirsty to find out more about The Fabric Fox.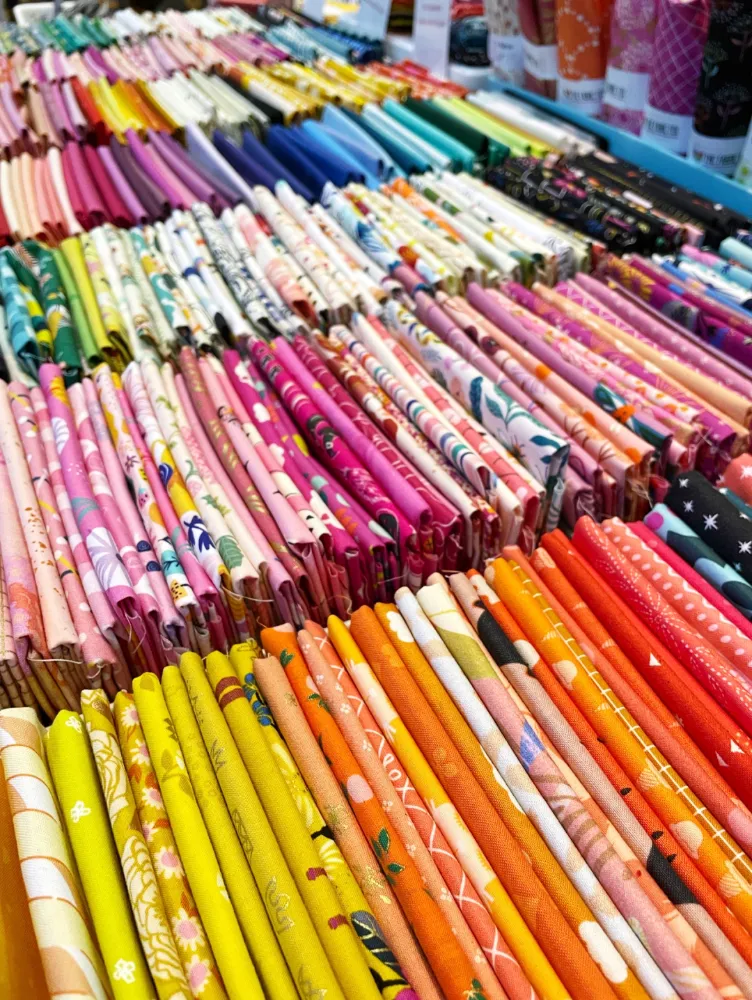 You've been going since 2014. How did The Fabric Fox come about? 
We're a husband-and-wife team. I used to make cushions and bags to sell and was always on the lookout for colourful and modern fabrics, but I was struggling to find them. I had the idea of setting up our own fabric shop so that other people could easily find these types of fabrics all in one place.  
The Fabric Fox is a great name, who thought of that? 
I thought of it. The original logo was a cute orange fox in a purple polka-dot scarf. We both liked the alliteration and how soft and cuddly the fox looked, so it stuck. Once the business found its feet though, we rebranded and the new geometric fox is now much more representative of our shop now. 
Do either of you craft? If so, what textile crafts do you like to do? 
I like to sew and particularly like being creative and making home accessories. I also like dressmaking, and enjoy cross stitch, and have recently learnt to crochet. Lee hasn't had much sewing experience but he wants to have a go at making a patchwork pixel-art quilt. 
Can you give us an overview of what you offer? 
We specialise in supplying colourful, modern and fun quilting cotton fabrics from a variety of creative fabric designers. Our favourite fabrics are from Ruby Star Society and we also have a large range of their supporting basics designs, as well as complementing solids. We also stock fun sewing-themed accessories including greeting cards, sew-in labels and jewellery.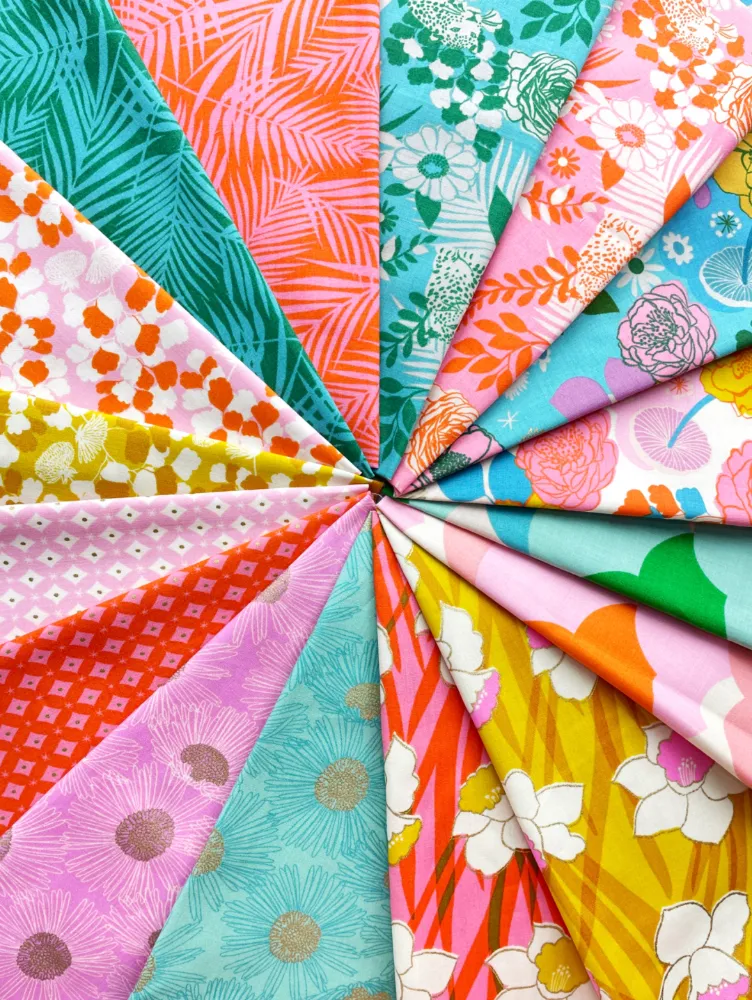 What makes you different from other fabric suppliers?
As we are an online shop we wanted to offer free UK shipping on all orders, we know how much we hate paying for shipping ourselves when ordering online and our customers have told us this is a big perk too! We also post orders in biodegradable bags, which can be thrown away with food waste or added to a compost bin, which is great for the environment and helps reduce our carbon footprint.
How did you adapt during the Pandemic? 
Thankfully, as we run The Fabric Fox from home, we were able to remain open throughout the pandemic. We saw a huge increase in people sewing as they had more time at home as well as a lot of people making masks. We focused on sharing some tutorials to help anyone who wanted to make their own masks as well as a tutorial on how to make a patchwork rainbow to hang in your windows.
Do you offer any specialist or unique fabrics? What are some of your stand out or best selling items? 
Everything by Art Gallery Fabrics is OEKO-TEX Certified, which means it has been tested against 350+ toxic chemicals. AGF is also printed on premium cotton, with a high thread count which makes it super soft and durable. 
Our most popular fabrics are the Ruby Star Society Basics range. These fabrics are a collection of blender prints featuring different basic patterns but the Speckled print seems to be everyone's favourite. The Bella Solids by Moda Fabrics are a close second.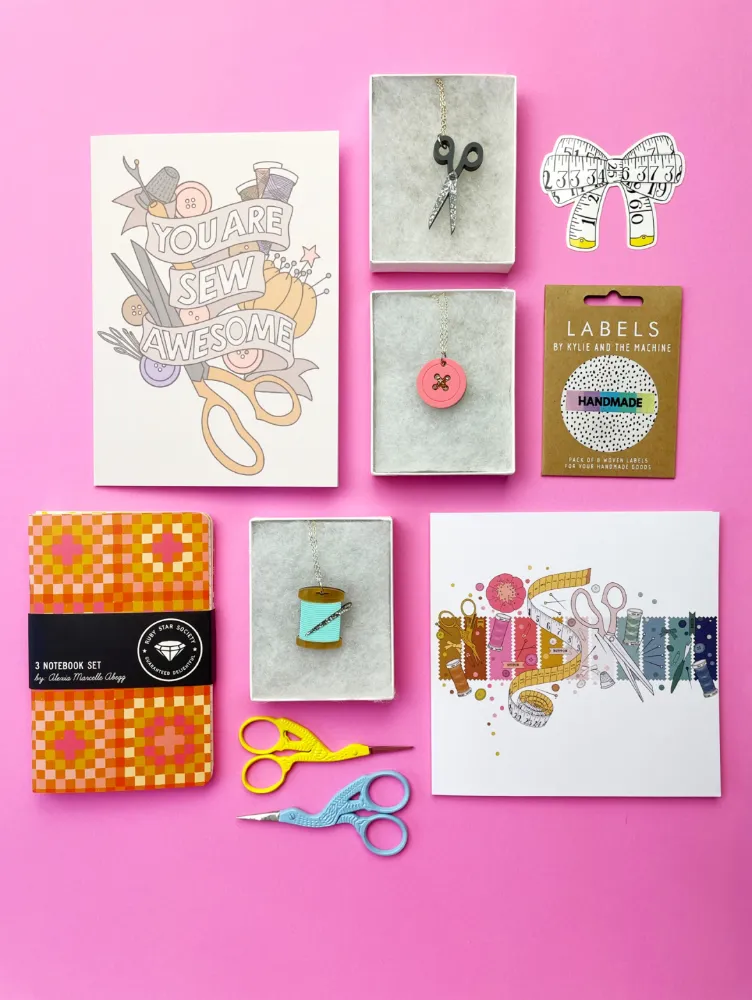 How can people find you?
All of our fabrics are on our website
Whenever we have any new fabrics arrive we always share them on our Instagram and Facebook pages. People can also join our mailing list for information about new fabrics. 
What are your business ambitions? 
Our main goal is to continue to grow the range of fabrics available on our website and offer more variety of patterned fabrics. We would also love to attend more events and markets so we can meet more of our lovely customers in person. 
Many of our students, once qualified, go on to start their own businesses; selling their own makes or unique supplies. Do you have any advice for them? 
We would recommend finding a niche and making yourself stand out in your niche. People appreciate it when you're able to do one thing really well and know you are the person to come to. Also, it's great to make friends with businesses doing similar things as you as they can be a good source of advice, inspiration and support. 
It's great to hear from The Fabric Fox. We're really looking forward to working together to mutually promote crafting, textiles and fabrics. For your chance to get your hands on a discount, remember to subscribe to the School of Stitched Textiles.