Christmas is a great time of year to embrace the cold, stay indoors and get crafty. This year – more than ever – we'd go as far to say that we actively encourage it! 
Pinterest and Instagram are a fantastic source of inspiration. We've put together some of our personal favourite Christmas Craft ideas for you to enjoy. We hope that you find some ideas to spark your next project and we hope that you all have a happy, healthy, and crafty Christmas!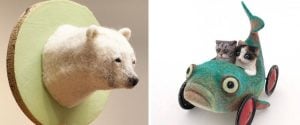 Felt making is an extremely versatile art allowing artists to create flat and 3D sculptures. Many artists choose to dye their own yarn to create truly bespoke and unique pieces of art. Our own Felt Melting courses are gaining popularity, perhaps suggesting that this ancient art form is making a comeback. To
Read More »

—– Originally published 23rd October 2019. Updated 18th March 2020 —–  According to the mental health charity MIND, 1 in 6 people in England experience feelings of anxiety and depression in any given week.  However, as the world comes to terms with living in isolation to reduce the spread of Covid 19
Read More »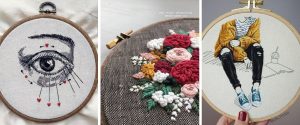 If you've been following our Inspirational Artists series you'll know how this works. In a bid to inspire and delight we've trawled the web and social media platforms like Instagram to share with some great artists and makers. And we have some truly groundbreaking, innovative and breathtaking work to share
Read More »
Join the fastest growing stitch community
Sign up to receive the very latest news, views and crafty insights from the us.
*two emails per month max.