We have an exciting new feature to share with you! If you've ever wondered what it's really like to study an accredited course with the School of Stitched Textiles you'll be pleased to know that we have two willing volunteers who have promised to document their journeys. We're going to kick start our new  'Student Experience' segment off by taking a look at what one of our Textile Students has been up to. Don't forget to subscribe to our newsletter to regular updates. 
Name: Gabrielle Theano
Course: Textiles Skill Stage 2
Previous Experience: "I trained as a scientist but I've been doing some form of (self taught) textile work for most of my life.  I'm keen to improve my skills but also nervous. It's been a long while since I have "put myself to the test".
Well… here goes.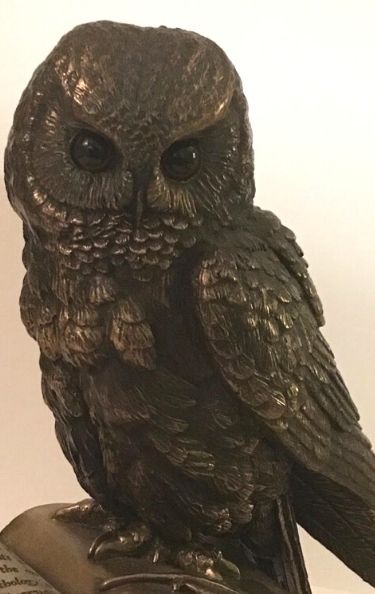 Our Textiles course is a mixture of Machine Embroidery and Patchwork & Quilting. The course is designed to take students through the basics and introduce them to new techniques. 
By the end of the course students will have the knowledge and skill to produce pieces to a high standard which should reflect their own individual style and creativity.
Download the brochure for more information. 
The Induction Pack is really helpful. It provides all the details of the course, and highlights the safety rules.  It's easy to take things for granted when it comes to safety, so I'm glad of the timely reminders.  
My workspaces are pretty cramped, no 'free' surface is bigger than 6 sq ft, so I've decided to use a mini binder notebook for quick hand notes, ideas and sketches, and I can add bits if I need to.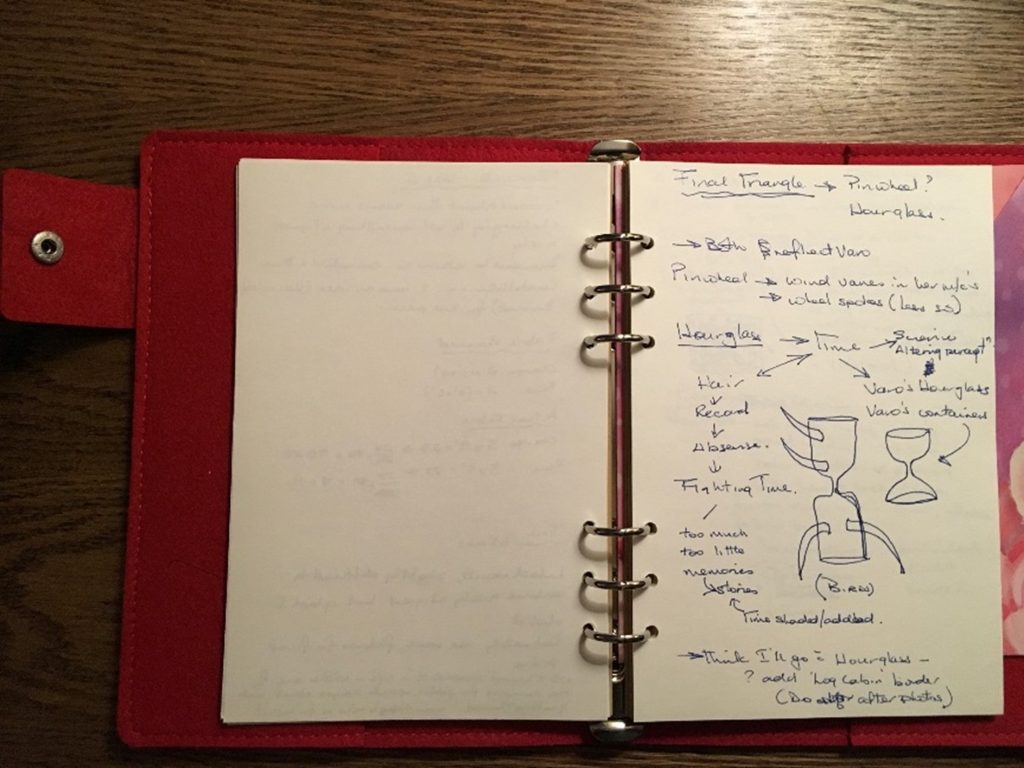 But my scribbles can be almost unreadable (even by me) so I'll write them up in a digital journal, which I can use for my final presentation too. That will also save me from having to print photos etc, as printer ink is so expensive. 
I read through both Modules, and the examples posted online. The high quality of some of the work done by the students is pretty daunting, but it looks like they were having fun, as well as discovering  new ideas they hadn't ever imagined before.  Module 1 for Textiles includes an artist investigation and a series of patchwork samples. I've never been that keen on patchwork, but I can see it's a good way to establish our basic cutting and sewing skills….  'tis a far, far better thing I do now……
Task 1 is choosing an artist, and isolating patterns or motifs.  I'm not sure about the isolation part – as I find it difficult to remove a pattern from its context.   I have loads of artists I like, but after reviewing a few I settle on Remedios Varo.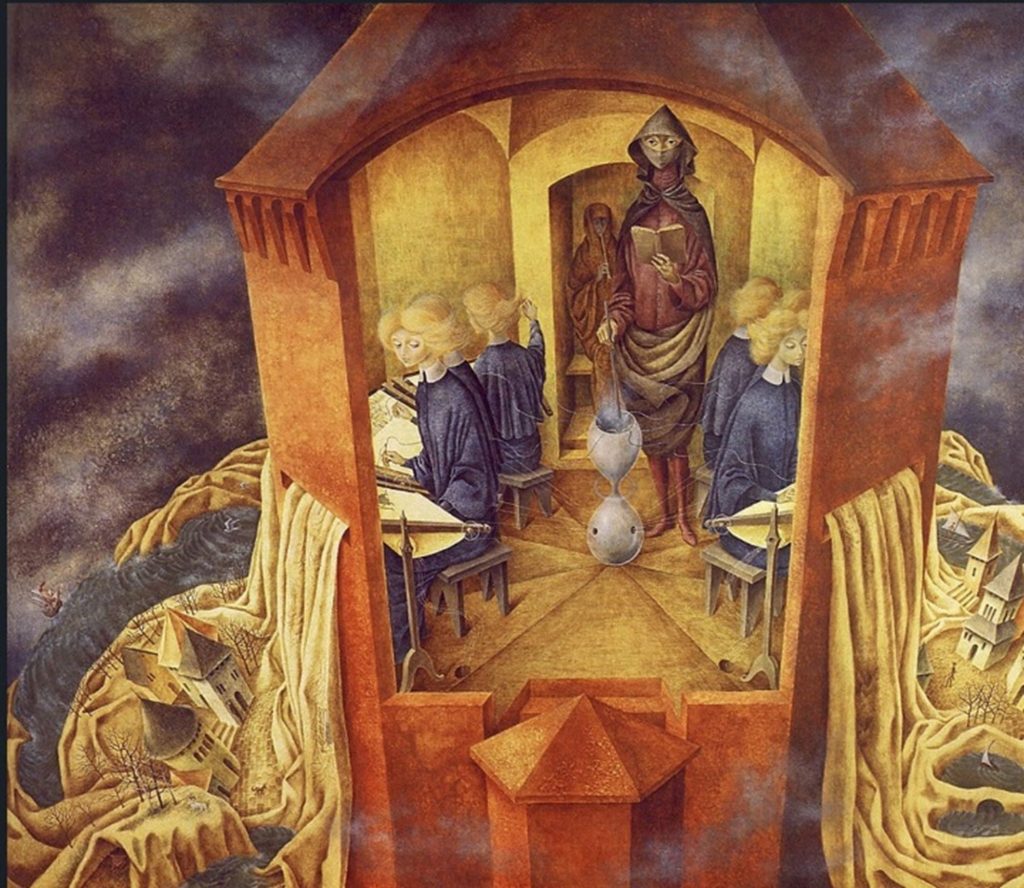 Her work includes surrealism, although she herself rejected such a limited description of her work.  I can empathize with her dislike of being boxed in by other people's labels. I love the way she combines art with science and features gentle machines, but also elements of fantasy and myth.  Varo's paintings include the fine lines and details that I would love to emulate, and I love her colour schemes of fiery oranges, with glowing yellows, popped with a complimentary blue and greys.  Greens too.
I don't want to use my printer too much so used Procreate to isolate and draw the motifs that attract me – the pulleys, machines, tall gothic cathedral buildings, hourglass shapes, the layers of receding arches,  the tattered layers (paper, fabric) surrounding her figures, circles and spirals.  I used more than one painting – similar to one of the given examples (Artists Task 1 Done digitally), although I note that most isolated their three patterns from one painting. Hope that's ok.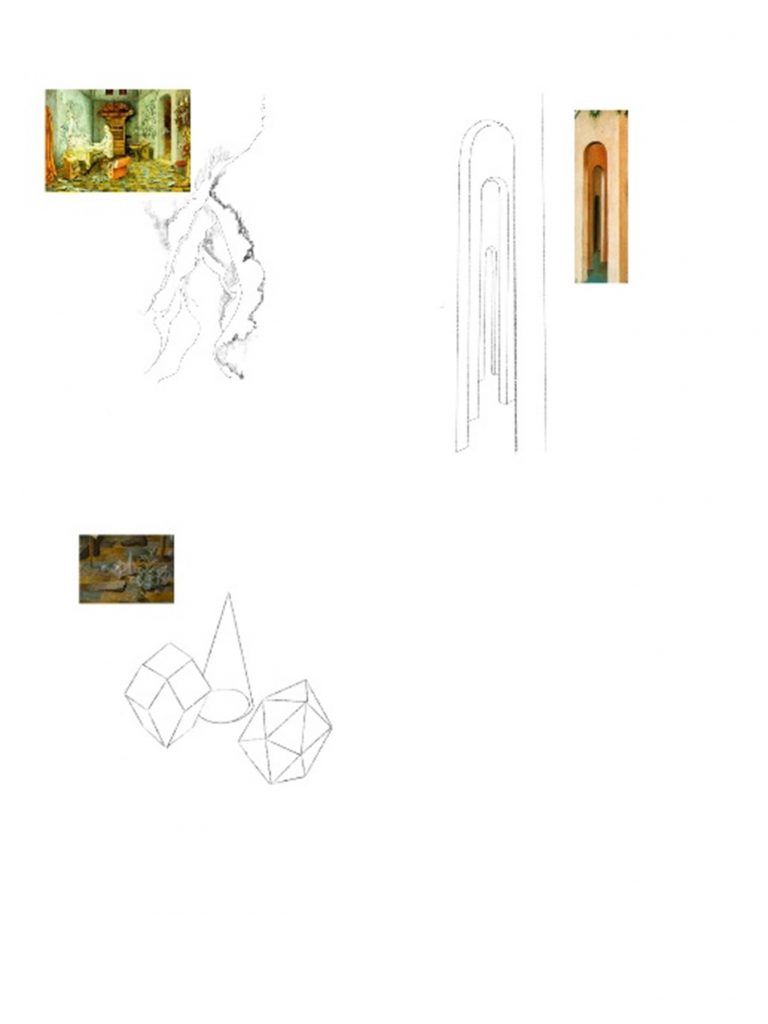 Task 2 includes watching the demo video – really helpful.  I had never thought of just ironing the simple pieces together – so much easier than pins.  Realize I'll have to have my iron on for most of the sewing session.  I'm a bit nervous about that after my burning iron episode a few weeks ago, but I'll just have to keep an eye on it.   Outlets here don't have switches so it's not easy to disconnect live things.  I've always had trouble with rotary cutters – they slip, and my blades often up cutting into thin rulers.  Found my squared quilting ruler, which is easier to use with a rotary cutter.  Using the described 'firm claw' position helped a bit, but I still find it a challenge.  My small space means that larger length of fabric tend to roll off so I need to pre-cut rough sections first. 
More notes then I'm off to dig out my cottons.   I settled on an orange/gold Art Deco print, combined with a blue/white constellation, which reflect both Varo's designs and color schemes, as well as her interest in science.
Ready for Task 3 – the 4 patch blocks. Took me a while to arrange the apartment for repeated cutting, ironing and sewing, but the actual piece didn't take too long, even though I tried to be as careful as I can.  Second piece – the 4 patch variation went well too….until I realize I have set one of the block in the wrong orientation.  It took a few photos before I noticed what was wrong.  Oh well – unpick and resew.
On to the 9 patch block.  I wondered whether this would work with my chosen fabrics.  I created mock-ups in Procreate of the different fabric arrangements including some plain, but decided that my original pair worked best.  I was really pleased with how it came out.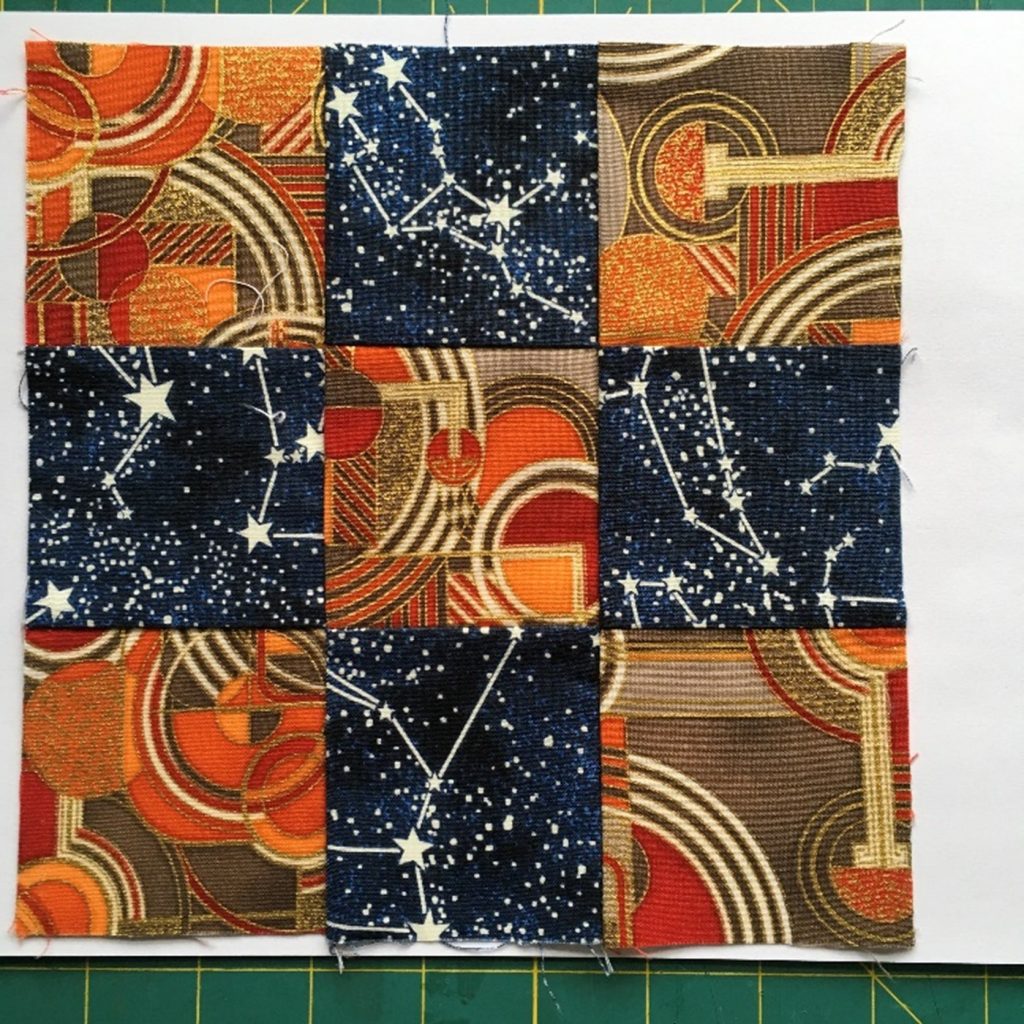 Log Cabin next(Task5).  The only patchwork I have ever done before for Dionne Swift's Virtual Quilt Challenge in early April .  I deliberately made a 'crazy' version, using different fabrics and colors, as I wanted bright colors etc to contrast the wintery lockdown.  I was keen to see how using all cottons, and being careful about my seams would turn out. 
I wanted keep the orange/gold as the glowing centre, in keeping with the hearth narrative of log cabin quilts.  But long narrow strips of the two fabrics really didn't look good together, so I dug out some plainer red and yellow/orange.   It looked a little dull so I replaced the outermost strips with the orange/gold fabric, picking up the centre.  Much better!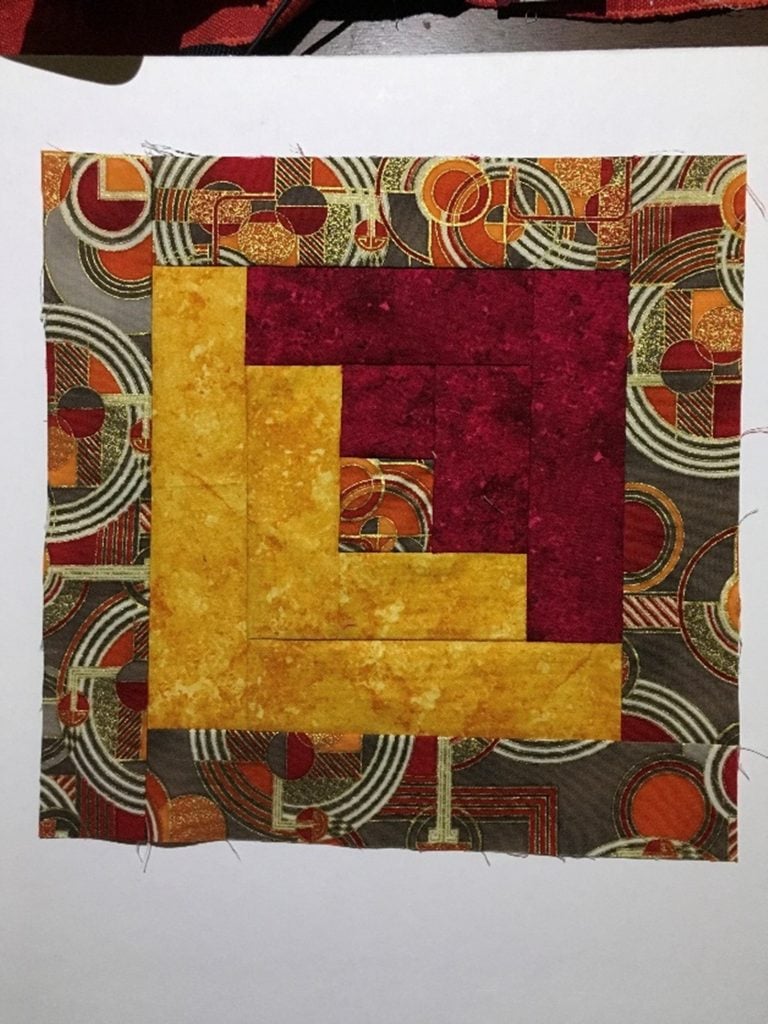 Now onto the final tasks – triangles..yikes! I love geometric shapes and have done some pieces with triangles, as well as 3D structures that involve accurate cutting and placement.  But will I be able to get the patches lined up for this?
Thank goodness it turned out ok.  Definitely a bit more fiddly, but I did it!  Now to decide what arrangement to use for the final piece.
Throughout these tasks I've been thinking about Varo, trying to keep her work as my theme.  There were two motifs that came to mind for this last piece.  First the wind vanes/ spokes of the machines, which could be represented by the pinwheel pattern.  Second the hourglass shapes, readily represented by the hourglass pattern.   Varo was particularly interested in how the Theory of Relativity dramatically affected our view of space-time, and I share that interest.  The passage of time has also weighed on us all over these last few months, either too much, or too little, so I decided to use the hourglass pattern.  I am pleased with how it came out, it is less fussy than the pinwheel, and really allows the fabric to shine, while reflecting my chosen (science/time) narrative.  I want to keep the piece – I'll probably add a constellation border to it, once I have completed and passed the module.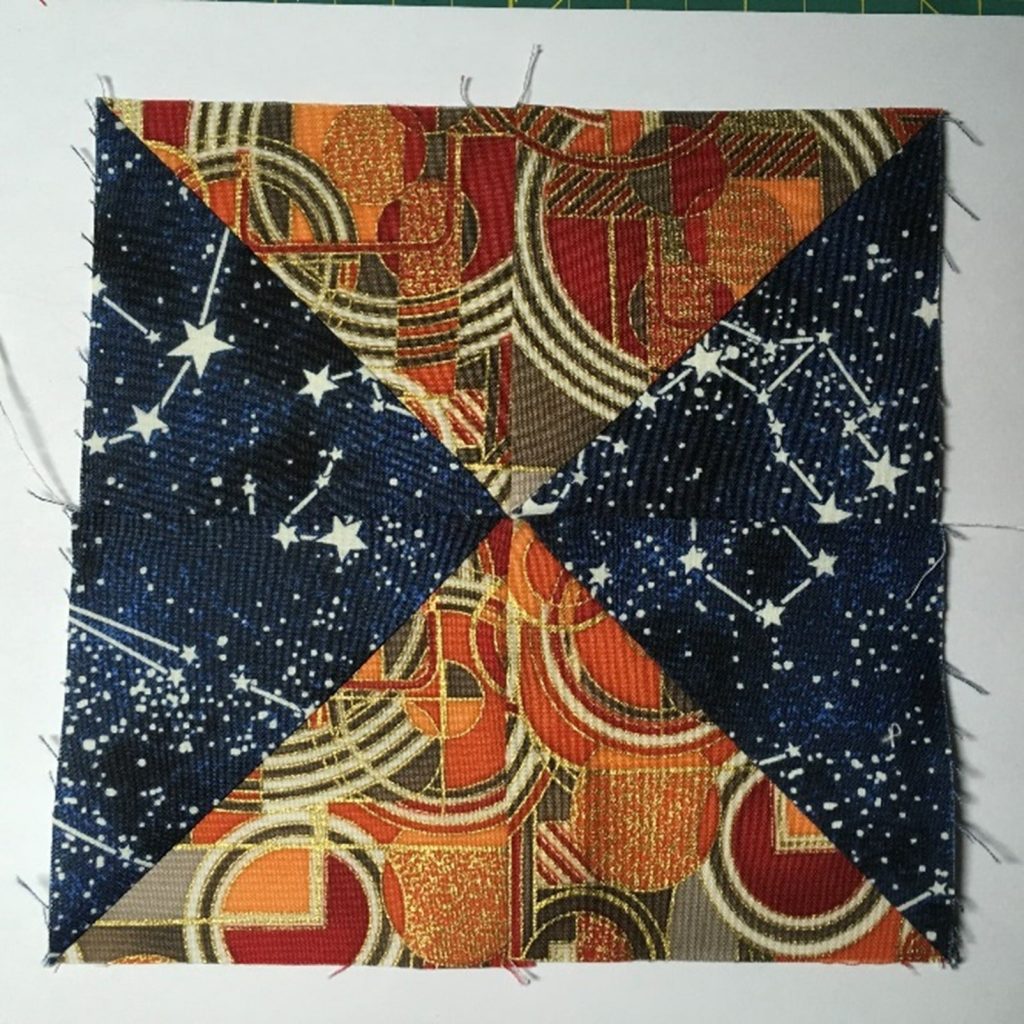 That's them all done, I hope they are up to standard. So on to some final photos to enter into PowerPoint.
This has been a great course so far. I have definitely improved my cutting and sewing skills, and it's made me think about my design process in detail. I don't think I'll ever be a patchwork person but I have some pieces that I really want to keep, which I was not expecting!
Check back soon for our next instalment.