As a filmmaker, writer and producer Sandra Sawatzky is a natural storyteller. However, after a visit to an embroidery exhibition at the Glenbow Museum in Calgary and feeling inspired by the Bayeux Tapestry Sandra set about conveying the story of oil to depicts its often, horrific impact on the world, the environment and civilisation. We're honoured to hear first-hand about Sandra's very own epic story about the creation of the The Black Gold Tapestry.
About The Black Gold Tapestry.
It took just under 10 years to complete the 60-metre, hand-stitched Black Gold Tapestry; a sprawling and intricate work that tells the history of oil from the literal beginnings of the earth to present day and its everlasting impact on human civilization around the world. Sandra has poured all of her creative talents, skills and around 16,000 hours of her time into this amazing masterpiece so we caught up with her to hear about her approach and inspiration behind the famous piece.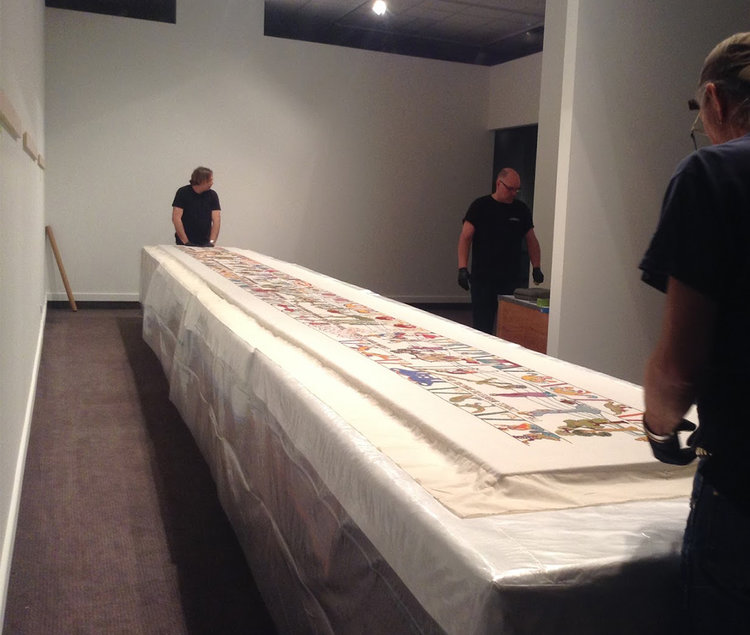 How did you get into textiles?
'I began sewing clothes when I was 13. The first garment I made was a pair of pants, no waistband, made out of a horrible plastic fabric called Fortrel, in a Barney the dinosaur purple. It was 1970 after all when Fortrel was praised for its wrinkle and crease resistance. There is a landfill in Saskatoon Saskatchewan in Canada with that pair of pants in it, and no doubt they are still crease and wrinkle free. I could only improve from that sad beginning.
Two years later I was making clothes from all natural textiles. I studied at an art college taking illustration and design. I continued to make clothes, dozens and dozens of garments – 10,000 hours worth of practice for sure – with lots of hand stitching involved. Other than a few sewing classes in high school and a pattern drafting course from a fabric store I am self taught. I read voraciously and collected books about history of costume and fashion and practised what I learned. It was like studying from the best. My favourite books showed the inside of haute couture garments in detail. At one point in the eighties I taught fashion illustration, history of fashion, pattern drafting and clothing construction at a local fashion college.'
Could you tell us more about the origins of The Black Gold Tapestry and how it came about?
'The story begins in the Glenbow Museum in Calgary, Alberta Canada. I went with my young daughter to see a show of pioneer women's embroidery. The work was exquisite and very inspiring to me as it turned out. We went to the crafts area called the Discovery Room and there we learned how to embroider. I had not embroidered since I was teenager – but had plenty of experience hand-stitching so I took to embroidery like a duck to water. Afterwards I wanted to do more – so I embroidered some fashion figure drawings I had in my sketchbook.
All of this lead me to think I wanted to do a work like the Bayeux Tapestry, an illustrated story on cloth, and I knew that with my skill sets of illustration, sewing and storytelling I could do it. I also knew from my work as a producer how long it would take and what the budget would be and how I could organise the work to get it done.
I wanted to make an epic tapestry about an event that was as important as the Battle of Hastings depicted in the Bayeux Tapestry. Oil is the main economic driver here in Alberta and energy fuels the global economy. Oil is used in so many different ways from energy and plastics to textiles and medicine and is used in just about every part of manufacturing the material world.  It made for a great story to tell.'
What materials and style did you use in the Tapestry?
'The Black Gold Tapestry is the first embroidered work of art that I have done. Until ten years ago, which is when I began work on the tapestry, I was working in film and television as a writer, producer and director. So I consider myself a storyteller first and foremost. The films I made has a lot of choreographed movement and humour. I describe the tapestry, as a 220-foot film on cloth and it too has a lot of movement and humour. The materials used for the tapestry are a suit-weight linen fabric, and the embroidery is done with thread from a small family run company in Boise, Idaho, USA called The Thread Gatherer. The thread is hand dyed and is made of a 50/50 wool and silk blend. The embroidery stitches I used were based on the stitches used in The Bayeux Tapestry – the figures are made with an outline stitch that is filled in and couched down. When I drew the cartoon illustration for the embroidery – a 220 foot pen and ink drawing on cartridge paper – I designed the work to have the feel of the Celtic/Medieval work of the Bayeux, and I also used history of art to dictate the styling of the drawings – using artifacts and art from the different periods and places in human history as references.'
(Click the images to enlarge)
Was there a development process for the tapestry?
'For the tapestry I started by reading about the history of oil – thinking about what a time line would look like. For the illustrations I looked at artefacts, historical documentation and real objects. There was so much to research from the costumes and props, and buildings, and machines to different interpretations of the dinosaurs that flank the bestiary borders in the tapestry. I even researched the history of colour.
Each panel (there are eight) represents a period in history and the colours that were used at the time. From plant based colour in ancient Egypt to aniline dyes introduced by William Perkin in the mid nineteenth century to florescent colours of the twentieth century. Then I began drawing in sketchbooks. Rough drawings. Then I traced the rough drawings and finessed the lines so that it was a simple line drawing that could be outlined in thread. These images were traced and inked onto the master cartoon. Each time the drawing was traced it changed and when it came to embroidering it changed again. It created a sense of anticipation about what the final result would be.'
Do you think you were brave to tackle such an epic project?
'No, my motto has always been endless curiosity and willingness to jump. I have always followed what I am interested in doing. I think my 'can-do' attitude come from growing up on the prairies in mid-western Canada I was nurtured by a DIY culture. Everyone I knew made things and did stuff that interested them. For example my husband built a rocket when he was eleven and it worked – it really flew. I had easy access to nature and spent hours and hours outdoors. My sisters and I were allowed to roam our neighbourhood and city, hang out, read any book we pleased, go to films and visit the library on a weekly basis, take music lessons, go to the local art gallery, see plays, ballet, concerts, go to nightclubs, listen to records endlessly – from Tchaikovsky and Cole Porter to Led Zeppelin and Cat Stevens. Play games and sports.
I don't remember ever being told by my parents that I could not do something because I was a girl. The schools where I grew up taught art, music, poetry, performing and were as important as all the other subjects. This was a regular mid-west education – available to everyone in any school. Growing up in the 60s there was plenty to fuel my imagination. My family discussed everything at the dinner table – it was a huge amount of fun to discuss and debate and argue. I was very interested in women's liberation at thirteen so I ran for student council in my school and was elected the first female president. My claim to fame then was that I lobbied and won the right for girls to wear trousers to school. It was a big deal at the time. Our principal was a former army sergeant with set ideas about what young ladies wore.
Art, ideas, curiosity, learning how to do things, combined with a lot of personal freedom and being inspired by the world around me was all that it took to grow my style and inner voice.'
Which artists inspire you?
'I love Michelangelo for his tenacity, Da Vinci for his curiosity, Matisse for his colour, Alberta sculptor Katie Ohe for her playfulness, Coco Chanel for her ambition, musician Jack White for his integrity, writer Vikram Seth for his humour, Joni Mitchell for songwriting and creator Steve Jobs for his analytic enthusiasm.'
Do you ever feel unmotivated, if so how do motivate yourself on these off days?
'No I don't feel unmotivated, maybe tired but not unmotivated. I just spent 9 years and 16000 hours embroidering a tapestry about oil. For me, motivation is based in discipline. I was not born with self-discipline. I learned it through practising, setting manageable goals that are meaningful to me and this helped to grow my disciplined approach to making. I also believe in making things fun and the fun has to help the process. Routine is important. While making the tapestry my work day evolved until each day I was up at 5:20 – I wrote in my journal until 6, then I embroidered until 8:30 – then I went outdoors for a run.  Returning at 9:30 I had coffee and worked a part time job – raising funds for a friend's dance company. Then I returned to stitching from 1 to 5 pm. Stopped for dinner with my family and then was back at work from 7-10:15. Then sleep. A schedule helps get the work done. While I stitched I listened to music, podcasts, talked to friends on the phone. My family chatted with me while I worked. The embroidery was always compelling and I loved working with the materials.'
Do you have any advice for our own students?
'Set personal goals to accomplish the work in front of you. Get outdoors to clear your head. Inspire your work by looking at the best and emulating the best in the areas that interest you. Learn about your materials through your own experimentation. Take advice. Ignore it too. Develop daily habits of making. Show people your work. Get out and observe the world around you. You don't have to travel further than where you are to find something interesting. Find ways to make your work fun. Never underestimate your need for creature comforts. Eat well, sleep well when you can. I believe a good cup of coffee or hot strong tea with a biscuit on the side makes life bearable, especially during the long hours needed to make anything worthwhile.'
Thank you to Sandra for sharing her truly inspirational story. It just goes to show that with a little perseverance and motivation everyone has the potential to achieve the things they want. Take a look at our courses below to begin your creative journey.