Textile artist Rosie James describes her work as machine drawn. Inspired by people, her pieces reflect her instinctive curiosity in crowds and human behaviour. Often there is someone or something that stands out from the crowd which then becomes her focus. Each composition is freely stitched using her machine and a mix of techniques, including screen printing and applique to create layers of imagery.
Her style has become synonymous with the draping threads that cascade over her pieces. A technique adopted to comment on the life line, and lines found in all things, and the lines that link us – as people – together.
Rosie James is a member of Art Textiles: Made in Britain and has recently completed a series called Covid 19 Isolation Portraits. It's a fantastic commentary which again explores human behaviour and makes a fascinating living testament to this fractured moment in history.
We recently caught up with Rosie James to talk to her about her pieces, what inspires her and her design process.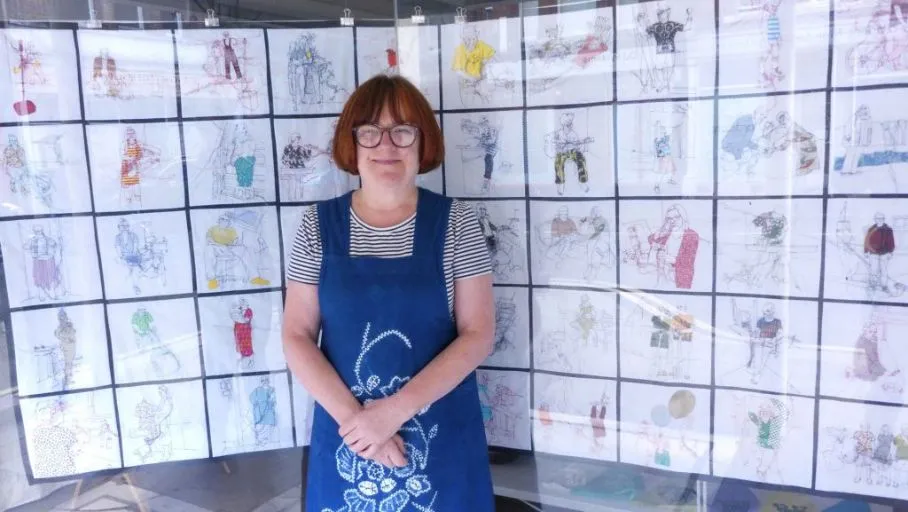 What was your first memory of stitching – who taught you?
My first memory is of my mum sewing on her treadle sewing machine, as it was quite noisy. She made up a lot of cushion covers and curtains for the house, in fabulous 60's colours and prints, I can still picture them now.
I was taught sewing at school, I remember making an apron and a nightie. But I wasn't particularly good at it. Later when I was about 17, my friend and I dabbled a bit in making our own clothes, which was fun.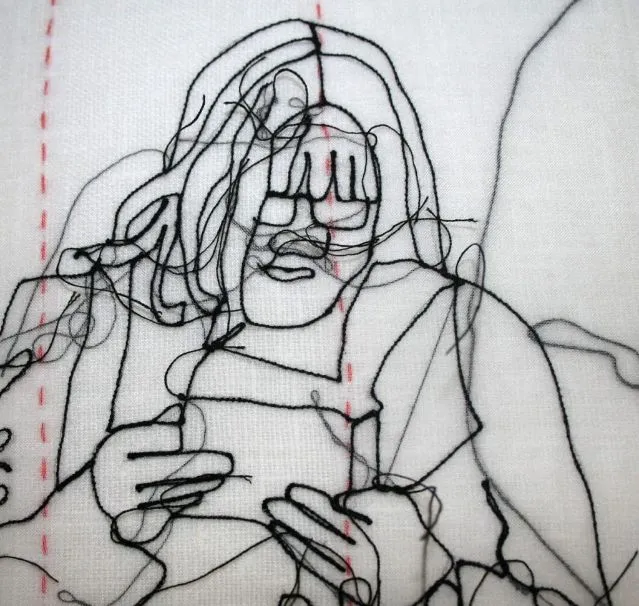 What are you currently working on and what is the inspiration behind it? 
I am currently working a piece for our Art Textiles Made in Britain group. We were meant to be exhibiting at the FOQ this year and we were all making work on the theme of Found. However since this has been postponed to next year 2021 it gives me a bit longer to work on it!
My work takes it starting point from some cloth badges that I found in a pile of bits and bobs that someone gave me. I have always loved these badges as souvenirs of places travelled to, that were sewn onto your rucksack or your hat. They were quite popular in the 50's/60's! They usually have the shape of a shield and depict a little scene of the area.
Since finding 2 of them I have been collecting them and now have 100. From all over Europe mostly, but also America and Australia. So I wanted to create my own versions of these but for places that are not usually visited by tourists, the more banal suburban places not worthy of a souvenir! I have completed 2 so far, for places near where I live in Kent, Larkfield and Strood and I intend to carry on and do 2 more. They are much bigger than the ones you sew on your clothes, these are for hanging on the wall.
They are screen printed images of the area, with some stitched and appliquéd people rushing about.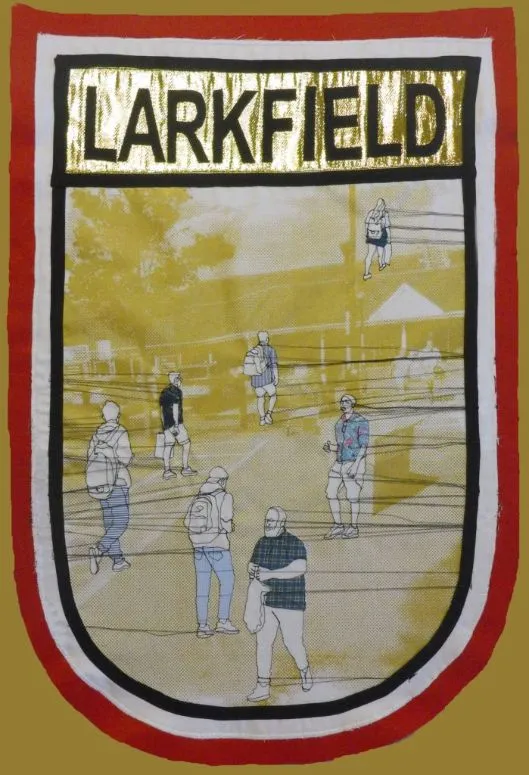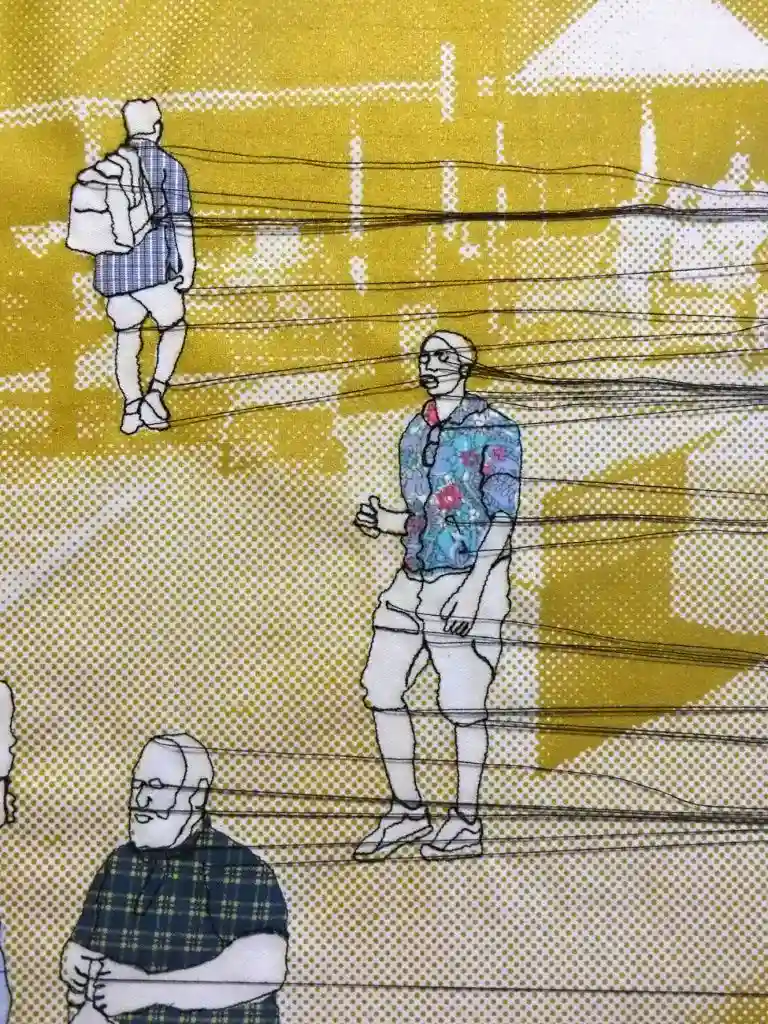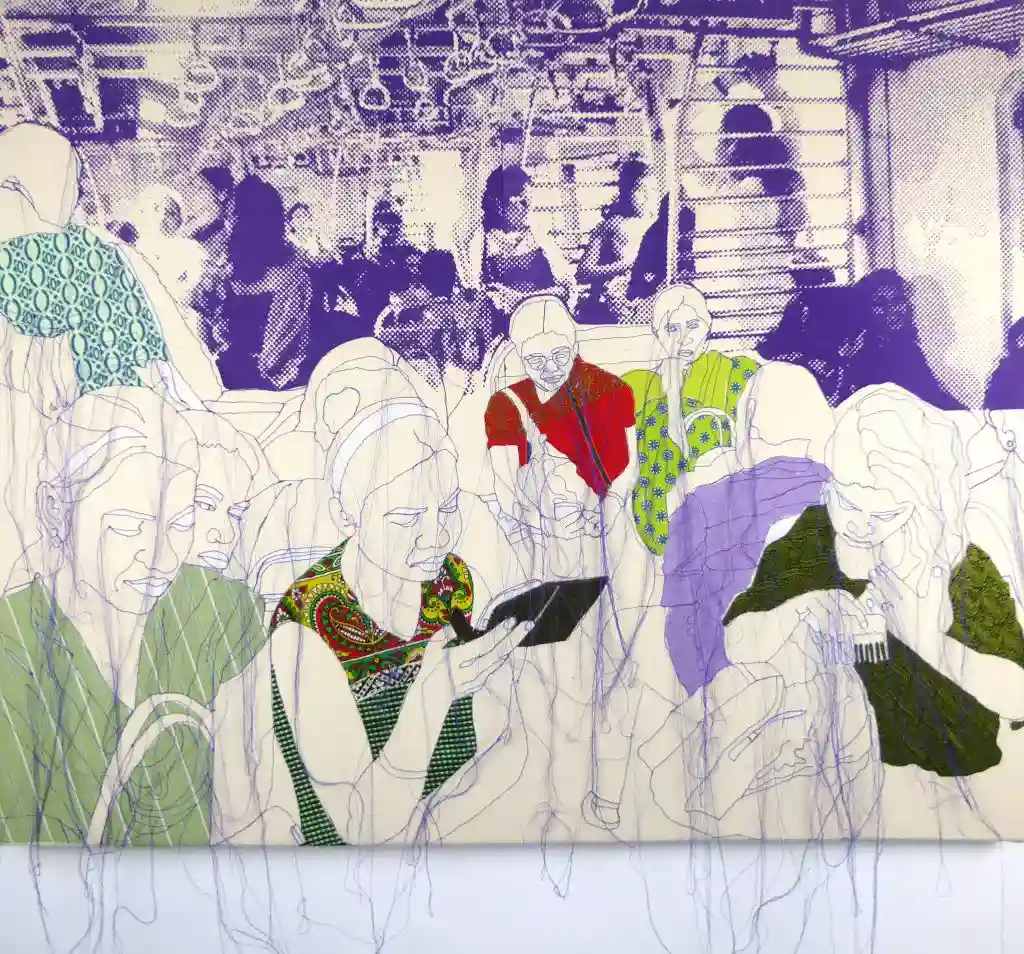 You use your sewing machine to draw instead of a pencil, it must be very important to you? What are you looking for when considering which machine and threads to use?
I like to use a basic machine that is solid, like a Bernina, and I prefer the old ones!
For threads, I prefer to use cheap threads that are slightly fluffy, as these hang better and stick to the background fabric. I don't like anything too slithery! I'm loving the variegated threads as they create a range of tones which makes for a more interesting drawn/stitched line.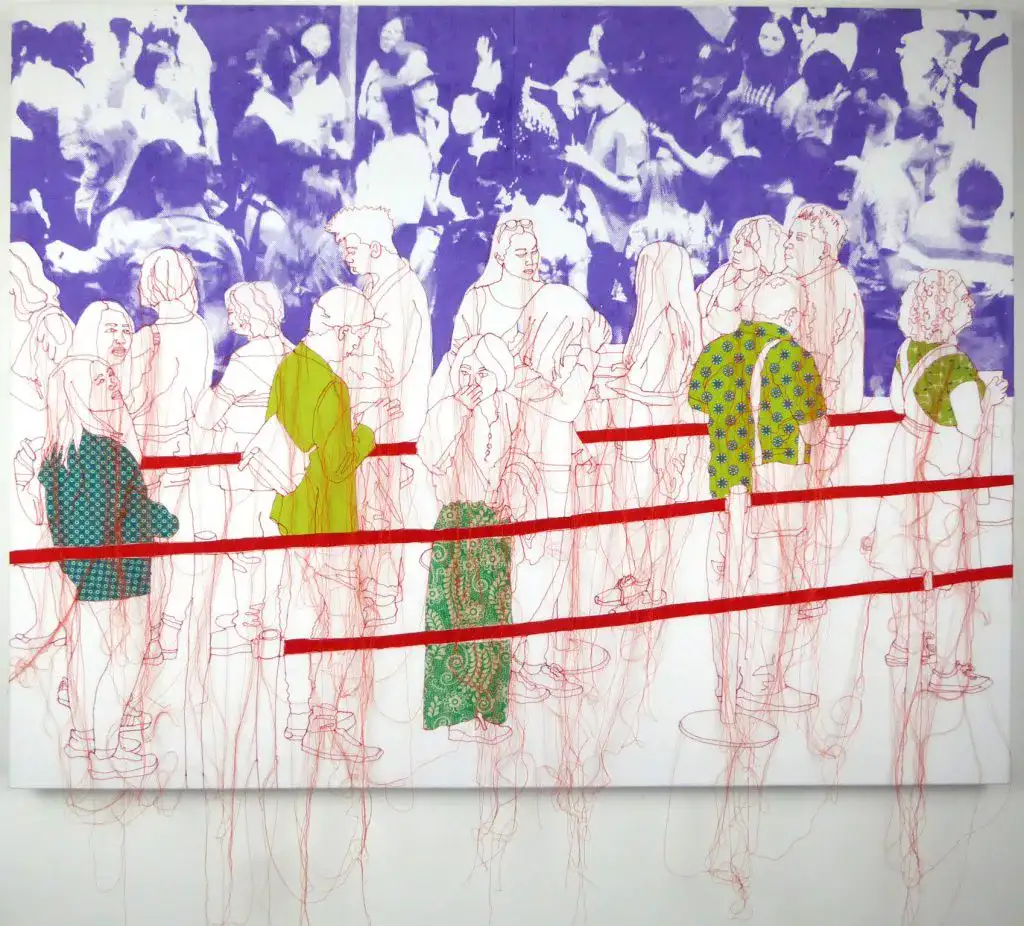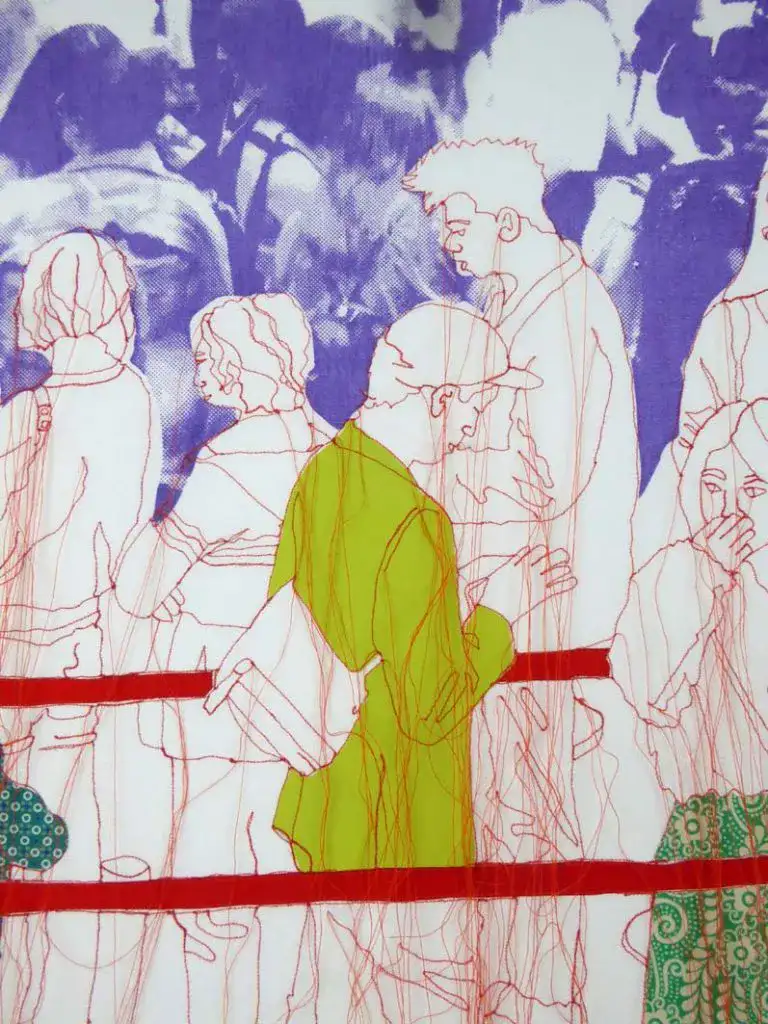 You've been undertaking a series of portraits of people who have been in isolation during the Covid 19 pandemic, which must be a fantastic boost for them. Do some people/subjects create more of a challenge for you than others when translating into stitch?
Yes! I find faces can be tricky when they are quite small. Sometimes I use hand stitching to do the face. Faces are the part that makes a person look like themselves so the slightest line out of place can make all the difference. I prefer to stitch the whole person just because I think its more interesting. The easiest people to do are those wearing glasses!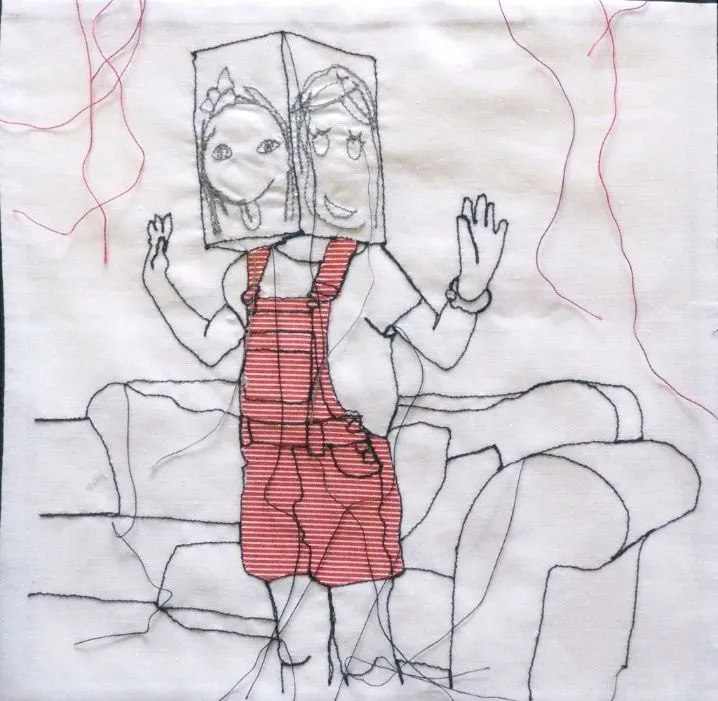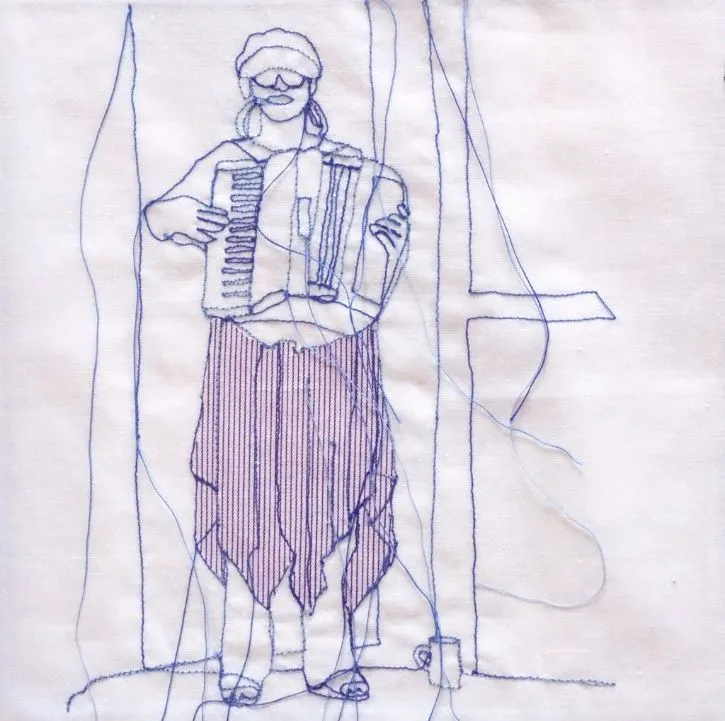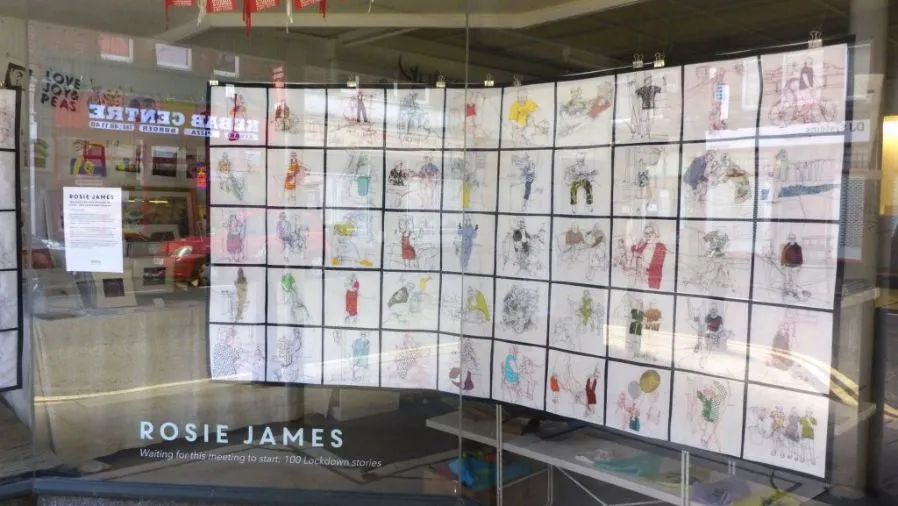 We know from your book that you also use print and applique within your work. Can you suggest ways or processes whereby our students could begin to do the same?
I would suggest using monoprinting, or gelli print, and then stitch on top of whatever you print. Or make a simple screen and use cut paper stencils as I show in the book. Applique is also described in the book, I use bondaweb to attach fabrics/paper etc. And then mix it all up so you have a range of colour/line/ blocks of flat print and then textured stitch.
What artists inspire you personally – who would you like to sit next to at a dinner party?
I would love to sit next to Pieter Brueghel the Elder! I am inspired by his paintings and the way in which he puts together a crowd. You can see so much going on his paintings, small little interactions between people. Plus I am interested in the way he arranges his figures within a space.
I find painters very inspiring for my work and don't necessarily look to textiles for inspiration. However, I also love Phyllida Barlow, Yin Xiuzhen, Do Ho Suh, all using fabric on a large scale!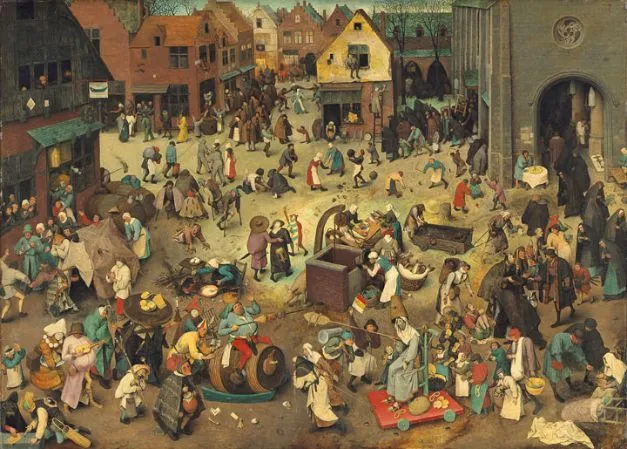 What's next? Do you have exhibitions or new books underway?
The future is very uncertain at the moment, as it is for everyone. But there are a few exhibitions that may still go ahead. The group Art Textiles: Made in Britain, will be at Farfield Mill in Sedburgh in November (fingers crossed). Plus I am making plans for next year!
__
We're so greatful to Rosie for taking the time to talk to us today. For more details about up and coming exhibitions please visit her website or follow her on Instagram or Facebook.