After completing our Hand Embroidery Skill Stage 2 Course, Heather Bielby went on to enrol onto our Skill Stage 3 course. She told us that although she had always loved art and self expression she had little confidence in showing off her work. 
Having graduated earlier this year, Heather has provided an amazing account of her personal and creative growth. This is her inspiring #MyStitchJourney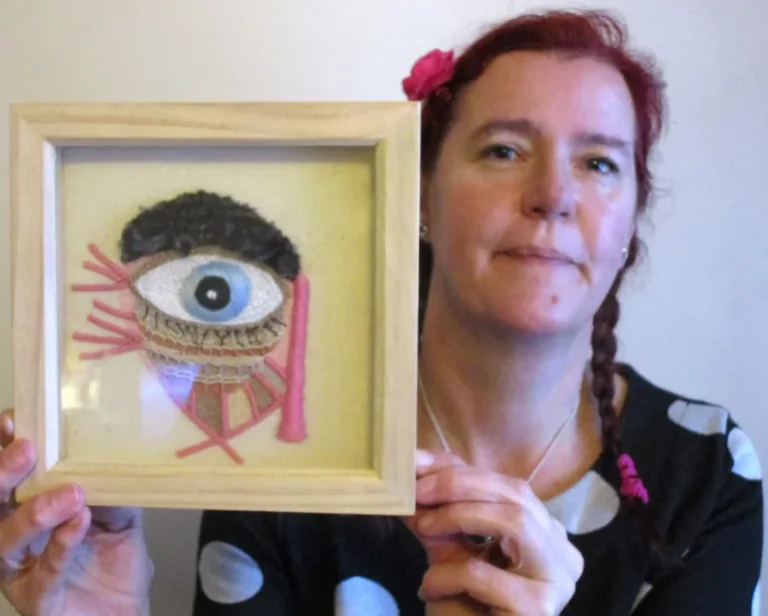 "When I look back at what I was producing before the course and the knowledge and skills that I've now gained plus the whole world of artists, makers and techniques it has opened up to me it's just incredible and gives me a real sense of achievement."
After completing Hand Embroidery Skill Stage 2 I decided to continue my stitch journey on the SST programme and enrolled on the Hand Embroidery Skill Stage 3 course which I proudly completed in March 2023.
After failing GCSE art! Any formal artistic aspirations I had were scuppered at an early age so I'm self educated in art movements and the world of art. I am a great believer in self expression and creativity and have tried my hand in many different artistic fields. However, hand sewing and embroidery has always been my passion which I always return to. 
It's so satisfying, relaxing and easy to do at home as you don't need much equipment apart from some material, needle and thread. I am completely self taught and have always enjoyed creating and designing things. Before starting the course I produced a range of hand embroidered appliqué bags and cushions which I sold at craft markets.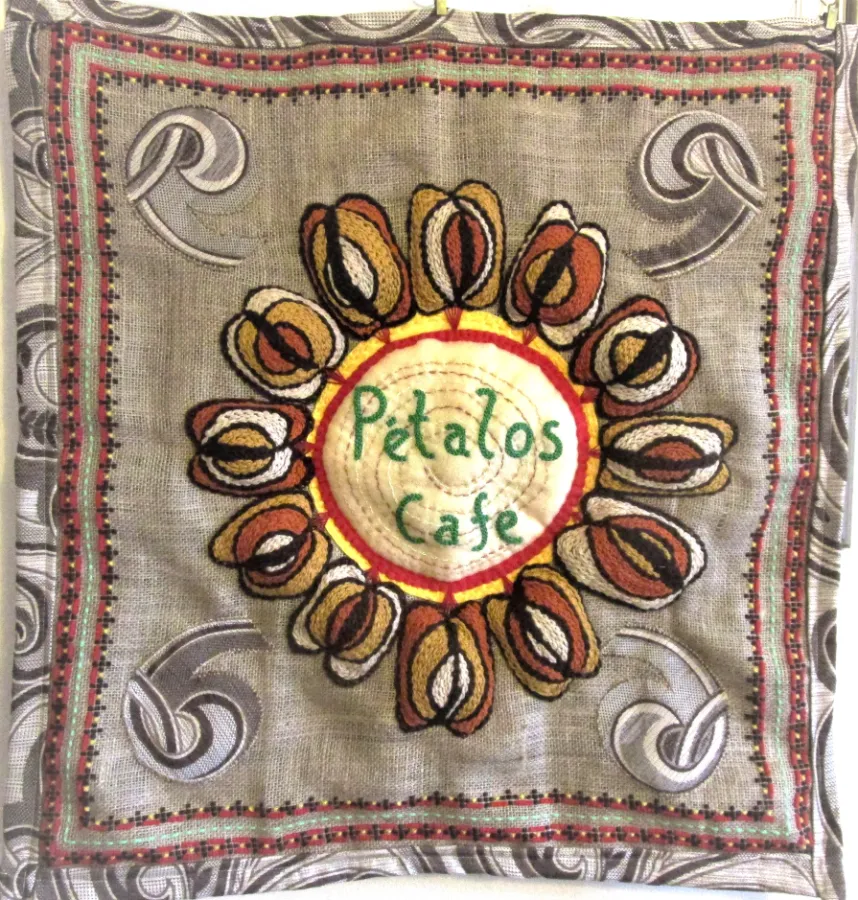 I really wanted a challenge and to develop my hand embroidery skills and to build on and expand my knowledge from Skill Stage 2. I really love the element of design at the Skill Stage 3 level. You learn how to manipulate contemporary digital design packages, how to use social media sites, the creation of business promotional material and how to present and price commission pieces. 
All elements that compliment the hand embroidery technical skills which provide a complete skill set if you are thinking of developing your hobby to a business or wanting to take it in a more professional direction.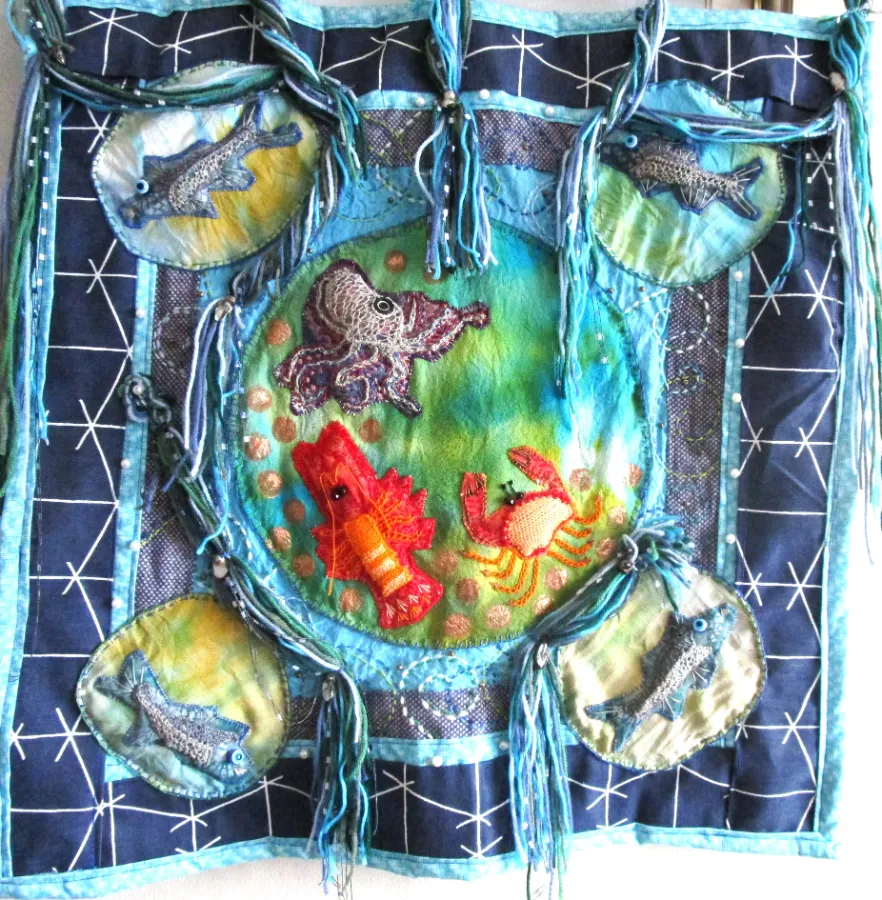 Heather's online gallery of work completed throughout the course.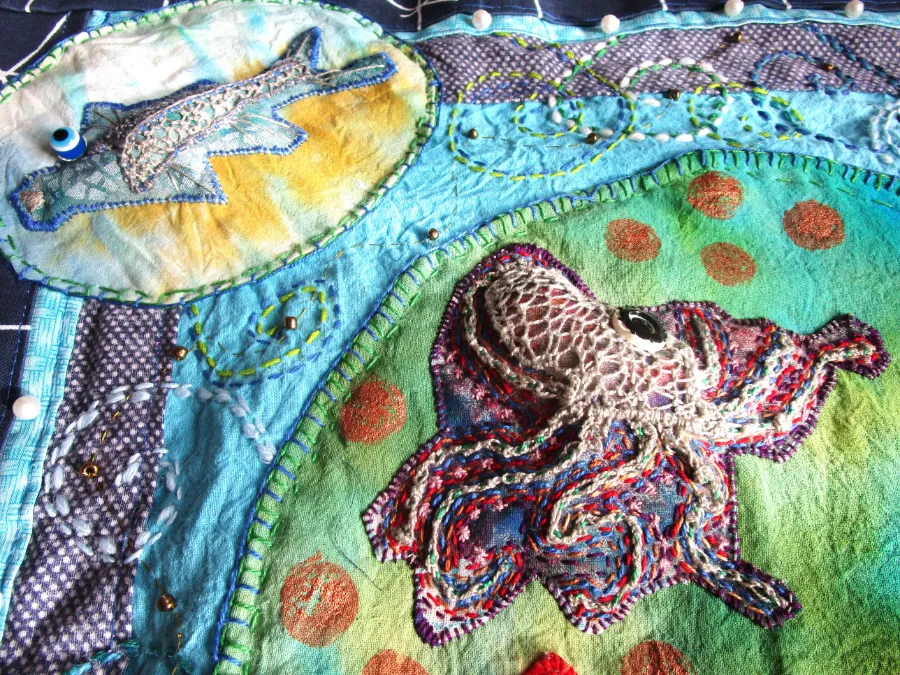 My interest in studying an accredited course stems back to pre Covid. For many years I would look at the course programme and wonder if I could do it. After the pandemic I decided to do something for myself and take the plunge. I'm so pleased that I started with Skill Stage 2 as it gave me an introduction to the course and what was expected of me. I didn't even know that tapestry needles existed!
It gave me a chance to learn the more technical elements and gave me the confidence to move on to Skill Stage 3. One of my main concerns was, as I work full time, finding the time to undertake the course within the allotted time frame. I chose to study with SST because I liked the idea of having a structured course instead of dipping in and out of various online tutorials which meant that I was continually focused, motivated and inspired whilst working through the modules.
It's really helpful to get tutor feedback on your work especially if you're creating in isolation with no-one to advise or even understand what you're doing, it can sometimes be difficult to see your work objectively. A professional eye and tutor suggestions really helped me to perfect my pieces. It's a real sense of achievement to work towards a certified qualification as it validates your work and you as a creator. I have only enthusiasm for the SST course.
I have really developed my hand embroidery techniques and have learnt how to create promotional material and have gained a social media and technical skill set which is so relevant in today's creative market.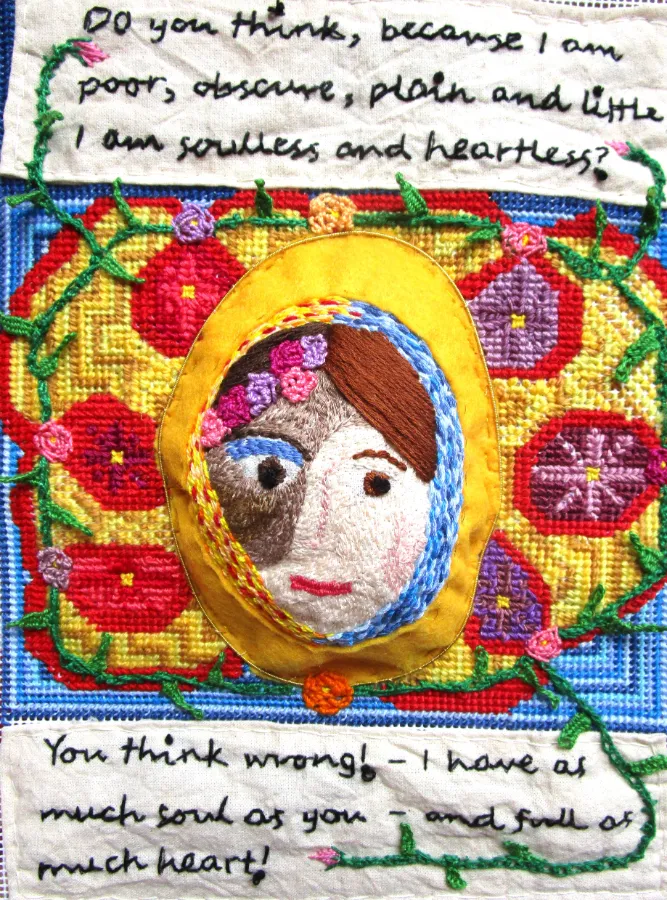 Apart from the different technical hand embroidery skills, I've learned to be resilient, determined and have gained confidence in myself and my creative abilities. Before the course I was always nervous and apprehensive of showing my pieces in case of negative or even worse indifferent feedback. Now I am very proud of what I produce and my design style. I want everyone to see my work, to appreciate and understand the skills, time and effort that has gone into producing it. I put a lot of self expression into what I do.
I am very curious and love learning and really enjoyed the research elements of the course which really expanded my knowledge in the field. What could be better and more motivating than studying a skill area you are passionate about?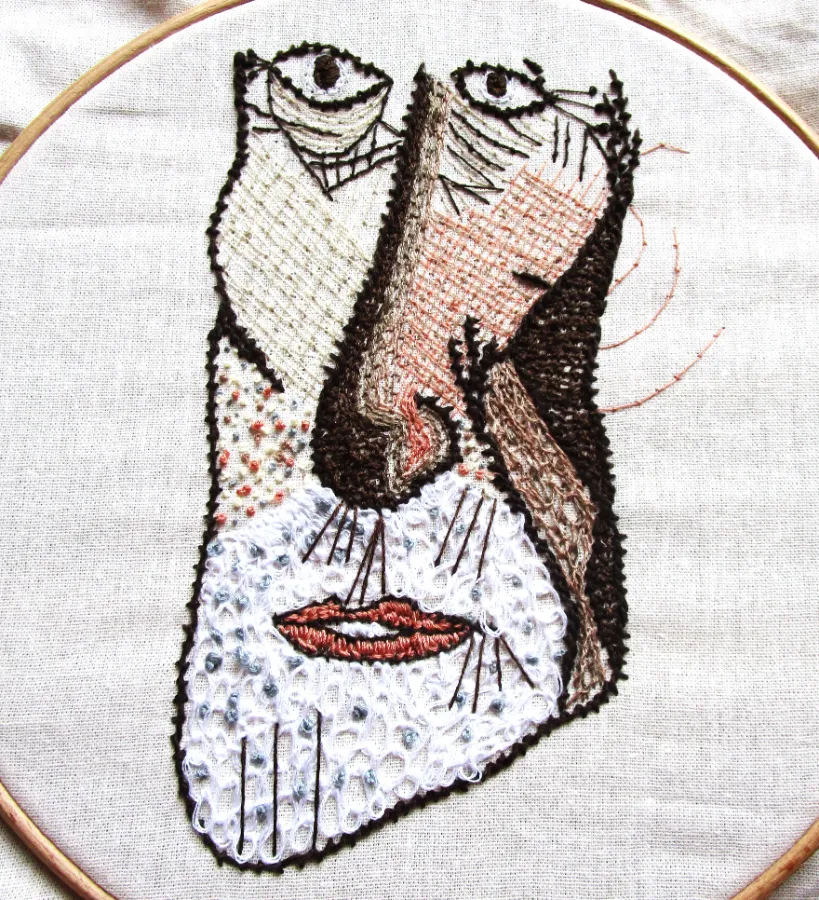 I would love to continue studying with SST at some point in the future and tackle Hand Embroidery Skill Stage 4. However, at this point in time I really want to consolidate the skills I've gained. I want to experiment with the new techniques I've learned and really develop my own personal style.
I am planning to try the art of screen printing and see how I can incorporate embroidery in this technique. Plus I've fallen in love with needle lace slips and stumpwork so feel a monumental work – using these techniques – in the pipeline. I want to show how cool and contemporary hand embroidery can be, take it away from its stuffy connotations and present old traditional techniques in a modern, exciting, dynamic way.
I will continue adding to my online sites but would love to show my work at a physical exhibition some day and hopefully even get a commission!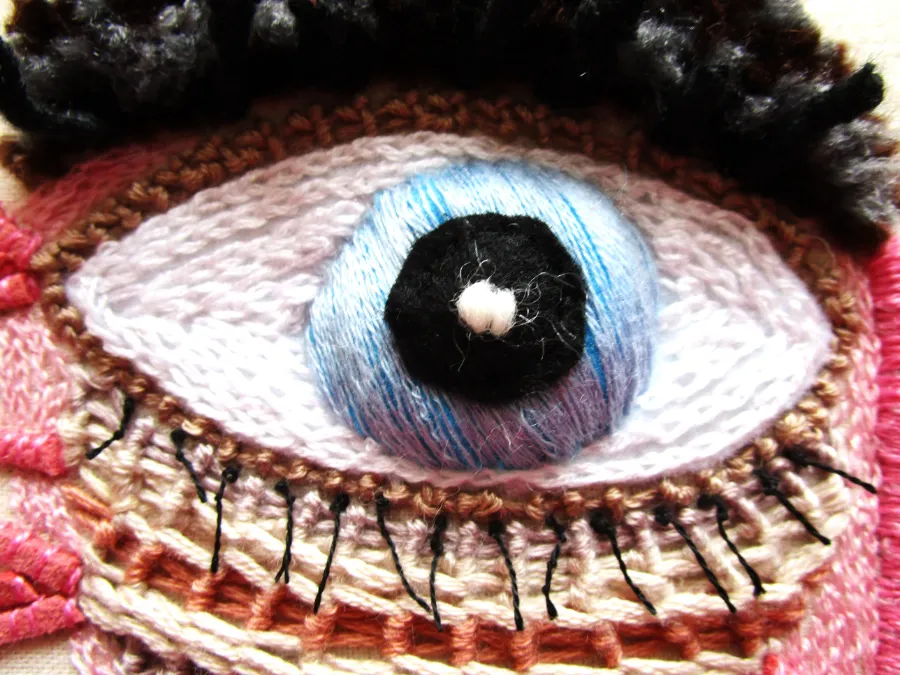 Do You Recommend The Course?
I would indeed especially if you want to develop your skills and grow as a maker. The course offers a wide range of skills and really sets you up to take your hobby further should you choose to. It's not easy if you have time commitments such as work, family and an active social life so you have to be dedicated. 
There were certain parts of the course that I enjoyed more than others. However, through this I have tried lots of new techniques and found what works for me, what I enjoy and what skills and techniques I want to focus on and develop in the future. I would never have gained this depth of knowledge without undertaking the course.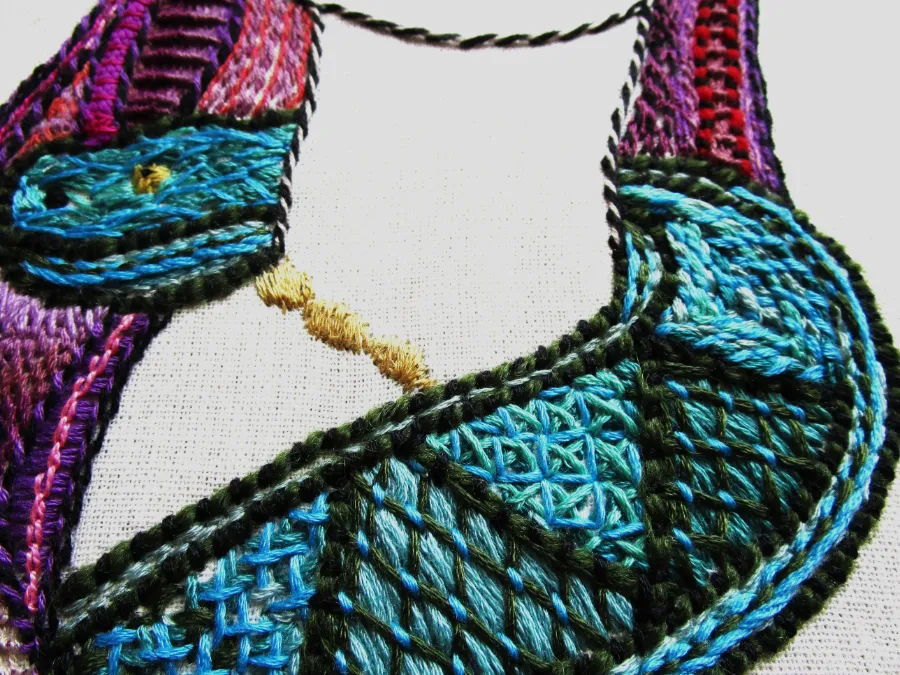 Take the plunge and go for it! It's one of the most satisfying and rewarding things I've ever done for myself. 
Manage your time – I gave myself 8 weeks to complete each module so I knew I was on track to finish the course in the time frame even if I had to tweak a few things in my final submission. If samples aren't going well or you're stuck for ideas, go for a walk or listen to loud fast music to spur you on (always works for me). 
When I look back at what I was producing before the course and the knowledge and skills that I've now gained plus the whole world of artists, makers and techniques it has opened up to me it's just incredible and gives me a real sense of achievement. Plus it's quite cool to walk around a museum or exhibition and be able to appreciate the work and techniques which has gone into the making of a piece and even impress friends with your knowledge. 
I was a person who didn't even know that different needles, threads, material and a whole world of fellow hand embroidery / textile artists existed. So if I can do it – I'm sure you can too. Enjoy it and the best of luck on your stitch journey!