Patterns! If you look hard enough patterns can emerge in our mundane routines and can even be found in the extraordinary – when you least expect them. Whether it's a pattern in behaviour, our own emotions or even a pattern that you're working on, they're an inescapable part of our lives.
Having recently had the opportunity to talk to some of our graduates and obtain feedback on our courses, we were amazed and encouraged to find a very positive pattern emerging.
Across all of our courses, the common pattern emerging from student feedback was that students were able to recognise progression in their own creative development. They talked about how our courses had improved their design skills, analytical skills and overall creativity.
Many of our students had applied for our courses with either a lot of experience in textile crafting or an unquenchable appetite for it (either is good). But, very few showed substantial confidence in their own abilities and all were eager to enhance their design skills, create their own pieces and make things that reflected their own personal tastes and styles.
This got us thinking about our own aims as tutors and as a leading centre for distance learning. Unlike other courses available that may help students to follow a pattern or copy a design, our courses strive to teach and promote creativity: a personal creativity that reflects the individual student and also helps them to develop confidence in themselves and their work.
At the School of Stitched Textiles we believe that everyone has an ability to be creative which is why you'll often hear us talk about how our courses have an ability to unlock a student's full creative potential.
We therefore wanted to share with you our approach to promoting creativity and encouraging skill confidence. If you're not sure it can be taught then read on to find out how our courses could the be the key to unlocking so much creative potential.
How we teach creativity in textile art to unlock creative potential
1. Encourage exploration
Across all of our course modules, we include some degree of exploration and there is a great amount of value in this exercise. By studying other artists and designers you will come to detect and appreciate patterns or traits that run through an artist's work. What we ask students to look for is what defines their chosen artists. Are there recurring themes that run throughout their pieces? Do they only use geometric shapes, primary colours, certain techniques or subject matters?
Doing this can help students to find their own personal artistic strengths. Although it won't come immediately, it is something that will emerge gradually. The more students develops concept or study artists the easier it will become to recognise and develop a personal approach to design and creativity.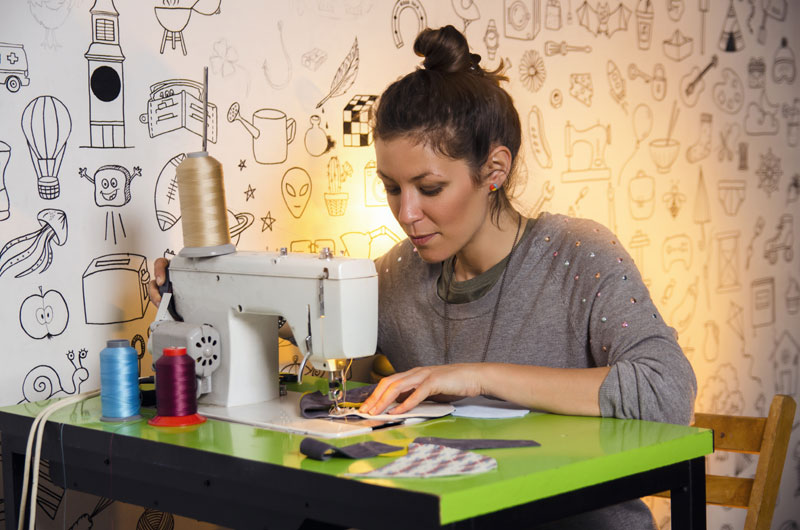 2. Encourage students to think
Throughout our modules students are expected to consider why they have done what they've done. We constantly ask questions like "why have you shown an interest in a particular piece of artwork, artist or designer? What do you like about a concept or design? How have you developed or incorporated an idea into coursework?"
Thinking critically  about the art around us is a great way of getting the creative juices flowing. By constantly asking you to critique the work of other artists,  as well as your own designs, we are actually getting you to examine and scrutinise everything. This will give you a better understanding of the things that inspire you, which will most likely be the things you end up incorporating into your own pieces.
3. Be inspired
The famous American writer and aphorist, Mason Cooley, 1927 – 2002, once said, 'Art begins in imitation and ends in innovation'. We couldn't agree more. In fact, we encourage our students to digest art in all forms. Consume the works of artists from Da Vinci to Dadd and Westwood to Warhol.
But don't stop there! Study album artwork (if you haven't gone completely digital with your music) and textile designers. Get your hands on magazines, visit art galleries, museums and even take inspiration from packaging. Art is literally everywhere! Absorb it and let yourself be inspired by, well… anything and everything.
Doing this will allow you to become well versed in the many different styles, periods and trends. It's also a great opportunity to expose yourself to things that you may not have given much consideration before.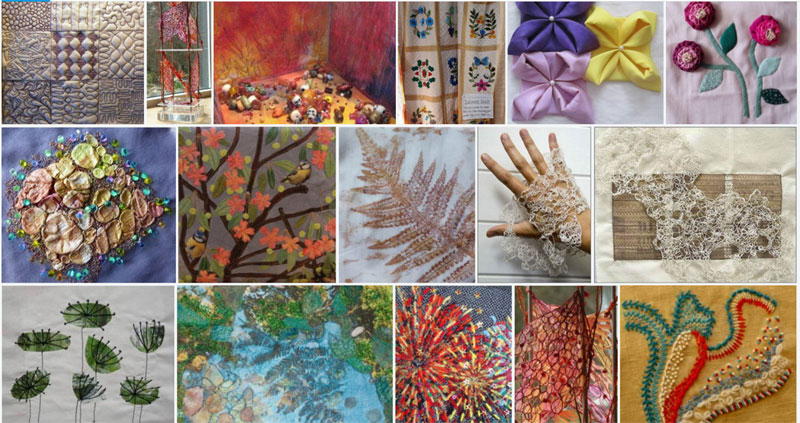 4. Get involved with discussions
We've previously written about how we encourage students to discuss their work and progress with each other. We facilitate online discussions and and live tutor sessions and are held regularly for our current students. We feel that this is essential, especially when studying via distance learning. It not only helps students connect it's also a highly valuable exercise packed with potential. By sharing progress and ideas, concerns, problems and asking for help and advice you'll amaze yourself at just how much you can get out of these collaborative sessions.
Discussions with others can also inspire you to perhaps take a different direction you hadn't considered before. Maybe you'll come away with a better understanding of how to achieve the look you're after. Whatever it is you're looking for, do not underestimate the power of discussion between peers for sparking creativity.
5. Sharing best practice
When you embark on a course with the School of Stitched Textiles we like to think that people remain in our ever growing community of stitching and crafting enthusiasts. We encourage fans, students and graduates to share the things they like and the things they create so that creativity can continue to grow before, during and after you have studied with us.
We also like to share a lot of stories and inspiration, so remember to follow us on Instagram, Facebook or Pinterest. Check out our latest blog on How to develop your creativity in textiles for more helpful information. 
Over the next few weeks we're going to be sharing more of our graduate stories with you so that you can see for yourself how studying with us they have each had the opportunity to find a confidence in their own creativity.
Take a look at the courses that could be the key to unlocking your creative potential.