Jessica Grady is a prominent textile artist known for her innovative approach to creating stunning and tactile textile artworks. Based in Yorkshire, Grady creates pieces that explore both colour and form. By using traditional embroidery methods, interlaced with recycled objects, she invites her audience to view her work in close up detail and explore their own curiosity.
Jessica's love of tactile embroidery first developed while studying for a degree in textiles. Today, she accentuates her work with metal washers, electrical cables, hand dyed sponges and a whole host of other found objects. Her 'textile, visual feasts' have helped her gain notable recognition. In 2018 she was awarded the under 30s Scholar by the Embroiderers Guild and, in 2019, Grady was made a permanent member of Art Textiles Made in Britain.
Her popularity has been amplified through social media and online platforms, where her captivating pieces have gained a significant following. As a result, she has become a leading influence in the textile art community and an inspiration to emerging artists. We had the absolute privilege of catching up with Jessica to learn more about her techniques, style and influences.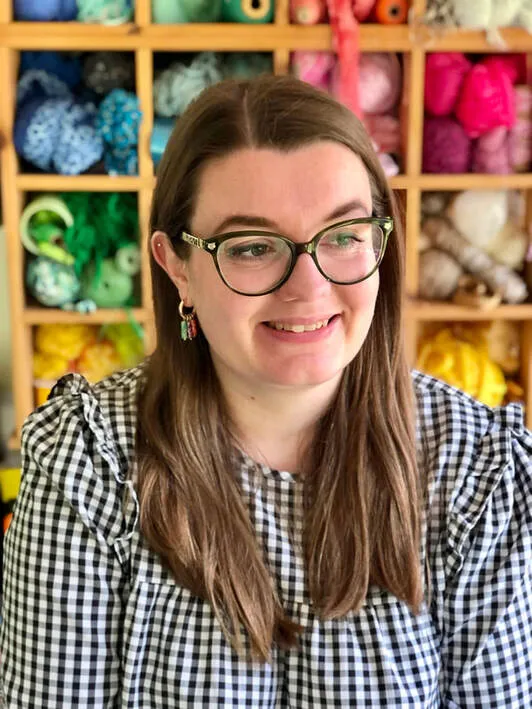 "I am a big fan of juxtaposing textures and clashing colours so I am very interested in how materials relate to each other when layered together, especially if those materials are things that you wouldn't normally consider within textiles."
What are you currently working on?
I'm currently working on pieces of work for several upcoming exhibitions that I have in the autumn, the first I have just completed for an exhibition titled "Illuminate" for Art Textiles Made in Britain, at the Knitting and Stitching show.
I enjoy working on a large scale as it really allows me to layer up my embellishments and build out detail. My hoops for these pieces are over 50 cm diameter, so they are quite a challenge to stitch on! The inspiration for these pieces is all from the exhibition title, "Illuminate" which I have taken in a form of contrast and zinging colours that  shine against each other on the fabric.
I have used a lot of unusual recycled materials for embellishments on these works including; plastic coffee pods, hair rollers, dyed food wrappers, painted metal washers, drilled seashells, found pottery fragments, garden wire, chopped up wetsuits and shower puffs! My aim is that you have to really peer close at my work and figure out which bits are made from which materials, a puzzle of spot the sequin!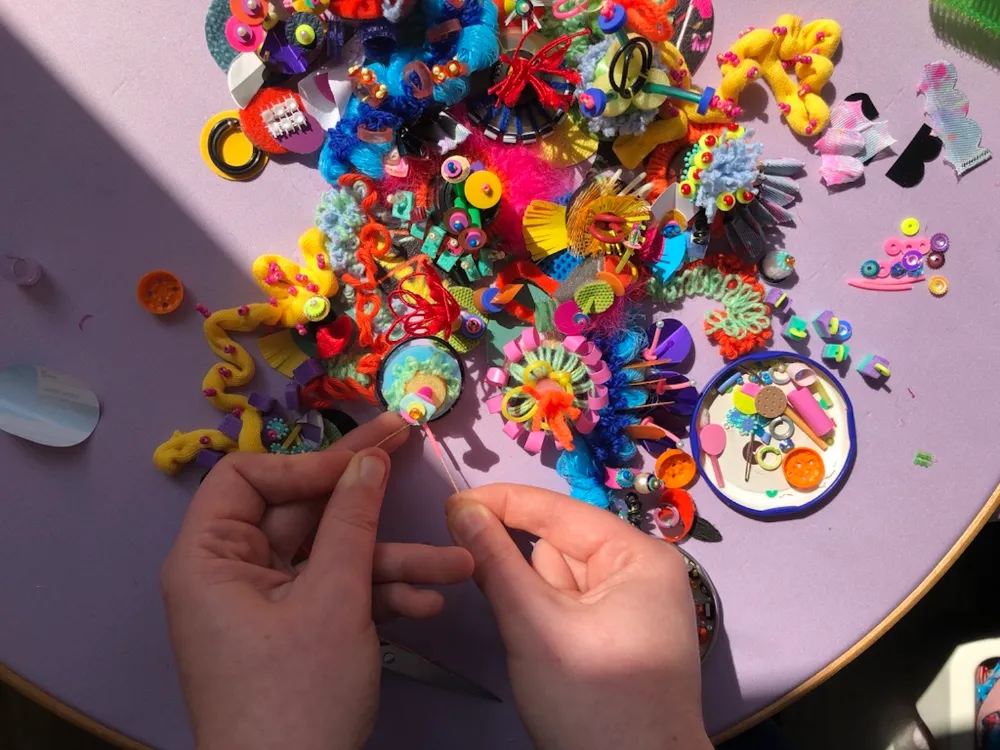 How and when did you first start to stitch?
I have always been arty but the draw of textiles has always been its tactility. I love the immediacy of stitch and how especially with hand stitch and embellishments I have full control of how a piece is created and how it evolves.
My school and college didn't have a textiles option, but I did some small bits of stitching in my own time before going on to complete a BA textiles degree at Norwich University of the Arts. My love of stitch developed during my degree especially as I was introduced to lots of techniques and the variety of styles and possibilities that existed for playing and experimenting with ideas.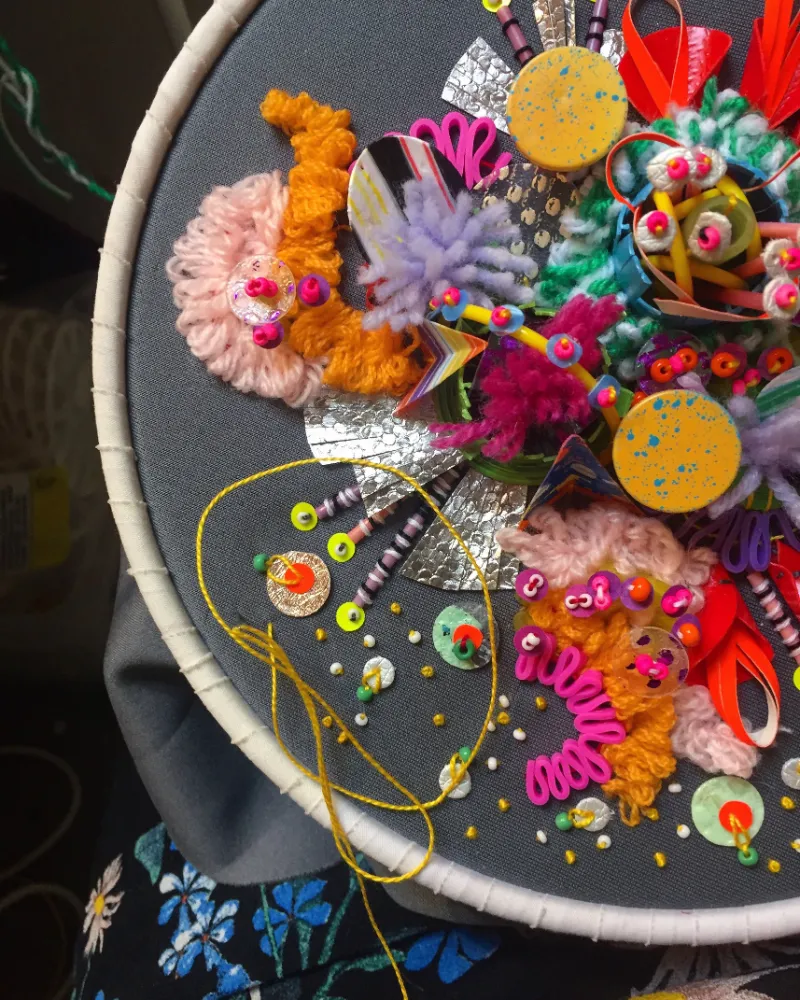 We know that you love to use lots of different techniques such as hand embroidery, print and mixed media and recycled materials. What is your thought process when you set out to combine them all?
Even though I use a lot of processes and different techniques in my pieces of work, it all follows a very logical process. I aim to create my own embellishments using dyeing, painting, printing or other manipulation skills with recycled materials. This is always my starting point so I make my embellishments first, which gives me the inspiration and ideas for then stitching them onto fabric to create a design.
I am a big fan of juxtaposing textures and clashing colours so I am very interested in how materials relate to each other when layered together, especially if those materials are things that you wouldn't normally consider within textiles. All my work is hand stitched in place. I like the control of hand embroidery and also the flexibility of being able to distort and change simple stitches to suit your own purpose.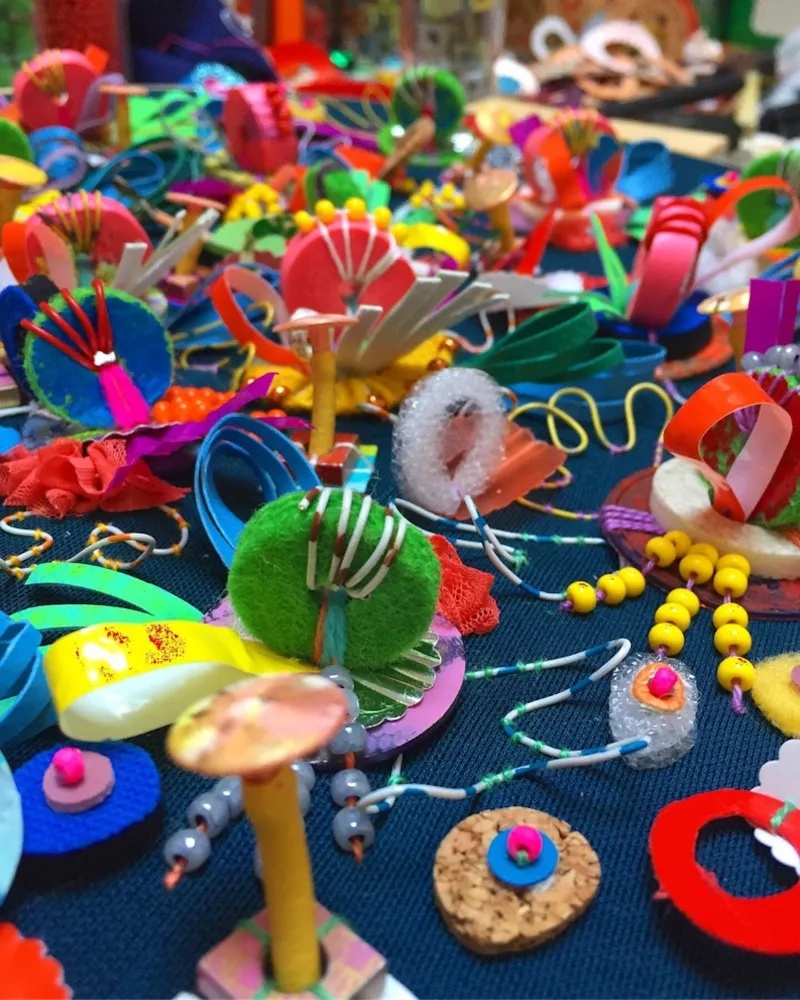 What is it that keeps you on track and motivated – any advice for our students would be very welcome!
Keeping motivated doing something that you love sounds easy but sometimes it isn't, and you can quite quickly burn yourself out if you are not careful. I have to plan my stitch days into my calendar so I can hold myself accountable and know that I have a day coming up where I need to work on certain pieces.
I like to listen to audio books whilst I stitch as this helps me to get into the zone and really concentrate on my work – as well as no distractions from my computer or phone.
I also think that experimentation is key, to create and try out materials, ideas and techniques to help yourself develop, not necessarily so that they have an end point.
I have also learnt that if I am having a day where something just isn't working, maybe I can't get into the right headspace, or my work isn't going as I want it too – that it's also ok to take a break and invest in a bit of self-care. That could be anything from a walk around in some fresh air, reading a book, watching some TV or just going away from your work area and coming back fresh the next day.
I used to constantly feel terrible about myself if I had an off day and instead of breaking away, I would force myself to sit and work through – which mostly just makes me even more frustrated! So be gentle on yourself, and the ideas will come!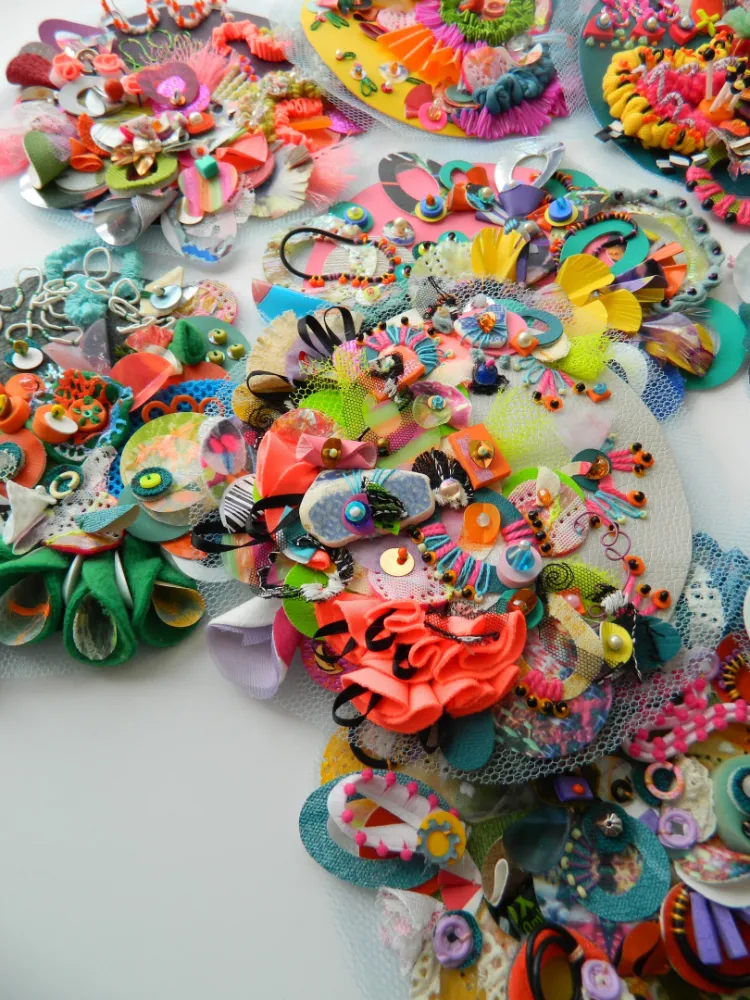 As someone who has a degree in textiles, how much of your current success do you attribute to your training. How much did it add to the artist you are today?
I agree that my textiles qualification certainly has helped me with my skills and knowledge about certain industry practices. I also work on a freelance basis in the print and embroidery design industry, and this is something that I would not be able to do without my degree background.
However becoming an artist feels like a journey that I undertook after my degree, using some of the skills I had learnt but the majority of it has come through my own perseverance and practice.
I received an award in 2017 from Art& York, called the RAW Talent award. I received business coaching and workshops for setting up as a freelance artist. This particular training and advice really helped with setting up and understanding my artist practice and making sure I am able to function as a business, so it was really invaluable.
Many of my own techniques and direction with my artistic voice has come through constant practice and application. You can only get better at something if you keep trying it! I nearly stitch every single day, and so those days add up especially when trying to grow and enhance a skill.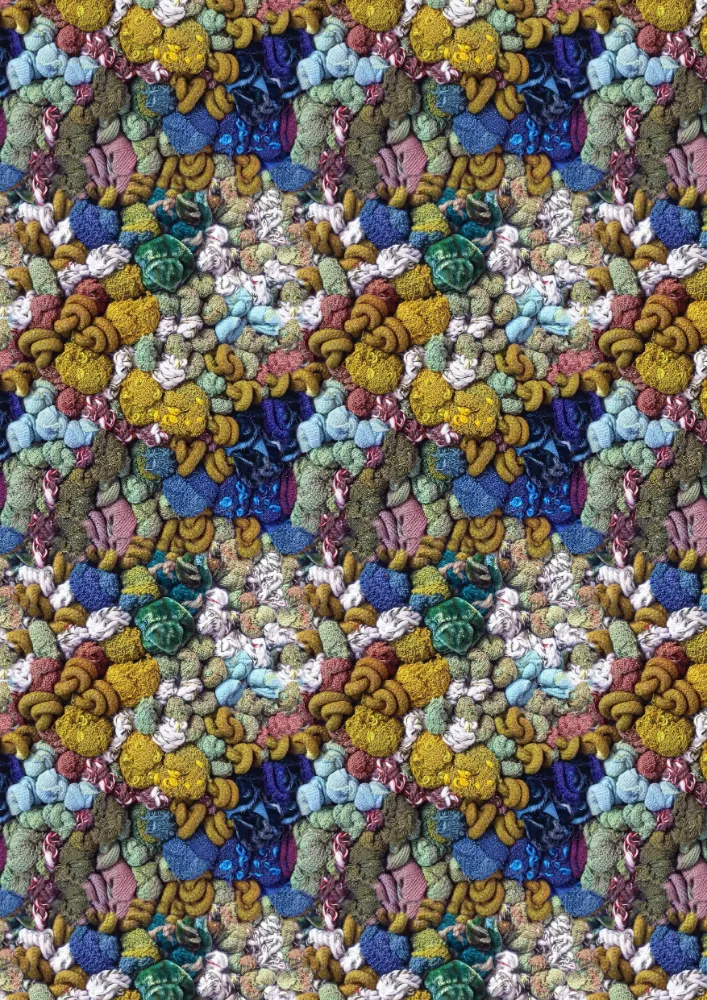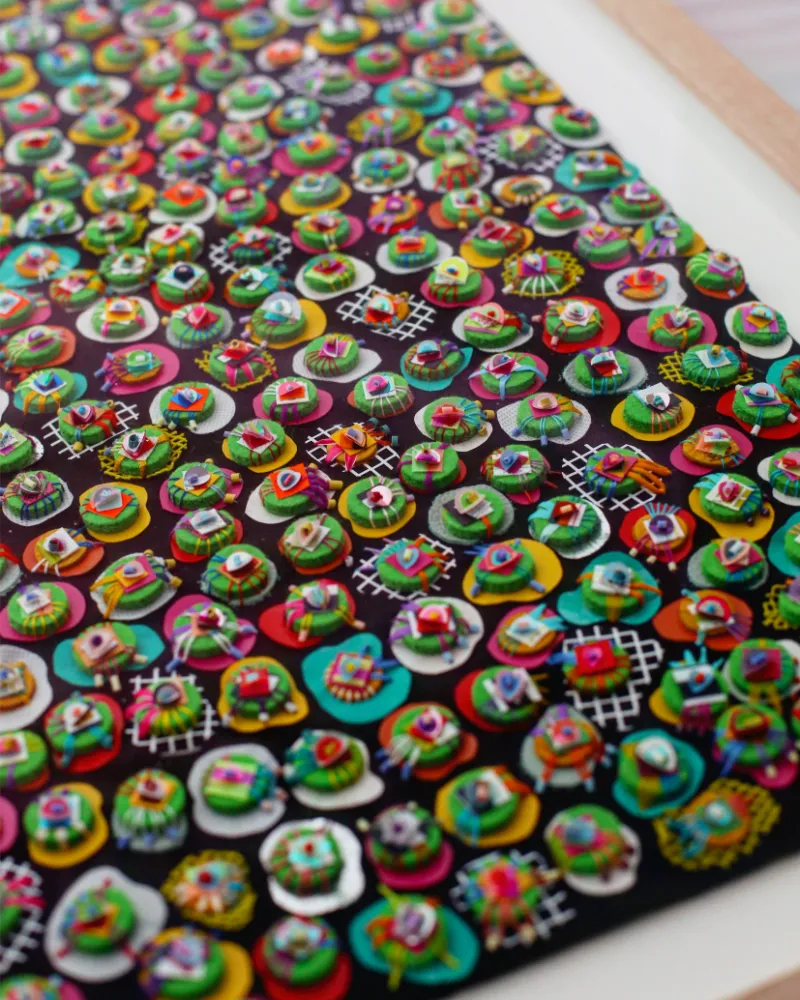 You've received some very prestigious awards – can you tell us more about the Under 30's EG Scholar?
The Embroiderers' Guild Scholar Awards are set up by the charity the Embroiderers' Guild, and their scholarships are open for anyone with a textile qualification. The winners are chosen based on their work and projects and how the award will help them further their textile careers.
I won the award in 2018-2019 and received a bursary towards new equipment and materials as well as a gallery space at the Knitting and Stitching shows. This was a fantastic springboard for me to showcase my work and also the progress that I had made since graduating from my degree, as I completed the scholarship 4 years post-grad.
What is really great is that people still mention the show to me now several years later when I meet them at other events, so it's amazing they can remember my work!  I am actually involved again with the EG this year, as the Knitting and Stitching shows are putting on a retrospective exhibition of previous award winners to show how their work has developed even further from their first showcases. I have been making new work especially for this exhibition and I am very excited to see all the artists come together to create what will be a fantastic exhibition.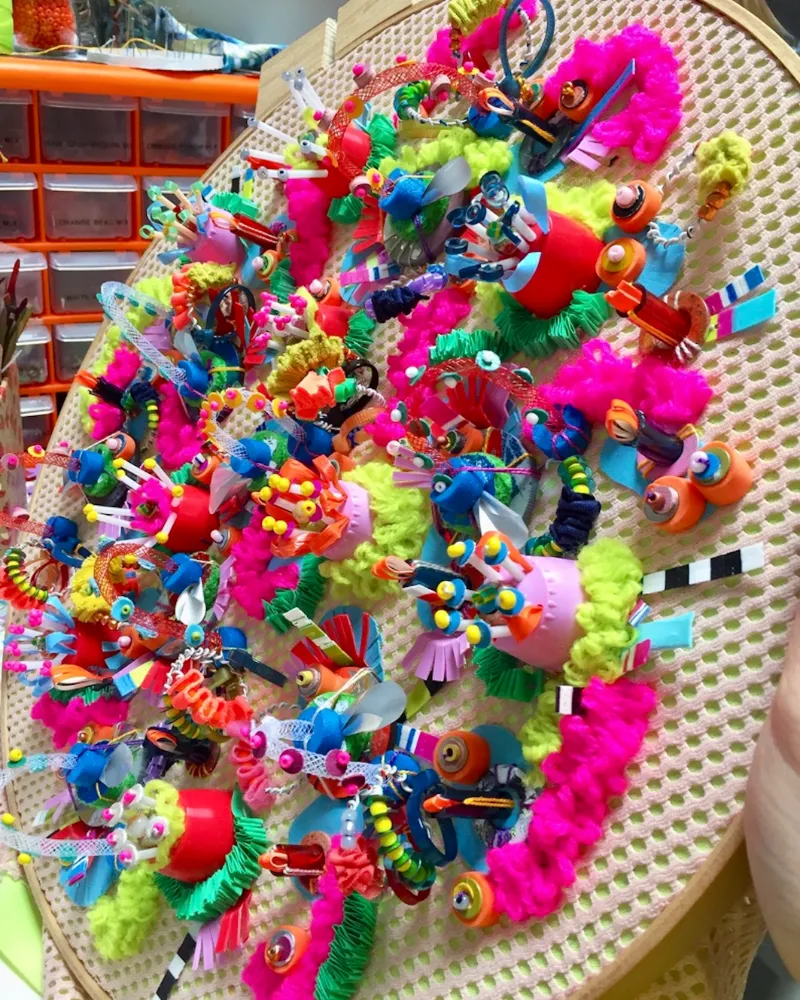 What is next? Do you have exhibitions or new books underway that you could tell us a little about?
I have had a great year this year, my biggest project being my first book was recently published with the Crowood Press, Stitched Mixed Media. This was a huge project for me, an exciting one as I have always dreamed about writing my very own book. I am so pleased with the finished result and have had some lovely feedback so far about the publication. If you are a fan of colour, experimentation and trying some new and exciting materials then I would imagine you will enjoy it!
I am also working on a big community-based project which involves working with charities and lots of schools to create mixed media artworks that are going to come together to create a gigantic stitched installation. This is an ongoing project that will extend into 2024, so lots of work to do still but large scale pieces are always so fun to be involved with.
As well as being at this years Knitting and Stitching shows with the EG, I also am involved in another gallery space with the artist group Art Textiles: Made in Britain. We are launching our new group show titled Illuminate at the London event, and will also be up in Harrogate. To round everything off I have a small solo exhibition of work at the Hub Sleaford, starting 16th September – 29th October, titled Colour Pop. This exhibition will have some of my sculptural textile pieces and small framed artworks.
Key Takeaways
There's an intimacy in hand stitching, giving the artist ultimate control
Don't be scared to incorporate different materials 
When using different techniques and materials it helps to follow a logical process towards design. Give careful consideration to composition, and colour
Motivation comes from careful planning. Plan your stitch days and resist the temptation to be distracted 
Continuous experimentation is key to creativity. Try out materials, ideas and techniques without a end-point in mind
Your own style will emerge through, exploration, practice and application.