Carina Envoldsen-Harris is an embroidery designer, author of 5 books and a teacher. She's on a mission to help newbie embroiderers one stitch at a time. Her self-titled Craftblog is brimming with beautiful beginner friendly patterns, tutorials, and stitch-a-longs: a delightful treasure trove of helpful resources for all budding textile crafters.
Carina's designs are notoriously colourful. They offer a simplicity that encourages happiness, mindfulness and are guaranteed to lift the spirits of anyone stuck in a creative slump. We caught up with Carina to discuss her career so far, life in lockdown and finding Zen through embroidery.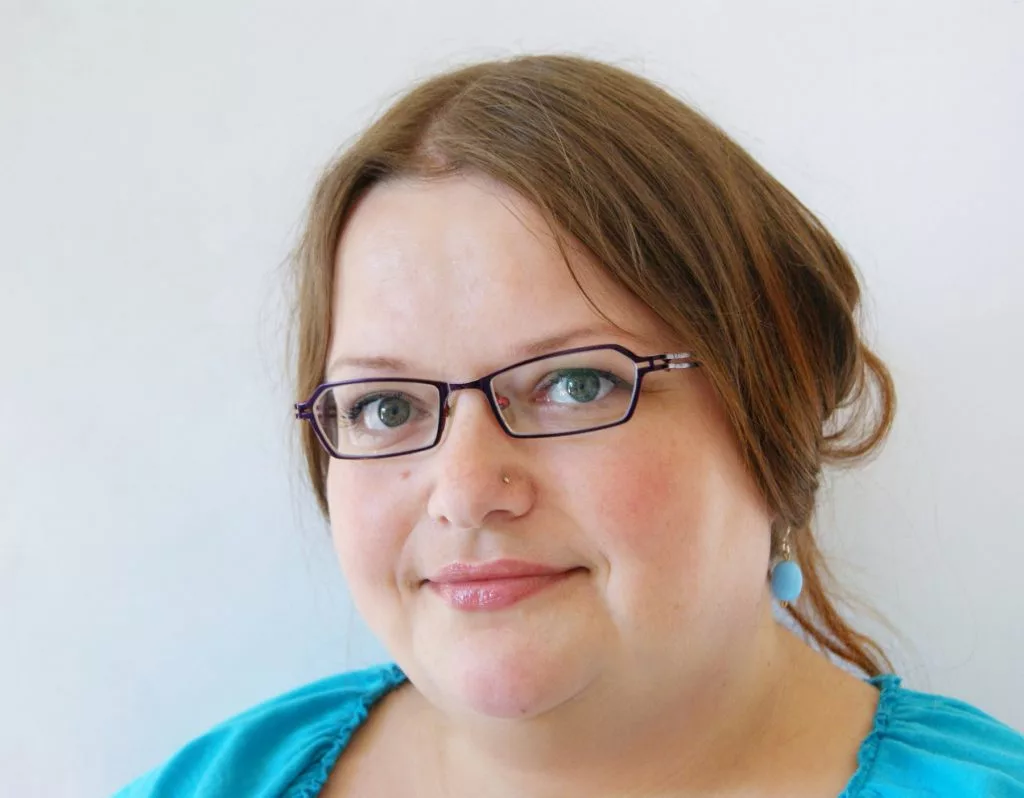 What are you currently working on?
As well as various patterns in the 'work in progress' pile, this year I am working on a year-long stitchy project to log the daily high and low temperatures. I record them in stitch by working a two colour spider web rose stitch for each day in a grid layout.
Last year I made a quilt recording my daily step count and it inspired me to do another project that I can't finish in a hurry. I literally have to take it one day (or a few days) at a time and it is impossible to skip ahead.
Colours are very important to my work but in this daily temperature project I can't control the colour combinations (apart from the fact that I picked the colour for each temperature). I like the constraint of not having any control over how it will look since I can't control the daily temperatures. And I'm looking forward to seeing the end result.
For anyone who wants to make a similar project, the pattern is available for free via my blog.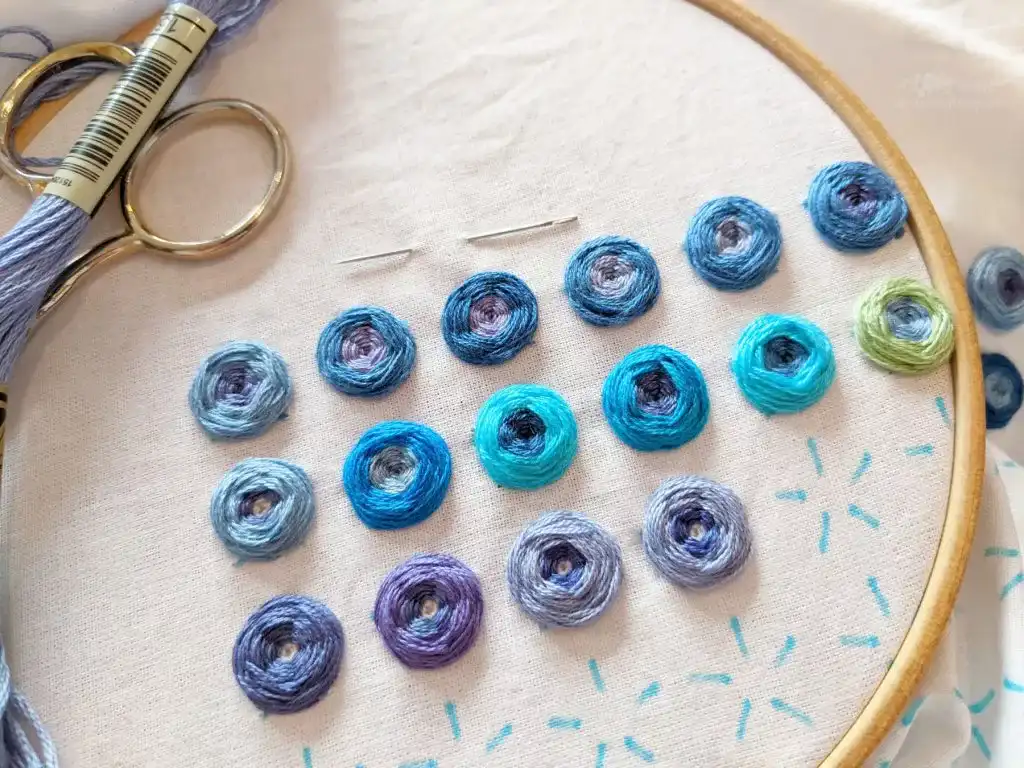 How did you get into stitching?
My first memory of stitching is doing cross stitch with my Farmor (paternal grandmother) when I was around nine or ten years old. It is quite a vivid memory, I can see myself sitting on the sofa in my grandparent's TV room, next to my Farmor as I was working on the little cross stitch project. Farmor turned it into a pincushion for me. Maybe the memory is so vivid because I didn't do any other embroidery again until my late twenties!
My Farmor trained as a milliner as a young woman and I don't think she ever met a craft she couldn't master. Sewing, knitting, embroidery, crochet and lampshade making. She and my Farfar even owned a haberdashery shop for a number of years. That too must have made quite an impression on me because I can easily conjure the space in my mind, with its boxes of yarn and little drawers with DMC thread. Farmor even took up bobbin lace making in her late 60s. Sadly, I didn't find my love of making until several years after she had passed away. I think of her often when I am working, I would've loved to share it all with her.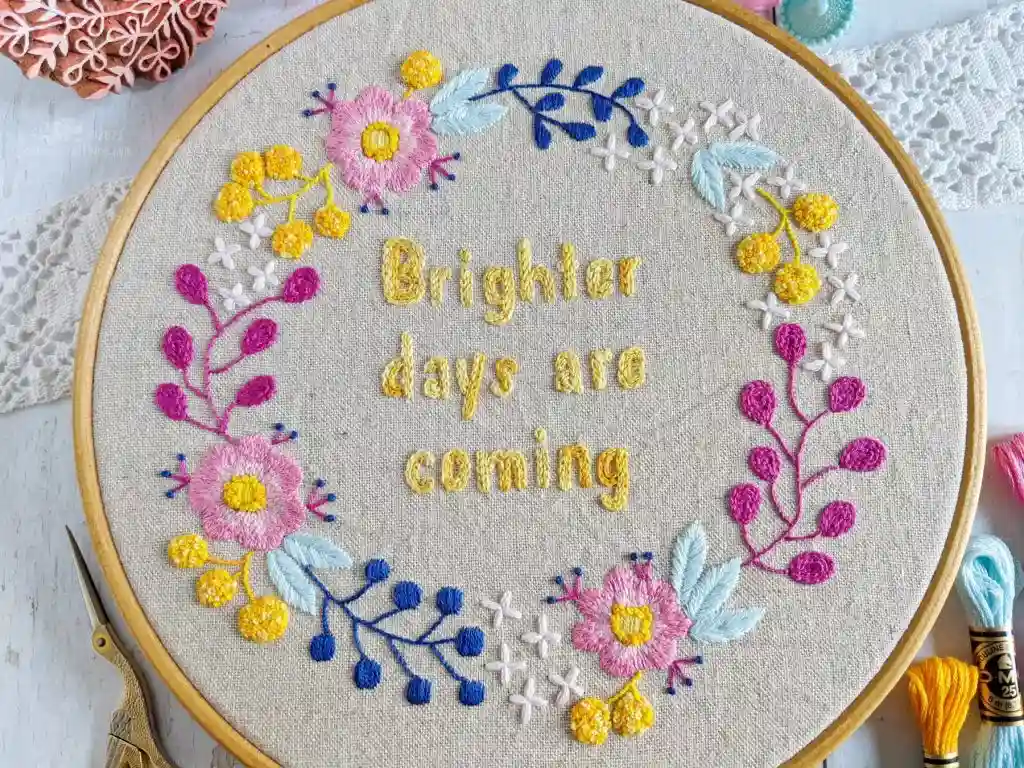 As a native of Denmark, how much of your homeland do you feel comes across in your work?
I don't know if I can point at anything that is particularly Danish about what I do. That is probably easier for others to say! But I am inspired by Danish artists like Bjørn Wiinblad, Arne Jacobsen and Thorvald Bindesbøll. As well as folk art from across Scandinavia and memories of the landscape and flora of the area where I grew up. Although I don't really do anything to do with landscapes, but flowers often turn up in my work.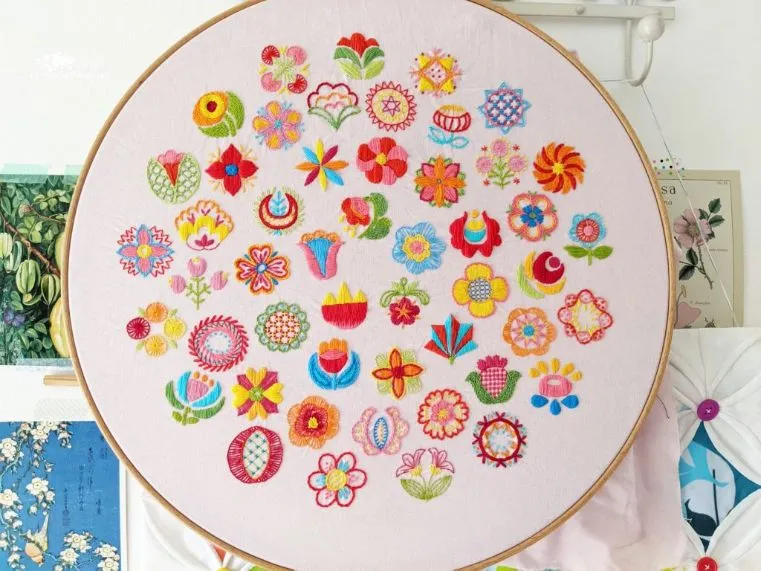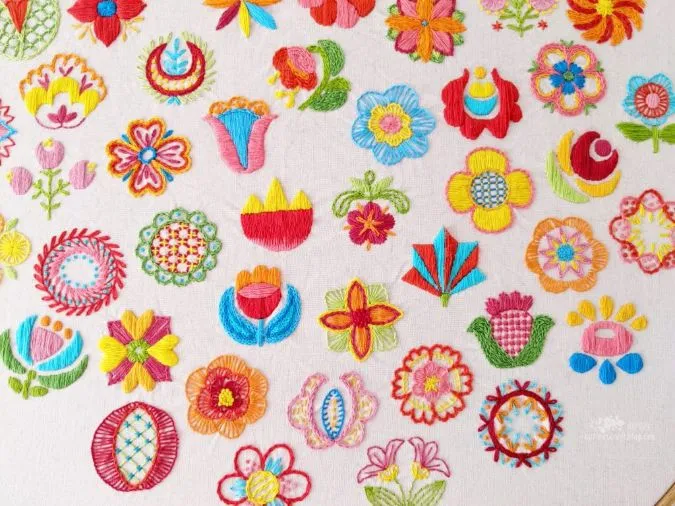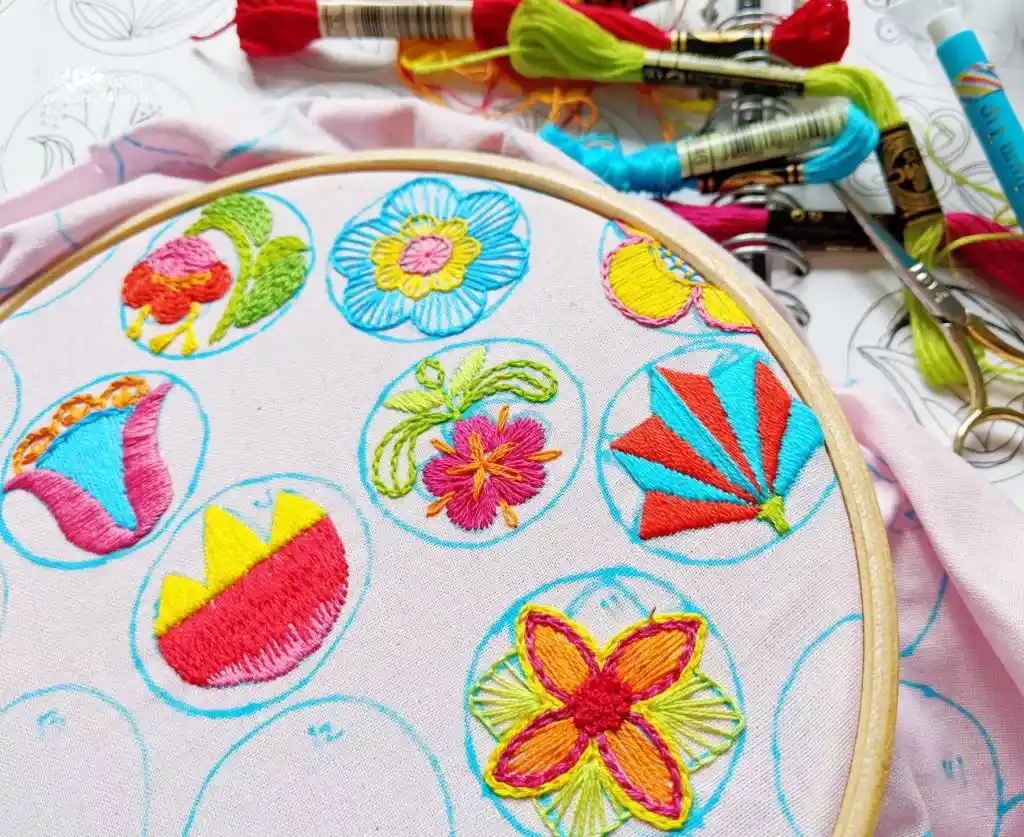 Your books seem to have a very 'zen' feel to them incorporating thread doodling and mandalas. Are you hoping they will promote mindful stitching in those who create from them? Can you suggest ways or processes whereby our students could begin to stitch mindfully themselves?
Yes, I guess a couple of the books are a bit "zen". And I do hope that the books will inspire people to sit down and stitch quietly for a few minutes, or a few hours. I find embroidery to be very calming and it helps me slow down. I even enjoy sewing on buttons and darning socks! It is my hope that people will feel the same tranquillity when stitching the patterns.
To use embroidery as a mindfulness tool, I would first suggest finding a pattern that you really like, that you want to spend time working on. Hand embroidery is relatively slow so it's no good to be working on something for days, or weeks, that you don't really care about.
It also depends on your mood. Sometimes I need something very structured where I can just repeat the same stitch or pattern without too much thinking. Blackwork is great for that, as is cross stitch. Other times I want to make something where I just let the needle and thread wander, adding stitches and colours without a plan.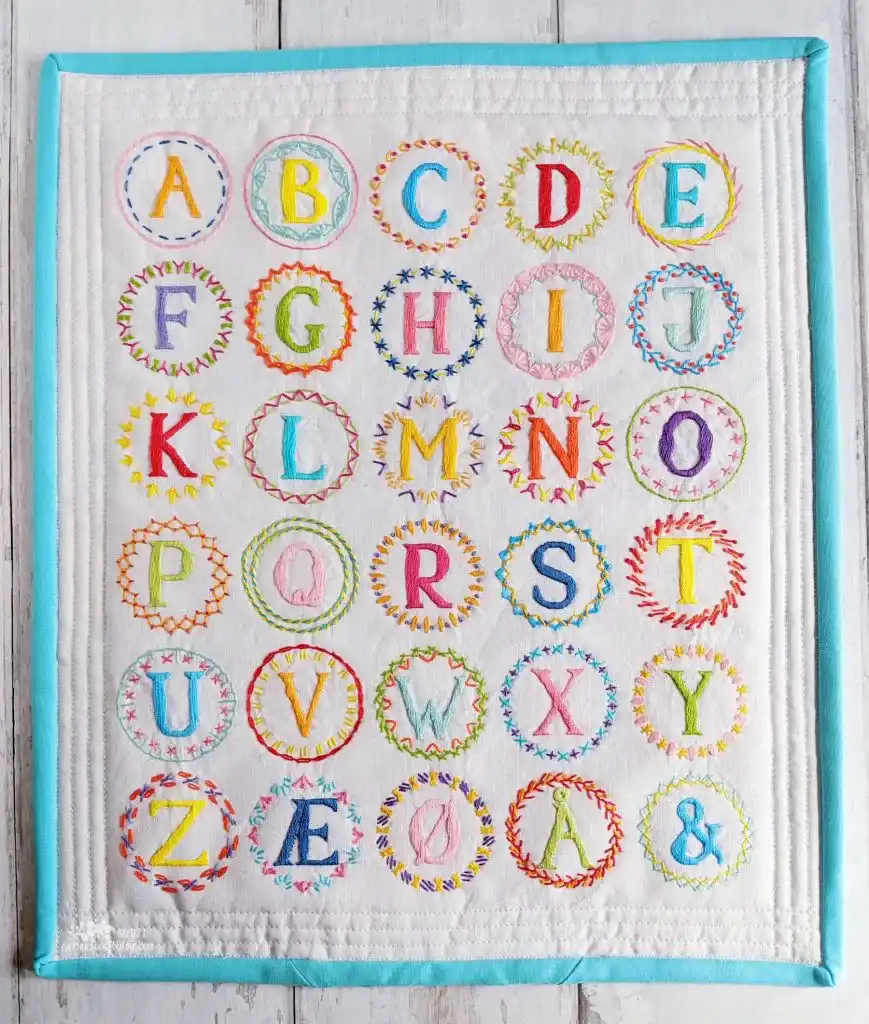 How has the pandemic impacted your work and your business over the last year?
The pandemic has been quite bad for my business in some ways. The classes I usually teach vanished overnight, which of course is an economic loss. But it also meant not being part of the start of someone's embroidery journey which has been one of my favourite things about teaching beginner embroidery. Seeing people going from not knowing a single stitch to leaving a few hours later with the tools and techniques to make a finished embroidery feels pretty special.
But it wasn't all bad! At the start of 2020 I decided to do a "daily dot" project. Each day I worked on some type of embroidery or hand stitching in the shape of a circle. I am so glad I did. It gave me a structure in a year that didn't feel very structured at all! Through the year I did separate smaller projects, all worked in a circle. Like stitching the EU27 countries, 100 satin stitch dots and fifty folk florals. Sometimes a small part of one project became the main focus in the next project. Some of the projects were personal and some became patterns for my shop.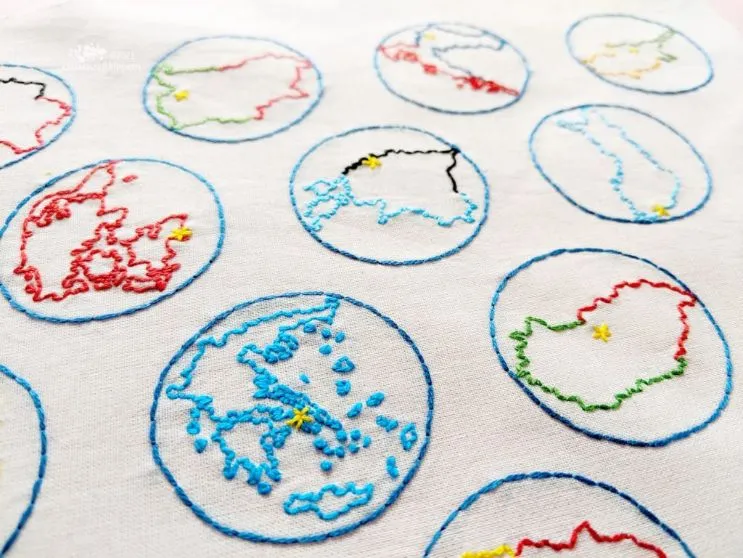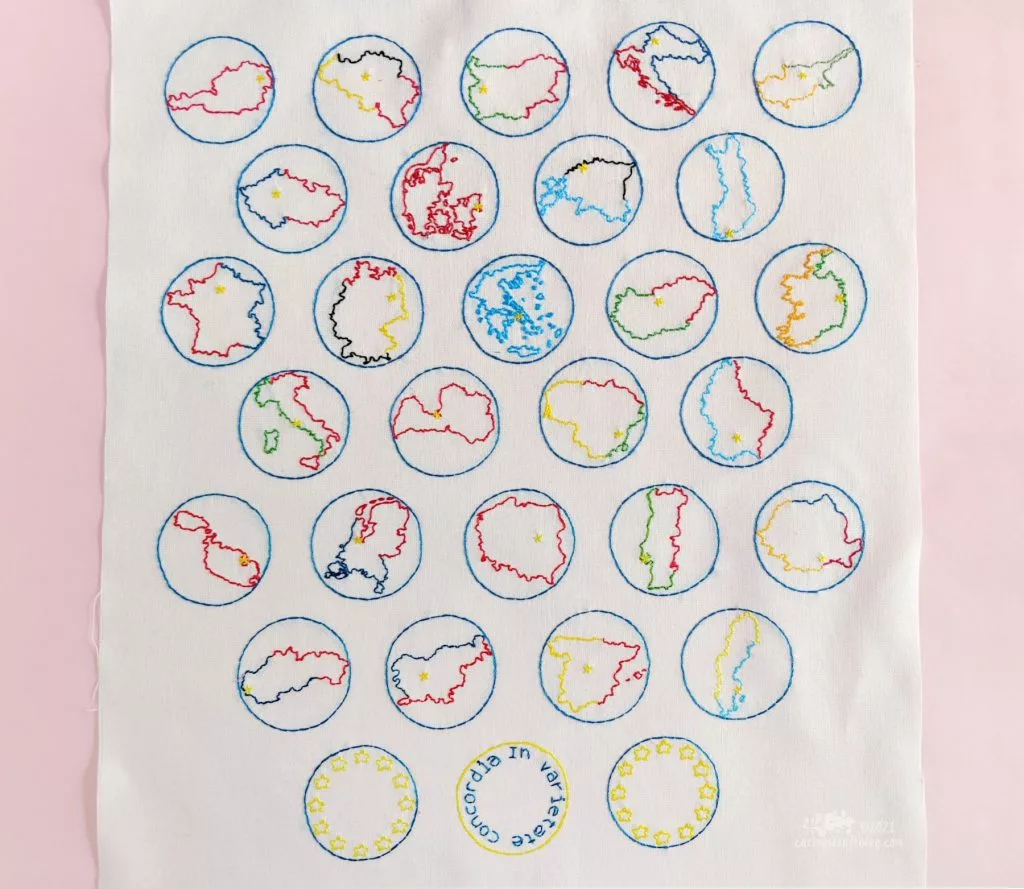 What is next? Do you have exhibitions or new books underway that you could tell us a little about?
I am not sure what is next to be honest, things are still so uncertain. There are no books in the works, although I do have some ideas bubbling away that may become books some day.
Behind the scenes I am working on updating all my patterns. Not very interesting or creative, although looking back like this has actually given me inspiration for new work. Just goes to show that you can find inspiration even from boring tasks or when you least expect it.
I hope it will be safe to teach in person again soon. In the meantime I am working towards teaching classes online.
Check out Carina's Craftblog for more information or follow her on Instagram. Shop her patterns on Polkaandbloom.
Books by Carina Envoldsen-Harris