Denise Dent recently completed our Skill Stage 3 Hand Embroidery course. Denise has always been a creative person; interested in textiles and design. However, Denise knew that she wanted to expand her skills and use the course to go on an important voyage of self discover. This is her graduate story.
Denise Dent
By nature I'm inquisitive and have always been drawn to collecting. I collect things that interest me like objects, art and craft pieces that I consider to be beautiful or complex and make me want to understand how they have been developed or created.
I also love to learn and am drawn to the process of learning and the steady and deliberate journey from ignorance to competence.  I don't necessarily want to become a subject matter expert but I do enjoy the process of getting there.
Over the past thirty years my formal "art" training was in design, drawing, painting, and printing.  I also taught myself embroidery, knitting, weaving, rug making, crochet, wood carving and pyrography.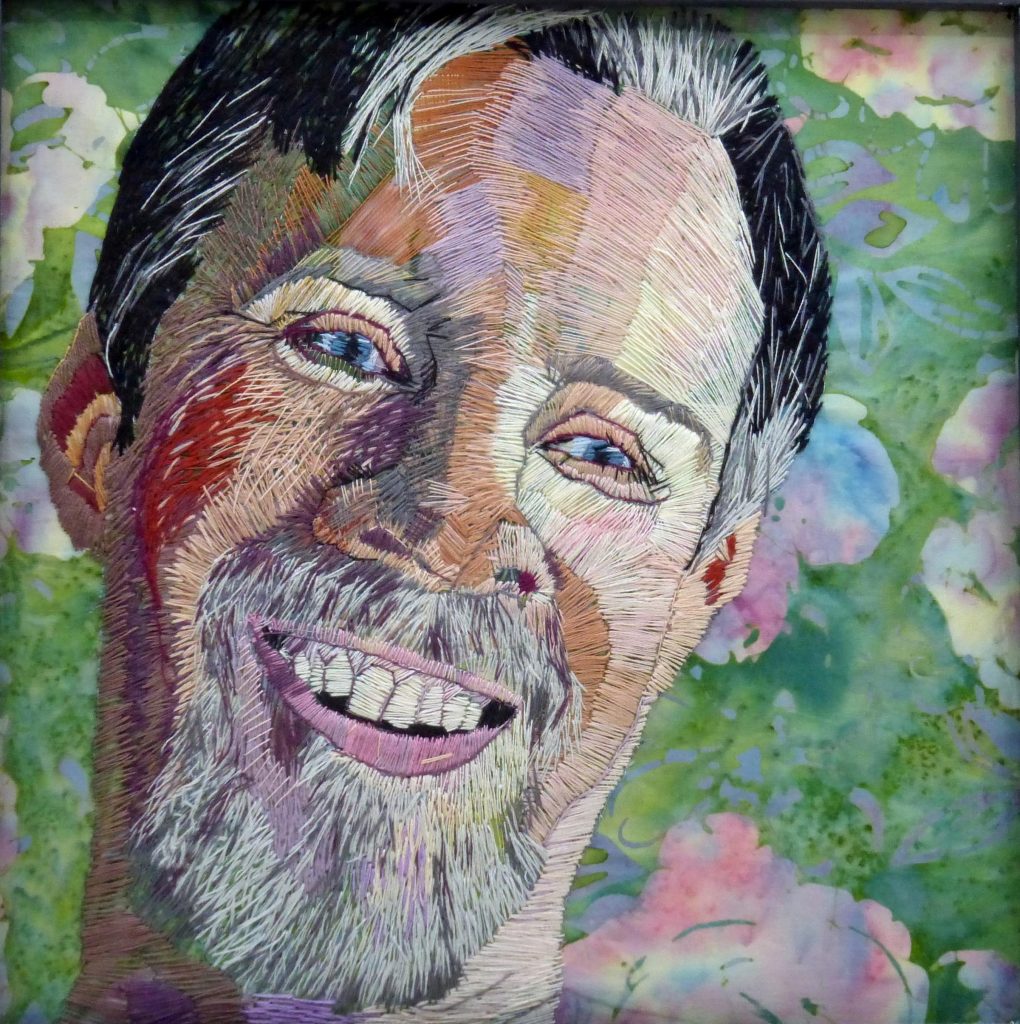 During this time, I produced and exhibited pieces in Galleries and Open Exhibitions (some of which have sold). Increasingly I became passionate about using traditional hand embroidery techniques in a contemporary way. I enjoy stitching in multiple layers with a variety of yarns and embellishments to achieve a richness of colour and form.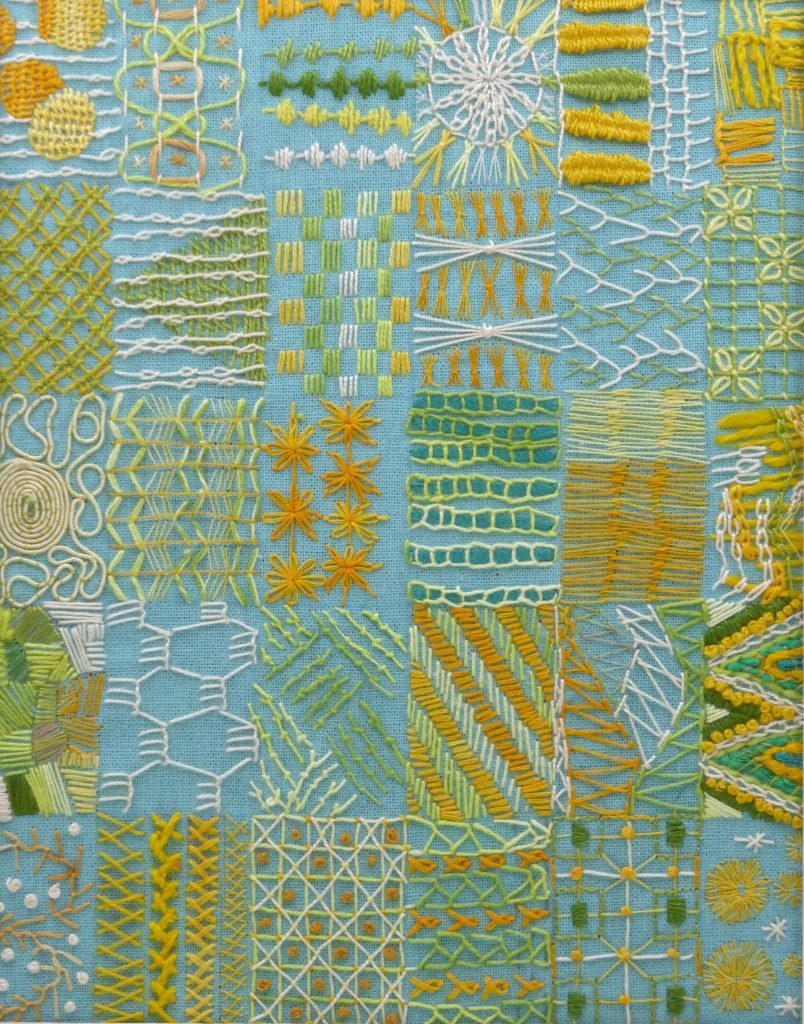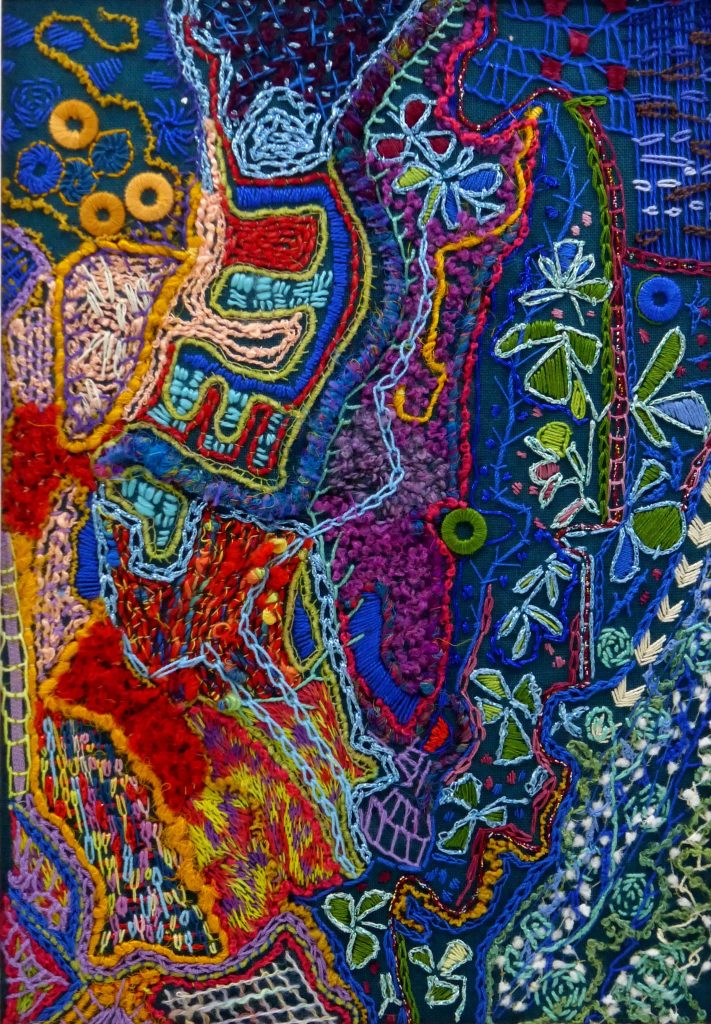 I looked for formal courses in Hand Embroidery but, life events, time constraints due to work, family commitments and the ever-decreasing number of craft courses available locally, meant I couldn't find anything that worked for me.  However, I did make a note of the School of Stitched Textiles for future reference.
I retired in 2018 and decided that the time was right to look again for a course.  Having sold work in the past I toyed with the idea of setting up a business but decided that I needed to understand more about it and what customers were looking for.  I also needed to understand my own limitations.
Very basic research provided useful insights, for example:
Quality and Craftmanship – may be identified in the embroidery techniques that have been used, for example chain stitch and couching or laid-work are the most economical of expensive yarns; couching is frequently used for gold work. Canvas work techniques use more materials but provide a sturdier and more substantial finished textile.  Explaining these methods demonstrates that many forms of surface embroidery require use of a wide range of stitching patterns, in a single piece, to perfect the work.
Professional Certification – There will always be a need to show customers how knowledgeable you are about embroidering; telling them and enabling them to trust you without them directly asking you for it.  Only professionalism earned from professional certifications can provide this platform.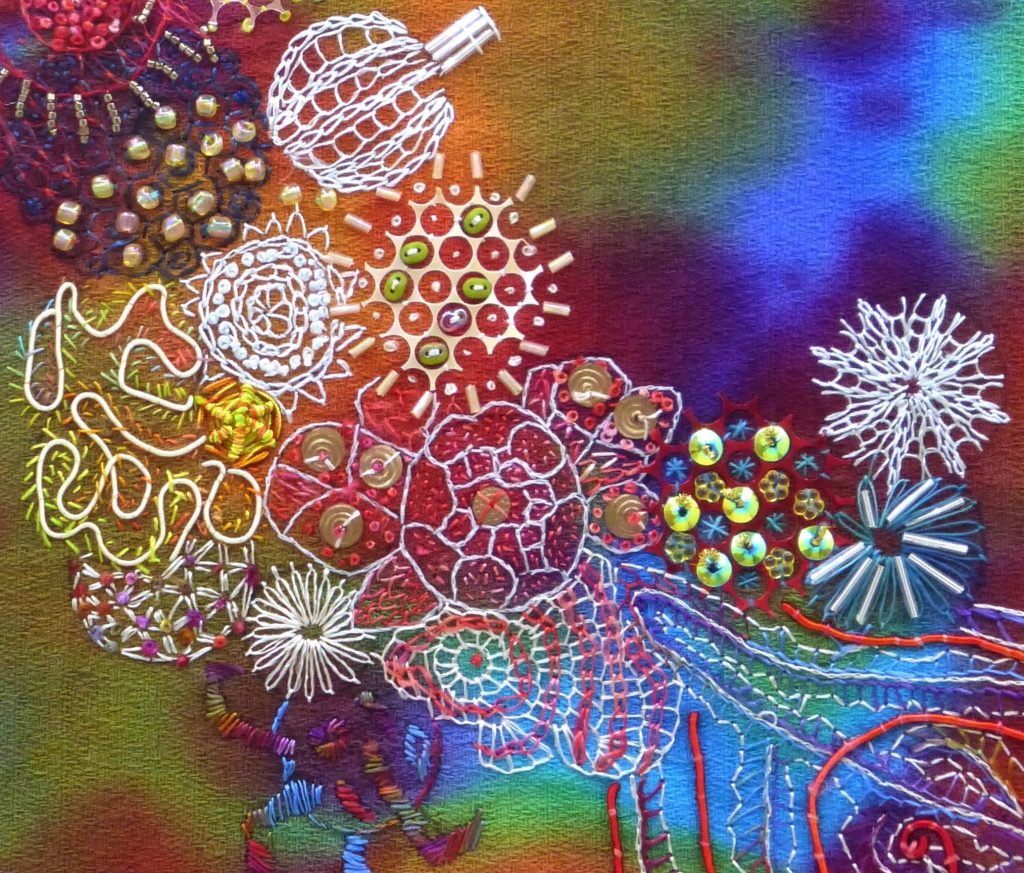 I chose the School of Stitched Textiles course because gaining my C&G qualification would be one step in doing this and this course would provide focus on getting "students to develop their own style and designs while giving valuable professional practise".
I have enjoyed the course and have learnt new skills.  Colour, contrast and texture are important elements in my work and I discovered that fabric and thread, used as a fine art medium, best expresses my personal vision.
The course also helped me to focus my thoughts and understand who I am.  Typically, my work celebrates the intricacies of the natural world.  I am intrigued by the patterns and structure of trees, seedpods, or rock formations found along the coast.
However, I also benefitted from the learning process in ways that I didn't expect- for example, the Hand Embroidered pieces that I enjoyed making in the past (and which sold) took many months, sometimes years, to complete.  I had always thought that this was because other life commitments got in the way and I couldn't focus or work on the piece full time.  But since the course expects work to be submitted in a timely fashion, I found that actually, I was just very slow.  I personally would not be able to produce enough items to make a living.
My enjoyment comes from experimenting and pushing both my work and myself in new directions and the course did enable me to do this.  I would certainly recommend the course to others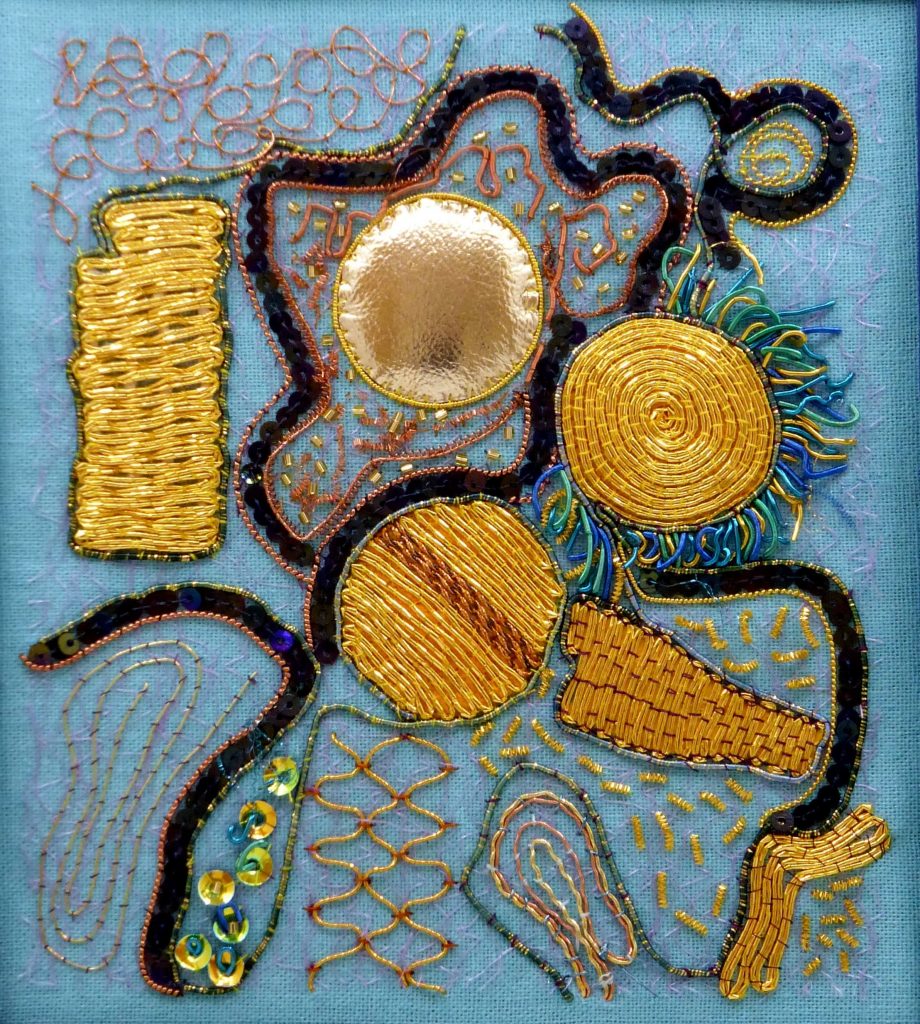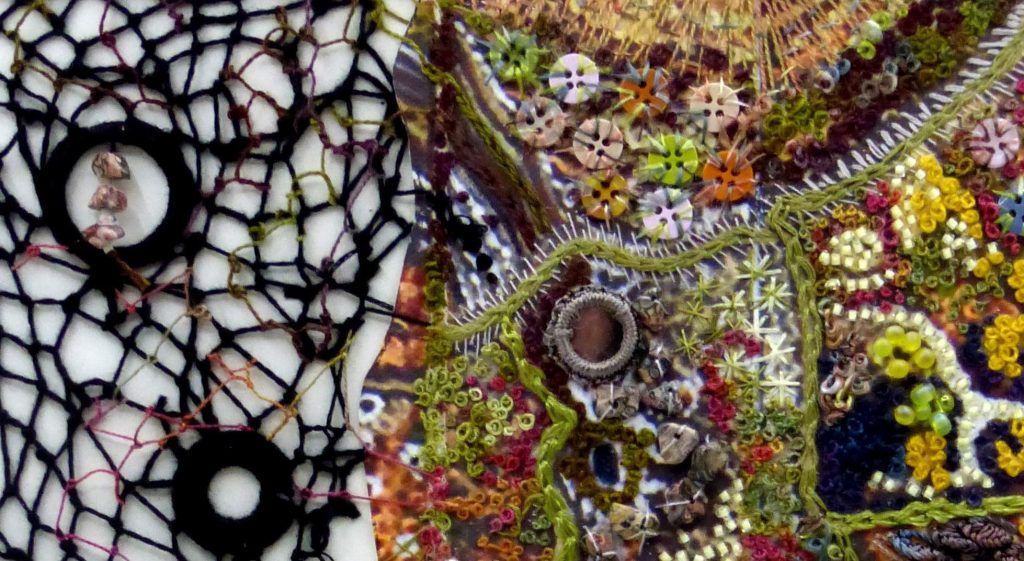 What's Next?
In terms of future plans, I will continue to make and submit work in exhibitions and to galleries. I am considering staging my own personal exhibition(s) featuring some items developed for the course, once the galleries re-open after Covid.
In the longer term I will be investigating further courses of study because I do enjoy the process and have always been an advocate of lifelong learning.