Annegret Fauser was looking for a course that would foster her creativity and design skills. Having completed our Skill Stage 4 Patchwork & Quilting course she shares her experience of gently being pushed beyond the boundaries of her technical abilities and developing her unique creative voice.
Annegret Fauser
As a writer and a quilter, I tell stories. Sometimes they are stories about other people, long dead yet still with things to teach us; sometimes, the stories lie in the material itself – its beauty, its richness, its emblems, its contradictions, whether in music or in cloth. Writing is an integral part of my profession as a music historian, and I love tracing in my books and articles the entanglement of musicians and their music in the worlds they inhabited. As a quilter, however, I had become stuck after two decades of accumulating technical proficiency through workshops, books, videos, and lots of practice. My quilts were nice, derivative, and pretty much devoid of the very stories I wanted so badly to tell in fabric and thread.
Over the years, I had seen quilts and textile art in magazines, exhibitions, and websites that did beautifully what I dearly sought to achieve. As I read their creators' biographies, I discovered that many of them had completed a Patchwork & Quilting course accredited by the City & Guilds of London Institute. And several artists spoke eloquently in interviews about how it had fostered their creativity and their design skills while also pushing the boundaries of their technical proficiencies. That – I decided – was exactly what I needed, and so I looked for the perfect long-distance course, for I live on the other side of the Atlantic.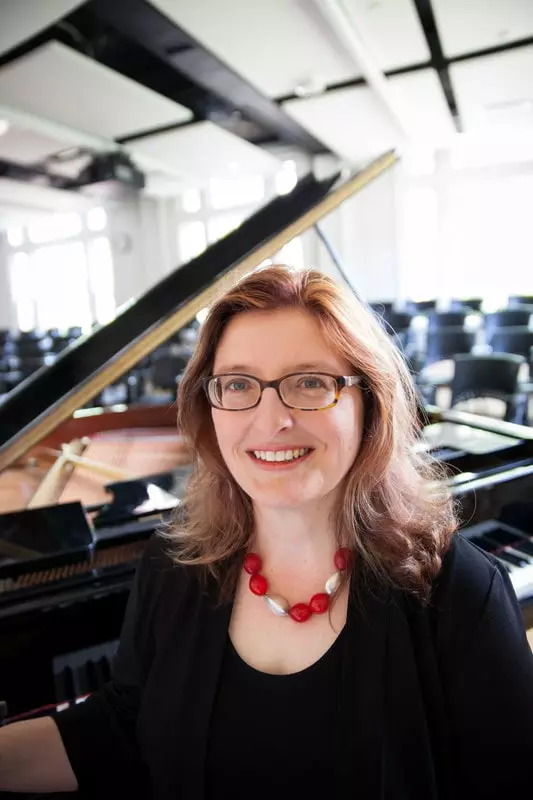 After several months of research, I concluded that the School of Stitched Textiles would offer me the artistic, technical, and pedagogical expertise to set me up for success. Now that the course is completed, I can report that my already high expectations were far exceeded. In other words: I am a fan!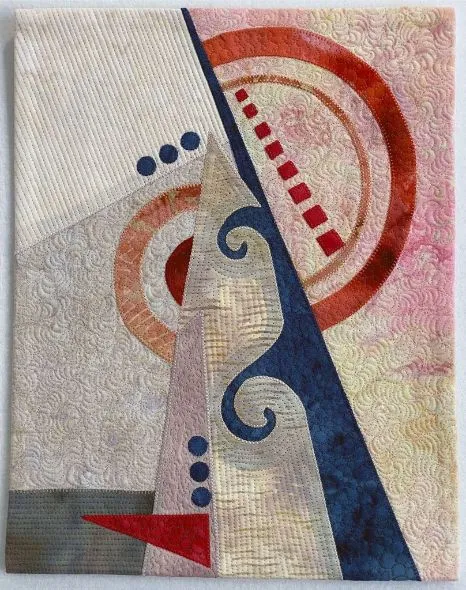 The Course
After consultation with the staff, I signed up for Patchwork & Quilting Skill Stage 4. When the first, beautifully produced modules arrived, I swallowed: this was going to be a challenge, making me face and address my greatest weakness: original design. And so I started by taking baby steps. Soon, however, with the help of my brilliant tutor, I could move more fluidly and securely. Over the twelve modules, I developed my voice as a quilter, discovering that strong and bold colours were part of my vocabulary. I found great joy simply exploring tasks that seemed scary at first, whether a fresh design challenge or a new set of extended techniques. I experienced how the progression through the modules helped me to achieve my design goals. And I had the perfect tutorial support: at times, I needed handholding, while for other tasks, I had to figure things out for myself.
By centring the lion share of the course around a Self-Chosen Design Project (SCDP), the modules imbued the many and often wildly different assignments with a sense of unity while giving it all the character of a laboratory in which one could experiment to one's heart's content.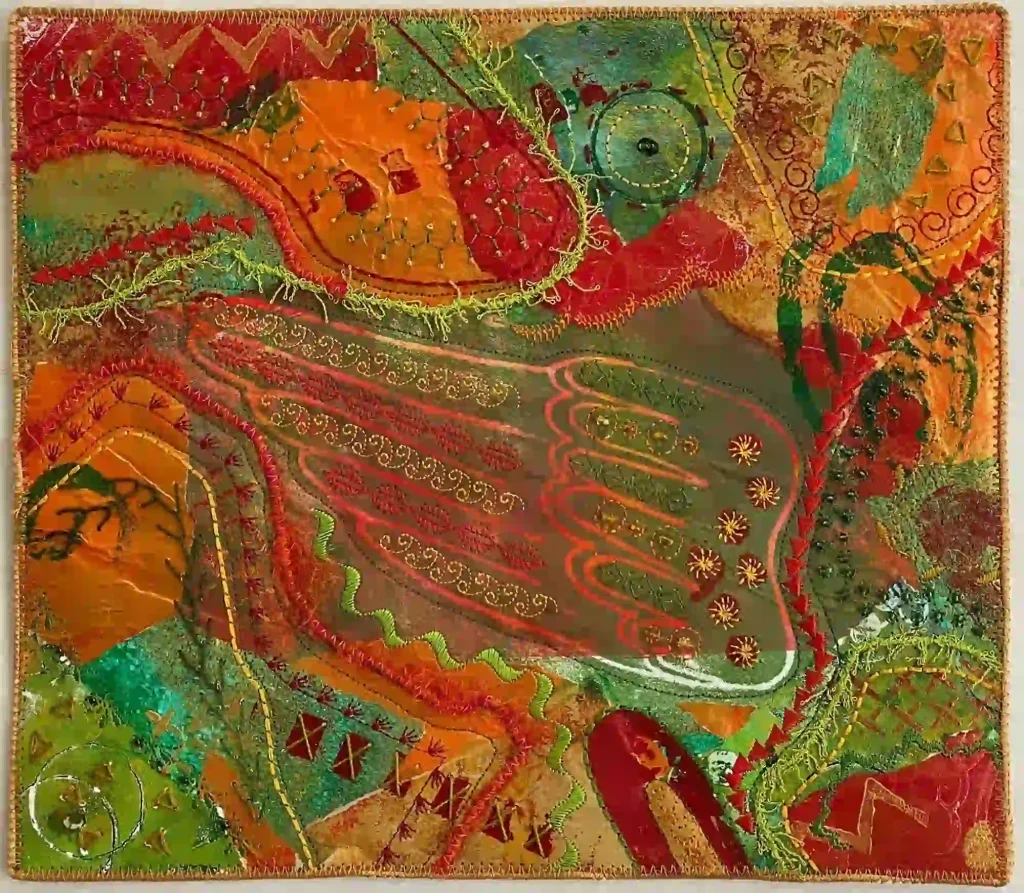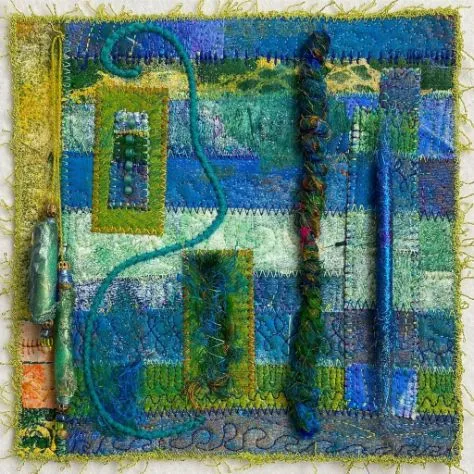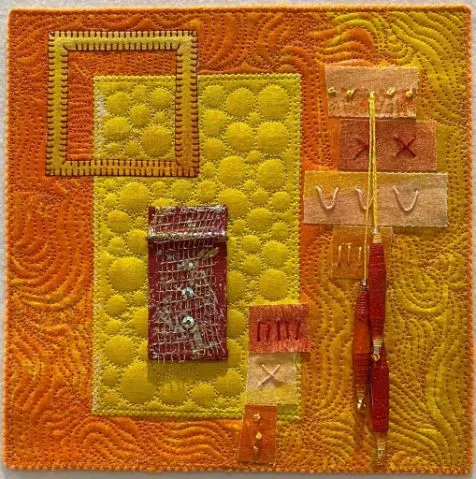 My choice as a design interlocutor was the Russian artist, Natalia Goncharova (1881‒1962), whose work I first encountered through her costume and stage designs for Serge Diaghilev's Ballets Russes, including key works such as Nikolai Rimsky-Korsakov's Le coq d'or (The Golden Cockerel) and Igor Stravinsky's Les noces (The Wedding). It was through Goncharova's own artistic practice that I learned about the idea of a design laboratory: the concept of working through different styles and techniques by exploring the same theme over and over again, whether it was a peacock in its many iterations, or space travel after the Russians launched Sputnik.
Art quilters often speak about a "series" – but a laboratory is much more experimental and allows for play, testing, and even failure. This excitement of discovery is exactly what I found in the modules and what taught me to spread my design wings with increasing confidence.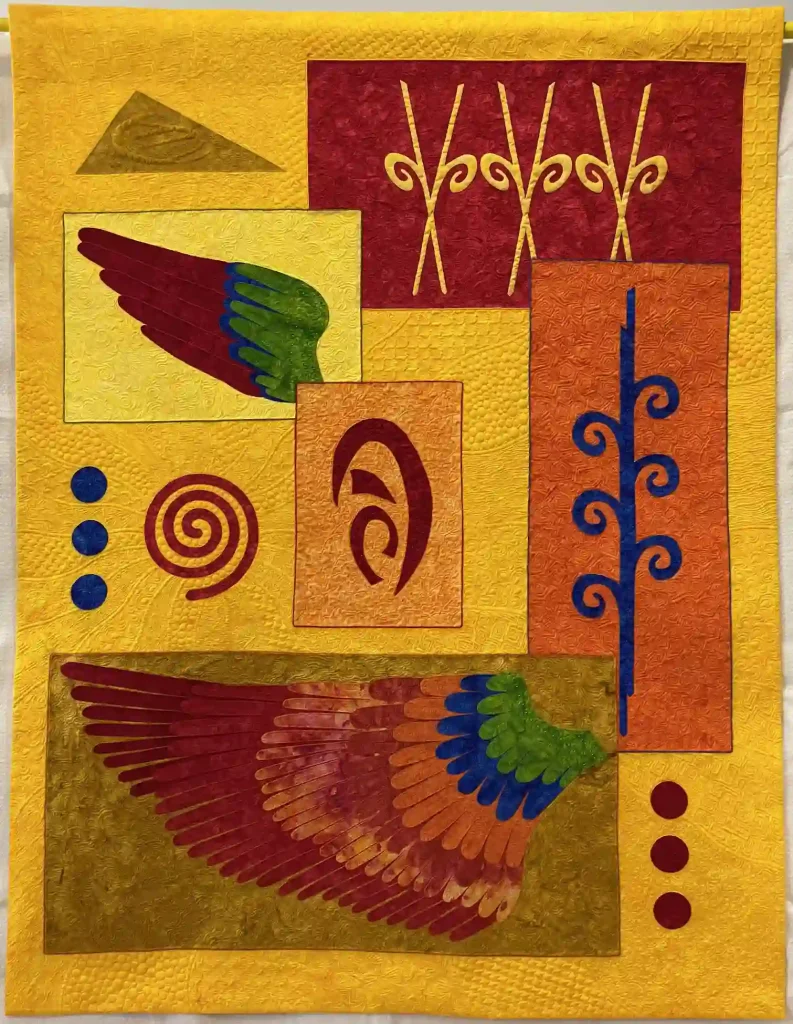 Advice to future students
I can only recommend this course. I have become a happier and much more accomplished storyteller who can now speak her own language in cloth. It is not yet clear where this path is taking me as a quilt artist, not least because I still have a demanding day job as a university professor. But I can envisage – once the nightmarish spectre of the pandemic recedes to allow for exhibitions and quilt shows – that I will begin to show my work in galleries.
I am also contemplating signing up for a Masters Level course to continue being coached as I develop as a quilt artist, a strategy towards success that is familiar to athletes and opera singers alike. The most important advice I could give someone who takes a course such as this is to embrace everything in it with zest. In particular the assignments that seem weird, annoying, or challenging. A few times, I realized that an approach did not suit me – like using plastic bags as a material in a quilt – but at least I had tried it out. Often, however, they became favourites that are now integral to my quilting practice.