Anna Hayward has always loved to stitch. From a young age she would make simple stitches, embellish her clothes as a teenager and today, loves to indulge her interest in hand embroidery. On discovering our Hand Embroidery Skill Stage 2 course she decided to take up the challenge and prove to herself that she could do it. This is Anna's #MyStitchJourney
Anna Hayward
Hand stitching has been a constant thread running through my life since I was a small child. From those first simple stitches on binca squares, to embellishing my teenage clothes, to family cross stitch samplers in my twenties then small world toys, stories and learning resources for small children. My mum had her own soft furnishing and haberdashery business and was a whizz with a sewing machine, but somehow it was never been a skill that appealed or rubbed off on me. What we did share however was a love of fabric, embellishment and colour.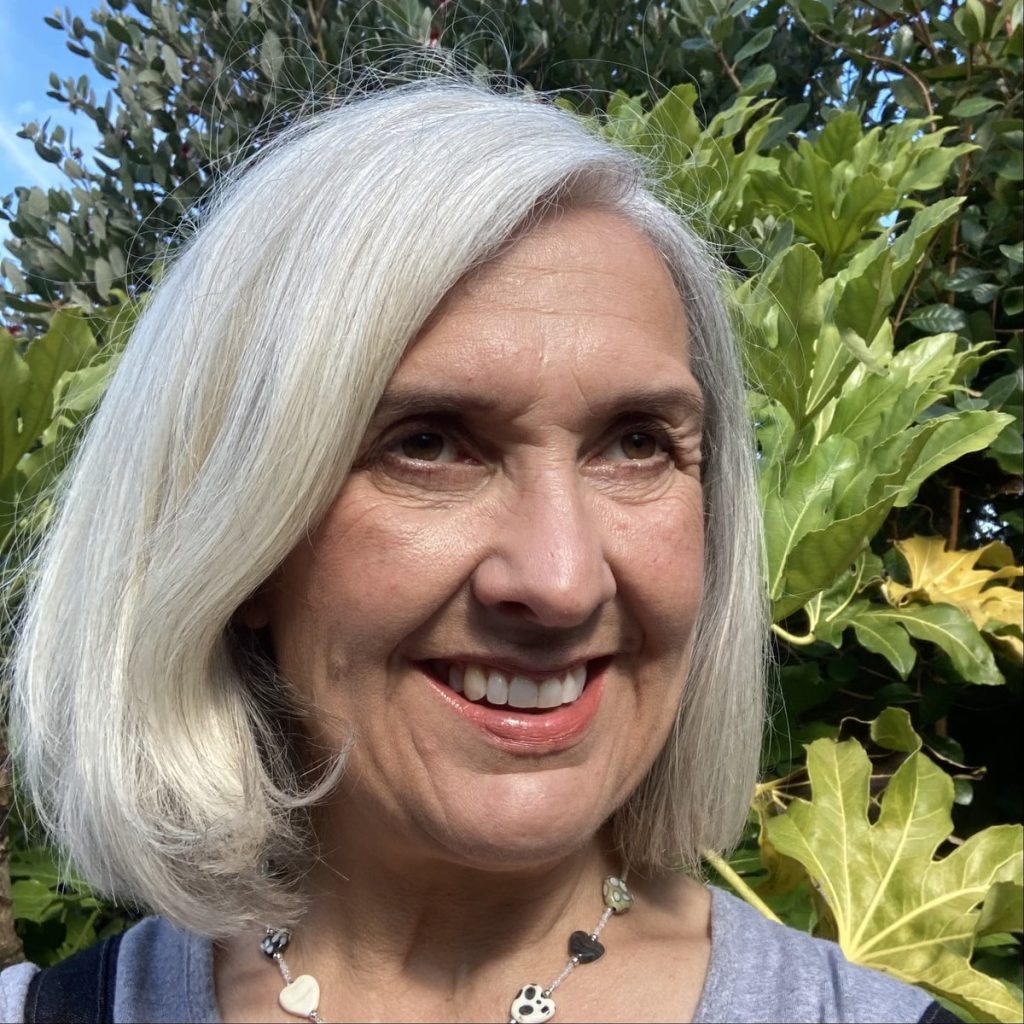 These days I am lucky to have more time to indulge my interests, of which embroidery is at the top of that list, I would happily sit and sew all day if there was nothing more I needed to do. My stitch journey is taking a different direction once more and moving away from the more practical ways I've used stitch in the past.  I began by exploring what I could do with my limited embroidery repertoire. This developed into a curiosity to see what else the world of embroidery had to offer. I looked to see how embroidery is used in a contemporary way on variety of short day or weekend courses.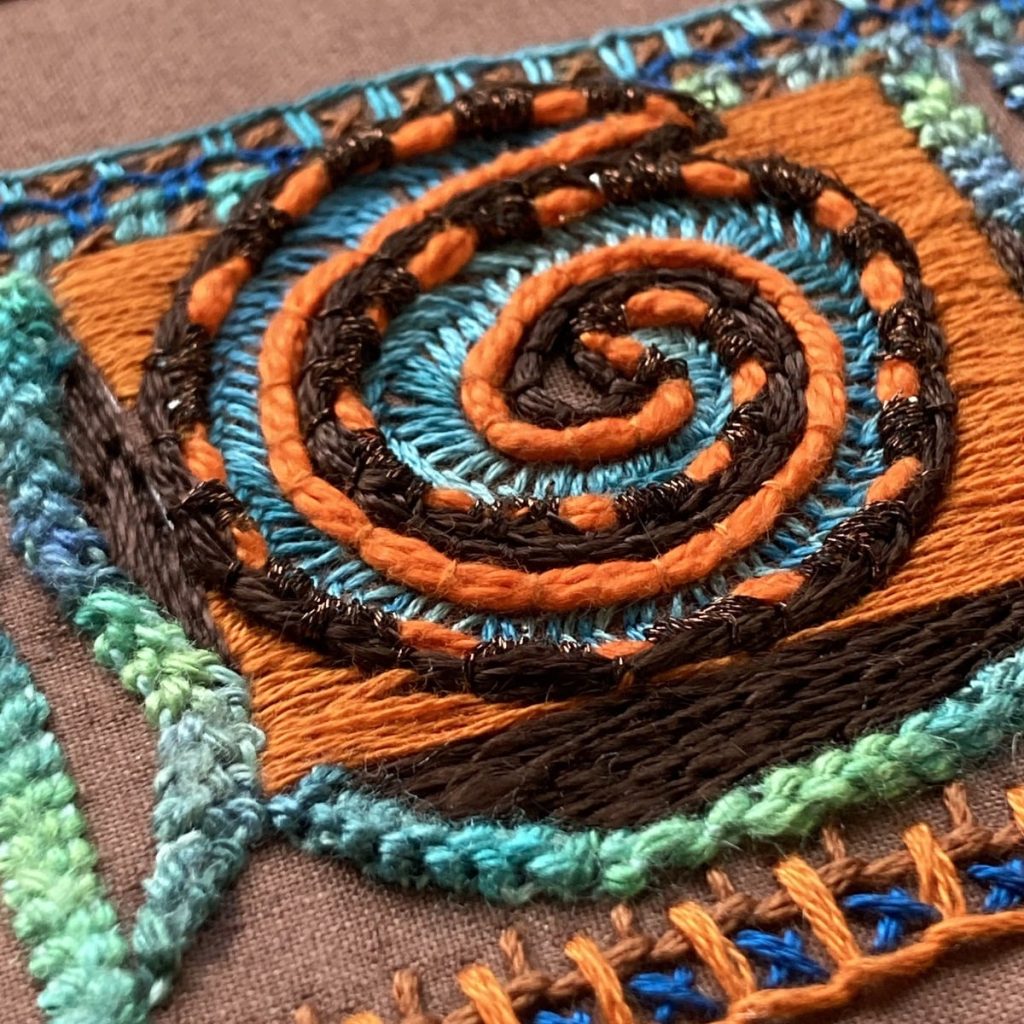 Developing Embroidery Skills
Sporadically over the years I have searched for an art or craft based accredited course that would suit me. However, a combination of factors had prevented me from taking the plunge until now. Living on an island is limiting for in person classes especially when fitting around family and work commitments. Some textile courses were too broad and contained elements that didn't particularly interest me. Some were too formal and I lacked the confidence to embark on something that possibly was beyond my skill set. I no longer need to gain qualifications for a career, but I wanted to challenge myself and quite simply prove to myself I could do it.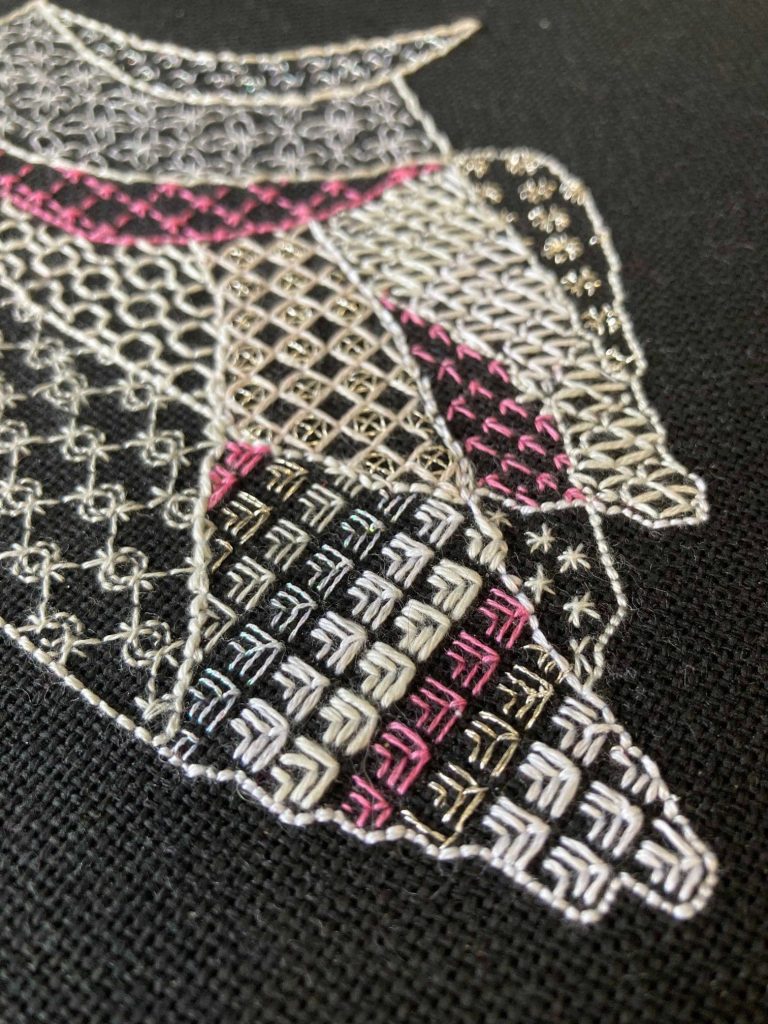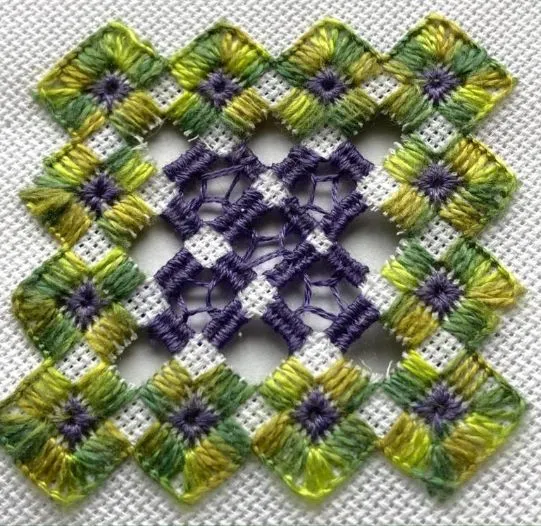 Discovering the SofST
I discovered School of Stitch while scrolling through my Instagram feed. The hand embroidery course sounded perfect! Over forty years ago I gained City and Guilds qualifications in the very different skills of hairdressing, beauty and wig making.  Even after so long I remember how the balance between practical and theory suited the way I learn best.
The hand embroidery course offered everything I have ever been looking for. The entire course is online, plenty of time is given to work at my own pace, a great blend of practical and research tasks and most importantly plenty of support available.
As it has been many years since I had last worked towards an accredited course and didn't want to bite off more than I could chew, I opted for skill stage 2.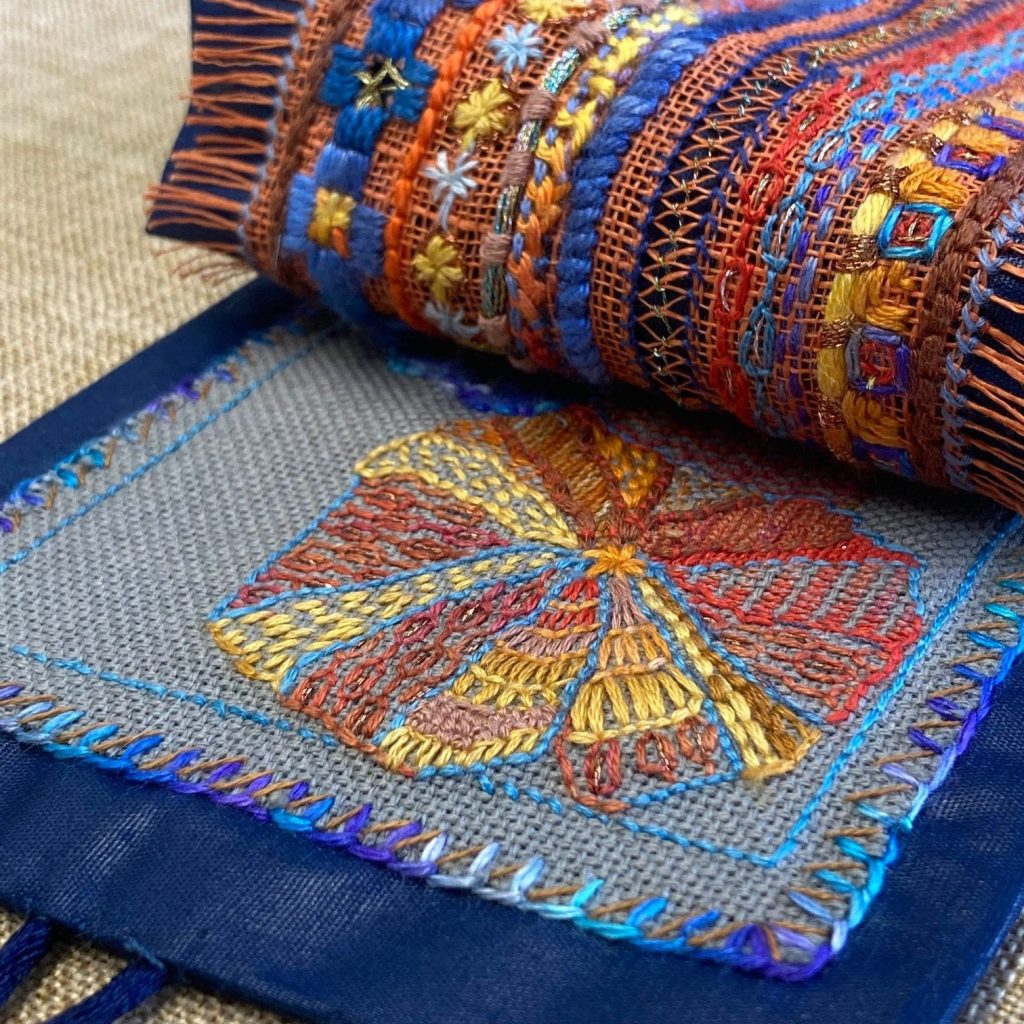 How the Course has Helped
It's very difficult to pick just one helpful thing I have learned as a result of this course. Over all it has taught me how to learn, research and design. I enjoyed looking in detail at the art work of artists such as Matisse and how to use it as an influence in my own work. I have not only learned how to use PowerPoint on my computer, but also how to use it as a design tool. It certainly was an unexpected bonus to have my computer skills to be enhanced!
What next? I will be exhibiting several of my embroideries in showcase of art at a local arts centre. The showcase is in conjunction with open studios of which I will be taking part. In 2023 I have been invited to include some of my embroidery in another small exhibition.
In the future I would love to pass on the joy of hand stitching to others or who knows, even move on to level 3?!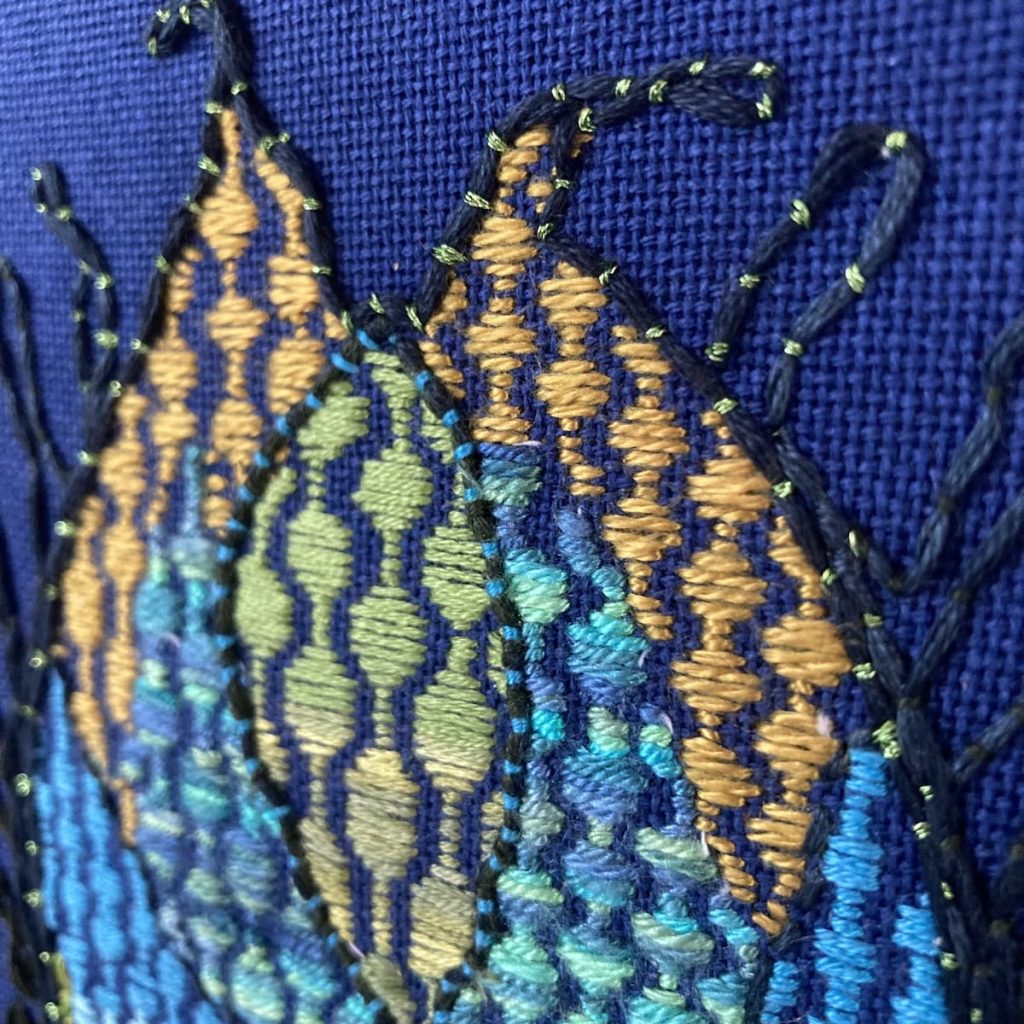 Advice to New Students
If you would like a course that encourages your creativity with a wonderful balance of embroidery, research and design, then this is definitely the one. It is a course that will keep you focused and help you realise of what you are capable. It will have you hooked and amazed at how much you learn. Ultimately, it'll give you a marvellous sense of achievement.
My advice to students, if like me you have very limited experience of accredited courses – 'You can do it!' You don't need to be brilliant at drawing or have super immaculate stitches. All you need is a desire to learn and get the creative ideas out of your head and into your embroidery.