Erin Eggenburg uses clever embroidery stiches to visibly mend things. The simplicity of what she does – slow stitching and hand embroidery – has made it accessible to many. There is such a huge demand that Erin teaches workshops and even authored a book, The Mending Directory, in November 2021. All of this is fronted by a thriving business, Wrenbirdarts.com, suppling embroidery and mending supplies.
We love Erin's work! Not only does she excellently demonstrate how to run a successful business with a following of over 31,000, but she is also encouraging us to re-use, mend and make do, while simultaneously promoting crafting and creativity. So, we thought we'd catch up with her to ask about her business, how it developed and what advise she has for those who have been inspired to mend with embroidery.
I began wrenbirdarts as a custom, hand embroidered handkerchief business in 2012. I embroidered over 10,000 one-of-a-kind hankies before shifting my business to mending and embroidery patterns and teaching in 2017.
The versatility and practicality of embroidery is what I love most.
Embroidery is both repair and expression for me. I consciously choose to purchase almost all of my clothing secondhand, and to repair that clothing, and wear it many times before it becomes a scrap for repairing other clothing, or to donate it in better shape than I found it.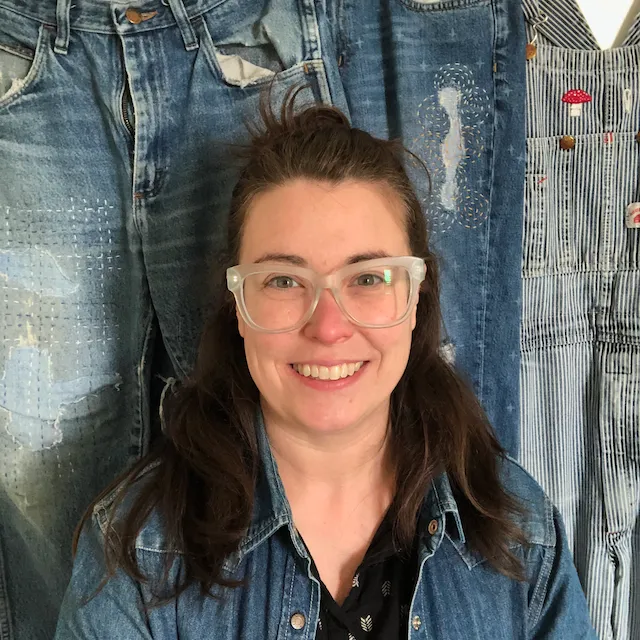 I would describe my repair style as bright and patterned. Most of my mends are done using the same style of embroidery stitch, in a natural (imperfect) pattern. My eye naturally gravitates toward patterns that I see in my surroundings. Pattern is everywhere, in nature and in the middle of the city, in reflection, and raindrops. In my own mending projects, I prefer to use pearl or crochet cotton thread, and scraps of yarn which is easy to find second hand here in the US, and fabric for patching from old or unwearable clothing.

Upcycling and re-using is something that is of huge interest to our students, who are mainly very conscious of the environment and of using methods within their coursework that have minimal impact on it. Can you suggest some easy things they can do to lessen their impact on the environment?
When it comes to clothing, here are a few suggestions:
Shop secondhand.
Repair clothing when it starts to show wear or right when a rip occurs.
If you do shop new, get to know the brands that you are purchasing from-know their track record for environmental and social impacts and ethical worker practices.
You run the Mending Club for fellow stitchers to connect – do you still do that, even though the pandemic has passed?
I started Mending Club during the pandemic, as a way for people to connect around mending. When it began, it was an interactive website, where folks could post mending projects, ask questions, and communicate with one another. Once life started returning to normal, I realized how much time I needed to spend to keep up with questions and comments, and fresh posts. It wasn't feasible to keep it up as a free community, which is also important to me.
Mending Club now exists as a once a month live, recorded Zoom meet-up. I plan a presentation each month on a different mending topic. Members can attend live, followed by an unrecorded social stitching time, where menders are encouraged to share their in-progress and completed projects, and crowdsource options for mending projects in the works. It's one of my favorite things!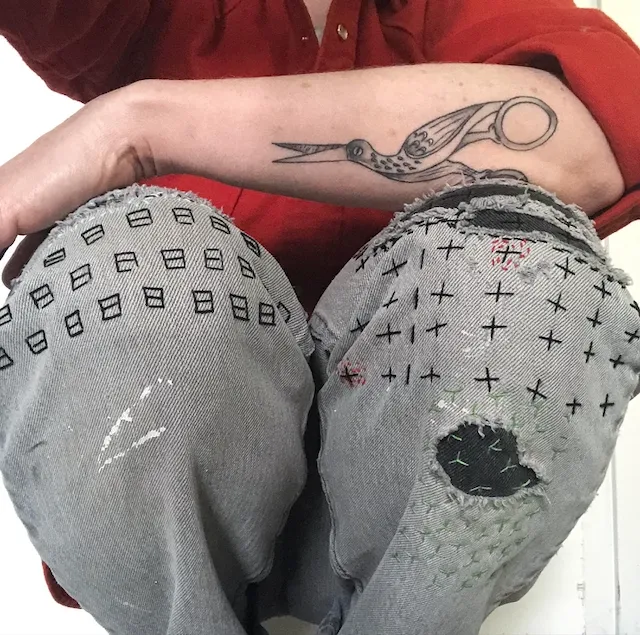 As someone who began their business, Wren Bird Arts, on Etsy, can you tell us what was good and bad about it and if you'd recommend it as a way for someone to start selling their crafts?
I started on Etsy a long time ago (2012), before social media connected to shops directly, so lots has changed since that time. There are a few solid reasons why it was a good fit for me, while I learned more about running my own business.
Etsy takes care of a lot of the administrative side that can be overwhelming for a small business or artist just getting started. It also makes it easy for customers to both find you and ask questions, and gives some shoppers peace of mind, when ordering from a website that is known. When I started on Etsy, it was a marketplace that really highlighted handmade products, and I don't think that is necessarily the case anymore. Many of the categories are also saturated, which can make it challenging for buyers to find your products in a search.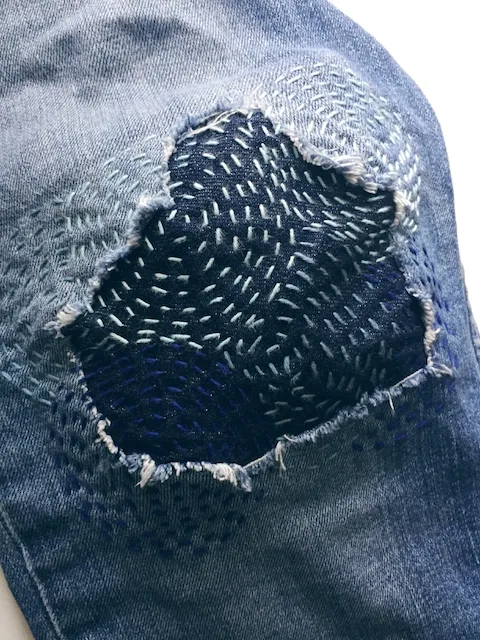 With any platform, there will be features and policies that you don't agree with. But, for a beginner, I think Etsy is a really helpful tool. I still maintain an Etsy shop, as well as my stand-alone website.
What is next? Do you have exhibitions or new books underway that you could tell us a little about?
I am teaching lots of in-person and online mending workshops this spring and summer. In the meantime I'm working on a few new embroidery and mending patterns that I'll be releasing before the end of the year. I don't have plans for another book yet, but I do have a few ideas marinating. . .
Find out more by visiting Erin Eggenburg's website, or follow her on Instagram.