With a career spanning several decades, Carolyn Forster is one of the best-selling authors on quilting. Having studied Textiles at the University of Bath and later obtaining a City and Guilds in Patchwork and Quilting, her work is regularly featured in Today's Quilter magazine.  By infusing old techniques with contemporary designs she is known for her innovation, creativity, and a profound appreciation for her craft.
Forster is particularly famous for her ability to blend traditional quilting techniques with contemporary aesthetics. This results in captivating and visually striking pieces. Her quilts showcase intricate designs, inviting colour palettes, and a meticulous attention to detail, capturing the essence of the subjects she explores. From landscapes and nature-inspired motifs to abstract compositions, Forster's work effortlessly bridges the gap between fine art and quilting, captivating viewers with its unique fusion of beauty and technical skill.
Arguably her biggest appeal is the way in which she combines various quilting techniques, such as appliqué, piecing, and free-motion quilting. Forster effortlessly creates intricate and complex designs that exhibit both her technical expertise and artistic vision. 
Carolyn Forster's success can be attributed to her active involvement in the quilting community. She has shared her expertise through teaching workshops and participating in exhibitions, fostering a sense of collaboration and growth among fellow quilt artists. Her willingness to share her knowledge and passion has not only contributed to the advancement of quilt art but has also inspired a new generation of artists to explore the limitless possibilities of the medium.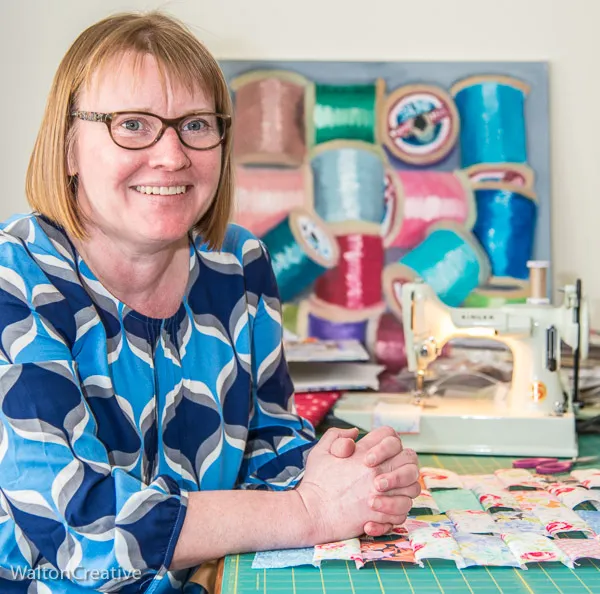 "I have always been fascinated by the quilts of the Afro American quilt makers (the Gees Bend quilters) and their use of fabrics, pattern, and colour."
Where did sewing and quilting begin for you?
I always liked making and crafting, so I would be brought boxed kits for birthday and Christmas presents. One was of felt pieces to sew together to make a cat's head with a tail behind it to help it stand up. It was stitched with wool and stuffed with foam, and I can remember it having a wonky gait, as I don't think I got the tail quite right. My Mum had a sewing machine and made a lot of our clothes. So, the first sewing on the machine was to sew dolls clothes. My Mum would help me with sewing, but my grandmothers taught me to knit and crochet.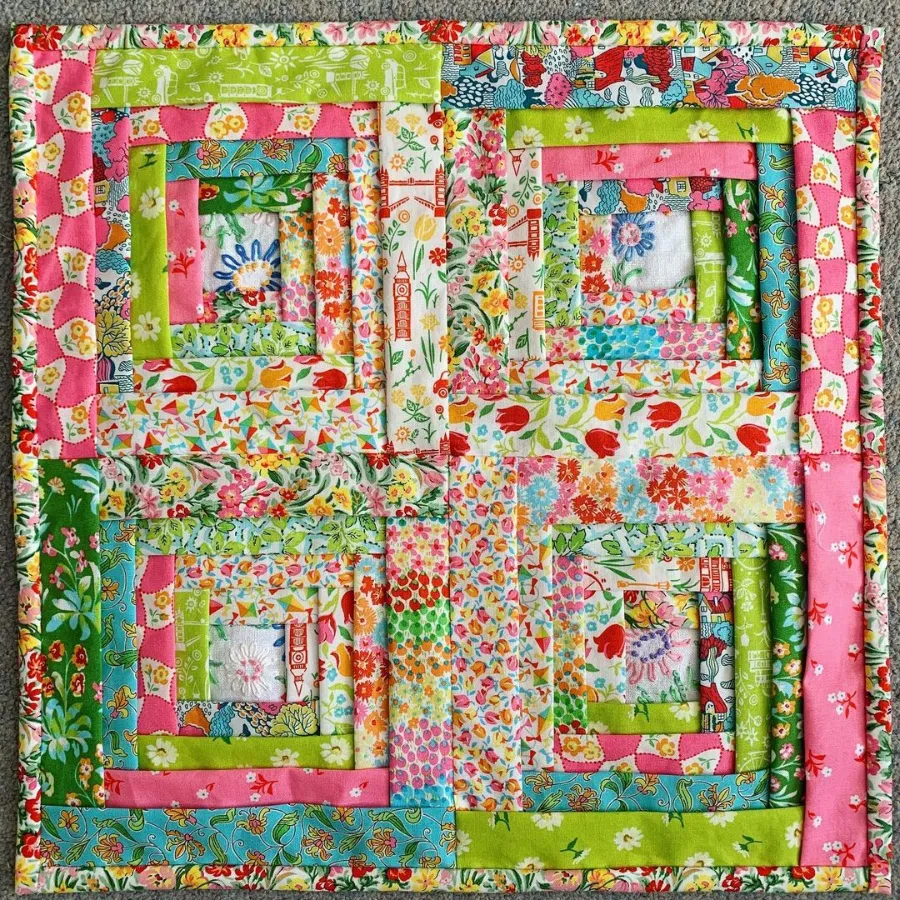 Where do you usually look for inspiration when starting a new piece?
Either from a selection of fabrics which I've collected together, I have lots of grouped piles, or from old quilts or plain quilt blocks. I like books which just show the blocks drawn in black and white, and as I browse, different things will appeal at different times.
I've always read and collected books on old quilts and historical documentation, and these I use a lot. I like visiting museum and gallery collections of quilts too, or just looking on the internet.
When it comes to the fabrics I use to make the quilt block or quilt, I do get quite specific. I spend ages ensuring the feel and look jells with me. I even try to copy the old quilts, just the ideas they might convey.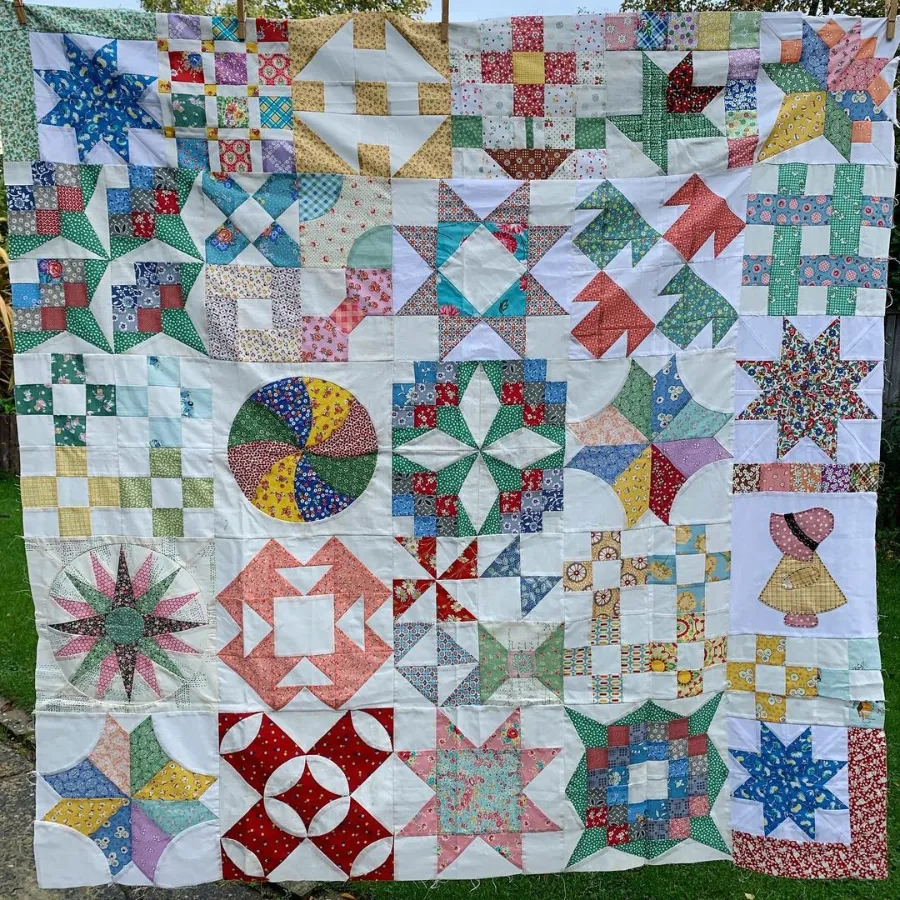 As an established author, what is the process of getting a book published?
Writing a book is a passionate commitment. My first book was self-published as the publishers I had approached did not think it was right for them. But I was convinced there was a market for it, so I financed it myself. This then led to an American publisher picking it up, and me writing several books for them. Subsequently, I was then approached by my current UK publisher.
Book writing is a long process, with no quick gains. You need to be passionate about the book, the message or learning that you want to pass on. It's important to look for a publisher who might be producing books with a similar craft or look to one that might want to expand into that area.
Not all publishers work in the same way, so it is important that you find the right fit for you, which then helps you build a good relationship with your editor. You will be trusting them to get your vision across, and you'll want to ensure the book looks as close to your vision as possible.
Be prepared to take on board their comments! Although you may know your craft, they know more about selling books.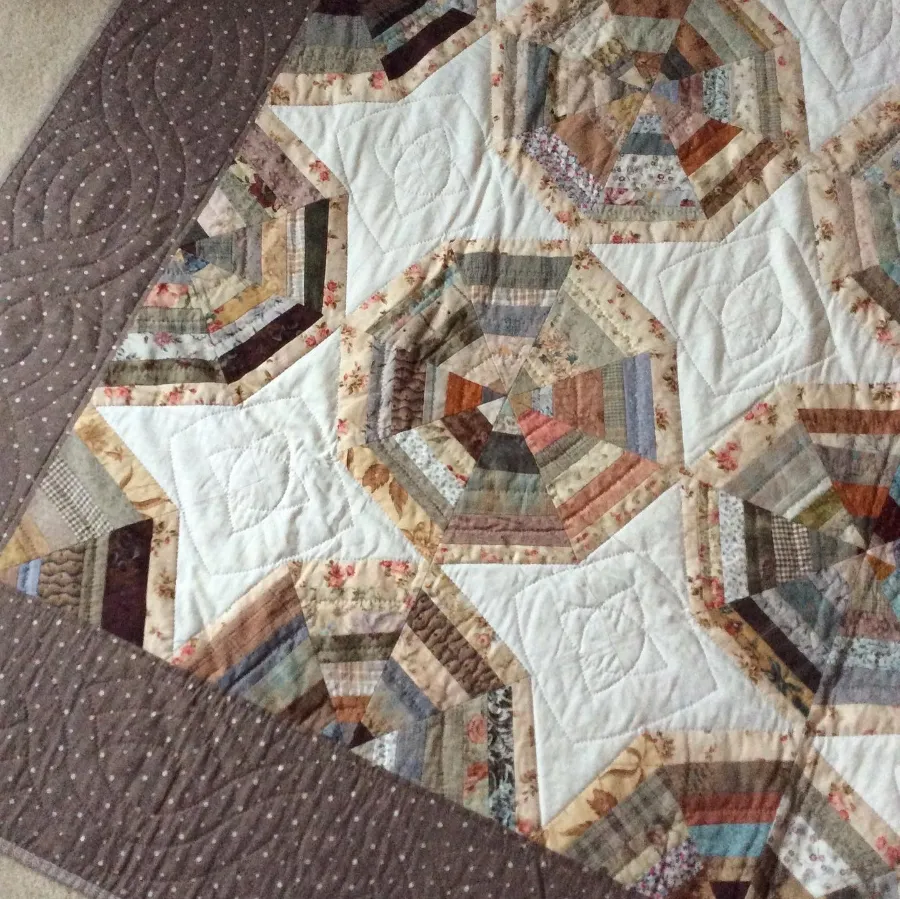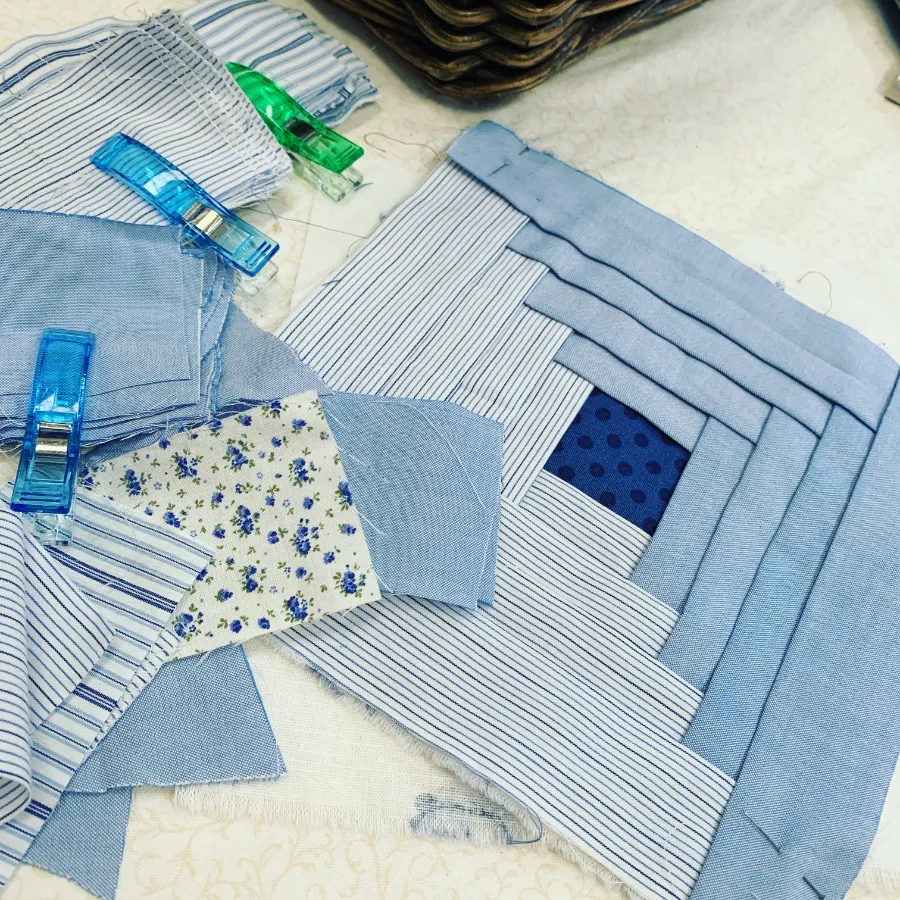 Which are your favourite techniques and fabrics?
My problem is that I love it all. Probably the only patchwork technique I've never fallen for is Foundation Paper Piecing. I've tried it on and off, but it's not one that calls to me.
I have favourite techniques for different times that I sew. If I'm home with my sewing machine, then I love the mindless sew of String pieced blocks, or repetitive chain piecing with the radio on and a play or crime thriller to listen to.
When I'm out and about then hand piecing comes into its own. You can do it anywhere! In the evenings, I like hand quilting or applique in front of the TV.
Definitely looking into the many Quilt As You Go methods (one of which was my first book) shows how there is basically going to be a patchwork and quilting technique that means you can stitch anywhere.
Fabric wise I don't have particular genres or makes, I really love it all and most often throw as many fabrics as I can into scrappy style quilts.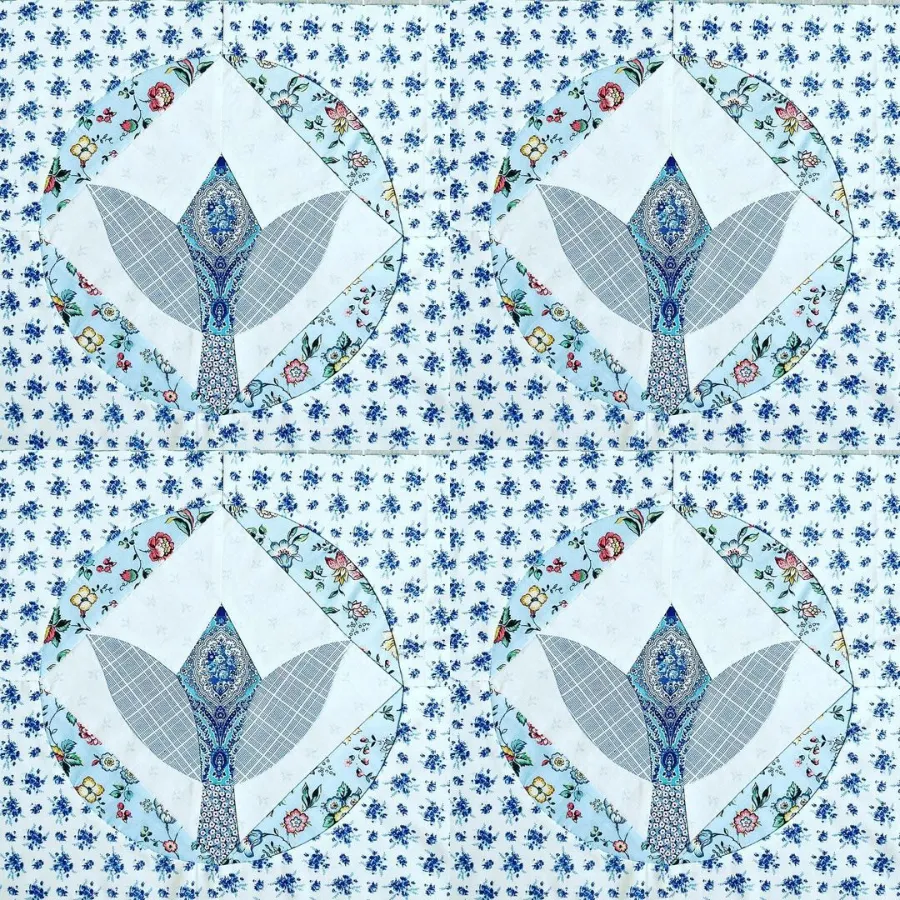 Where do you source these supplies from?
I try to shop locally, we are lucky to have World of Sewing and a great patchwork shop, Pincushion here in Tunbridge Wells. I often buy bits when I'm teaching in shops, as it's all very tempting. The patchwork and quilting shows are great too as there are so many booths and traders, you get a great selection.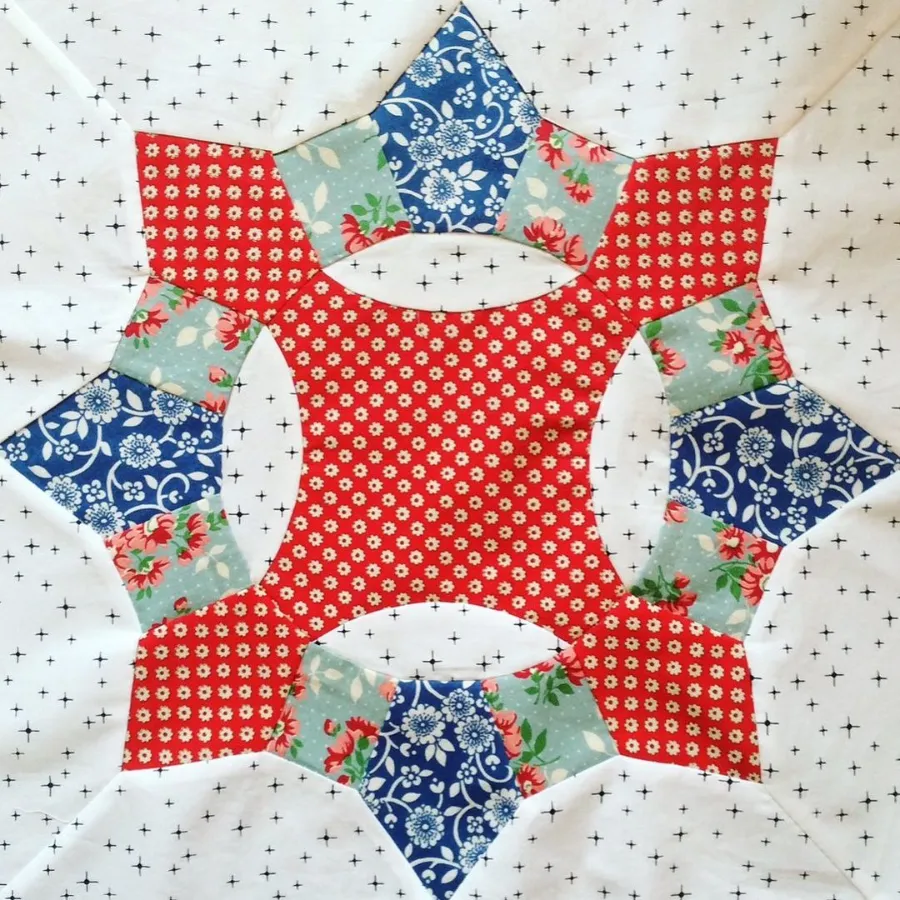 What quilt artists inspire you personally?
My all-time favourite quilter was the late American Gwen Marston.  She was very generous and encouraging and wrote wonderful books and was very prolific. She was inspired by the old quilts and methods, and I think that is important to see what came before.
I have also always been fascinated by the quilts of the Afro American quilt makers (the Gees Bend quilters) and their use of fabrics, pattern, and colour. The increased interest generally in these talented people and being able to see more of their work can only be a good thing.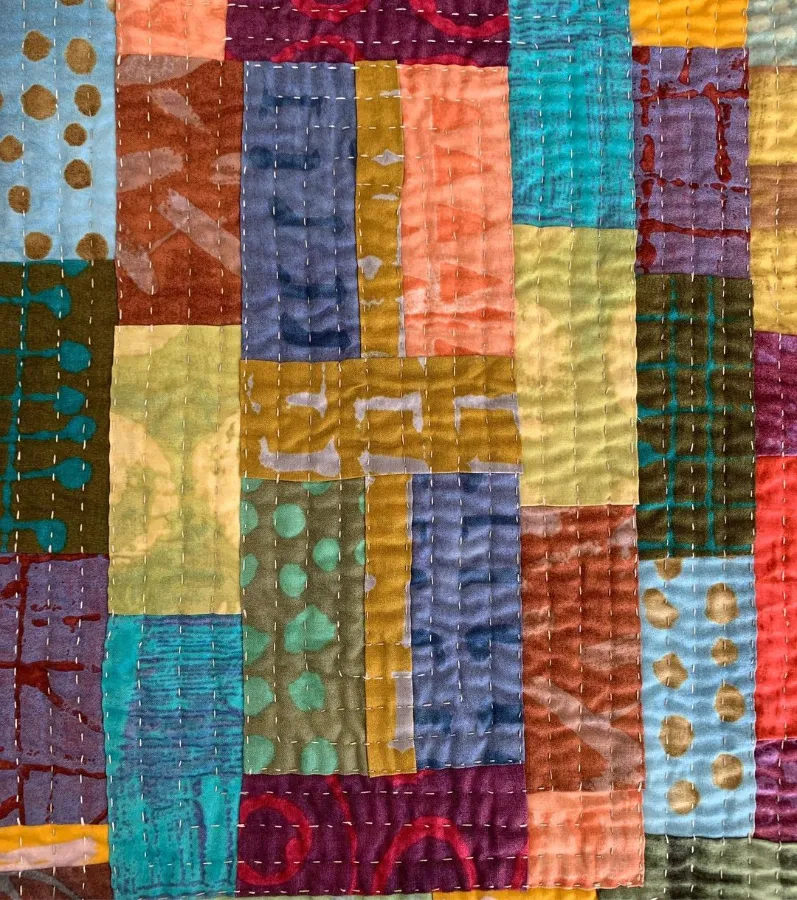 What's next?
I have a new book out this June and we're currently working on proofs for another coming out in 2024. I do get so exited about each book as I feel they each have something that can make someone's journey into the quilting world so much more accessible. There is a method to suit anyone who wants to make a quilt.
This June Hand Stitched Quilts (search press) is out, and this will be perfect for anyone who wants to sew anywhere and shows how you do not need loads of equipment (or a sewing machine) to sew a quilt. Hopefully it will encourage some lovely mindful stitching in all those found moments, resulting in a lovely quilt.
The book for next year will be on String Quilts, (search press) the ultimate scrap quilt and shows how the bits we often might discard have been used in amazing quilts over the centuries. There are lots of tips and techniques on making your quilting journey more sustainable, definitely a waste-not-want-not approach to quilt making.
Find out more by visiting her website or follow Carolyn Forster on Instagram.