Silk is a gorgeous material to work. Its silky, glossy texture can add dimension, shine and opulence, making it a versatile material. We're often asked how to work with silk and or how to use silk in Textile Art, so today we're going cover the basics of  silk. We'll be looking at silk threads for hand embroidery, silk crochet thread, and silk ribbon embroidery by machine, and how to patchwork using silk. We'll discuss how it is produced and give you 5 ways to use silk in textile arts. 
What is Silk?
Silk is a natural fibre which can be spun and woven into a flat fabric textile or as a yarn for crochet. It can even be used in its raw state for felt making. Silk fibres are produced by certain insects which used them to form cocoons. The best-known silk is obtained from the cocoons of the larvae of the Mulberry silkworm. These are reared especially for the purpose of creating silk fibre. The shimmering appearance of silk is due to the triangular structure of the fibre. Its shape allows silk to refract incoming light at different angles, showcasing the lush, shiny silk fibre.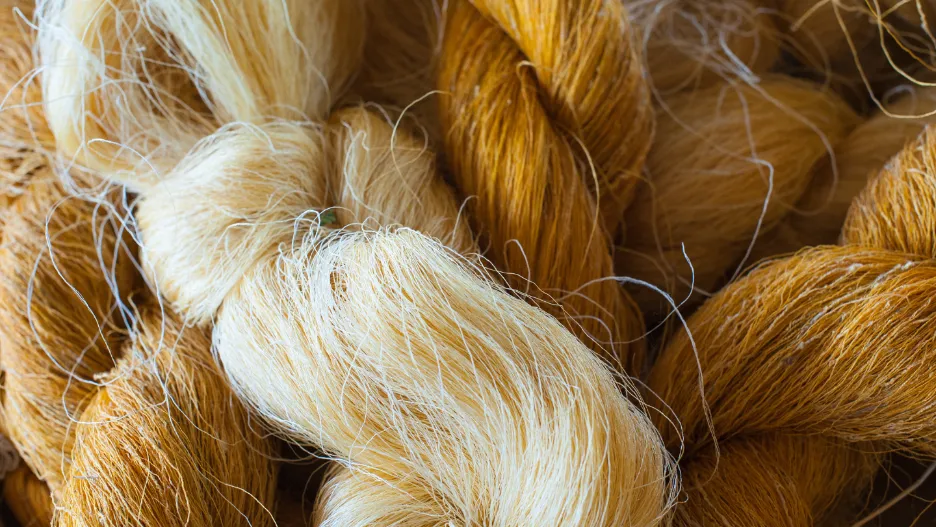 Ethical issues
There are some ethical issues around certain types of  silk production. As a result, you'll probably come across vegetarian or vegans not wishing to use this fibre. Conventional silk uses domestic mulberry silkworms fed with crops packed with pesticides and fertilisers before the cocoons are boiled with the silkworm chrysalis still inside. The fibres are then extracted and refined by their strength, spun, washed and then woven into textiles. Unlike synthetic fibres, silk's organic nature makes it entirely biodegradable.  
However some producers make Organic Peace Silk. This is Tussar silk extracted from silkworms living in the wild that feed on leaves of organic Asan trees. The cocoons are only collected after the silkworm has completed its metamorphosis into a butterfly. These are an essential species, like bees, in preserving the planet's biodiversity. To protect these silkworms, the silk farmers patrol the farm area to warn off predators like snakes and spiders, and mosquito nets protect young silkworms. No harmful fertiliser, pesticides or chemicals are used in the production.  Many vegans are comfortable working with peace silk for these reasons.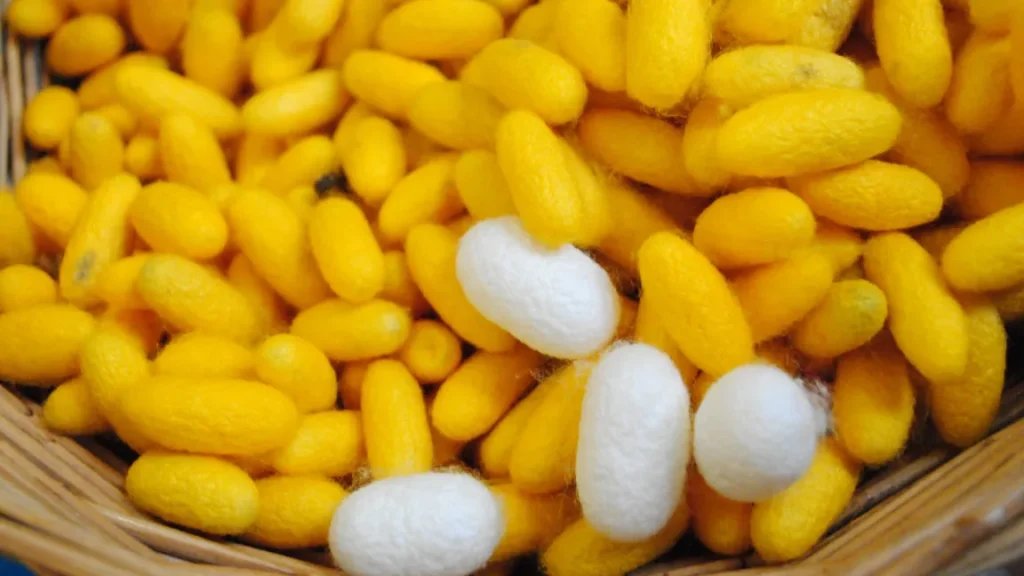 How is silk used in crafts?
Silk is such a versatile fibre that it can be spun into yarn to use in knitting or crochet, woven info a fabric or used to create wonderful, textural threads. 
1. Threads for machine embroidery
Silk machine thread is available from a number of suppliers such as Empress Mills, Gutterman threads and Barnyarns in different thicknesses. It can be used for quilting, machine embroidery and other areas where a decorative machine finish would be appropriate such as high fashion items where the subtle colours and sheen of silk would add to the finished item. 
2. Threads for Hand embroidery
For the same reasons as for machine embroidery, silk threads are very popular for hand embroidery. They don't need to fit through the eye of the machine needle, so there is a larger variety to choose from. Mulberry silks,  Rainbow silks and Steph Francis supply both dyed and un-dyed threads. They come in a variety of sizes and finishes such as twists, boucle, ribbon, chenille and perle. Steph Francis supply perle in both size 3 and size 5, which are ideal for hardanger embroidery. 
3. Fabrics
Empress Mills, East and Silk and Beckford Silk all supply silk fabrics in a variety of different finishes and patterns, including dyed, natural white, printed, burnout, silk velvet and lace. If intended for clothing, they feel wonderful next to the skin. They also make a fantastic background for embroidery, or for quilting and patchwork. Because silk is a delicate filament, it is a good idea to consider what you intend to place onto it. If, for example, you were applying goldwork threads to a silk ground, you would want to ensure you also used a silk embroidery thread to apply them. A synthetic such as polyester would cut into the silk ground fabric. It is also a good idea to use a heavier weight silk fabric such as dupion for backgrounds for embroidery, silk ribbon embroidery either by hand or machine and other techniques. 
4. Yarns
Yarnworx, The Handweaver's Studio and Tribe keep some wonderful silk yarns for knitting or crochet lovers. Because of the relative weakness of silk fibre in relation to other fibres such as synthetics, you'll often find that silk is mixed with other materials in order to give a mixture of properties to the completed yarn. So, cotton, wool, nylon and polyester all mix well with it, but it is also possible to get pure silk too – you just need to be aware that it will be both relatively costly and delicate, so is best used for something special that won't be in constant wear.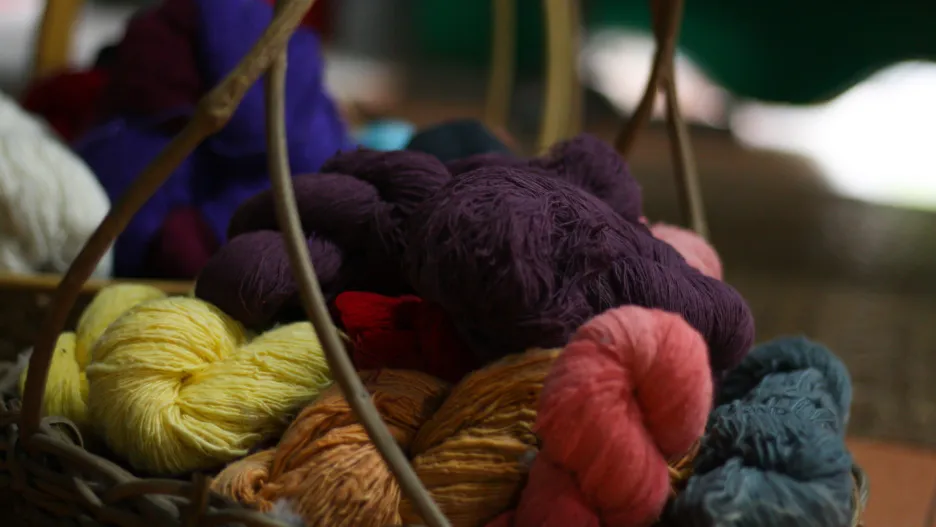 5. Silk paper (silk felt)
Making your own fabric from silk fibres has gained in popularity recently. This is often called silk felting, but the techniques is actually a mix between traditional feltmaking and paper making. The fibres are teased out flat between 2 nets and then bound together with a wallpaper type binding agent. Once dry, they can be worked into using hand or machine embroidery. They can even be used to make 3D items such as bowls by drying the paper over a mould. You can find supplies and instructions for this at Rainbow Silks and George Weil.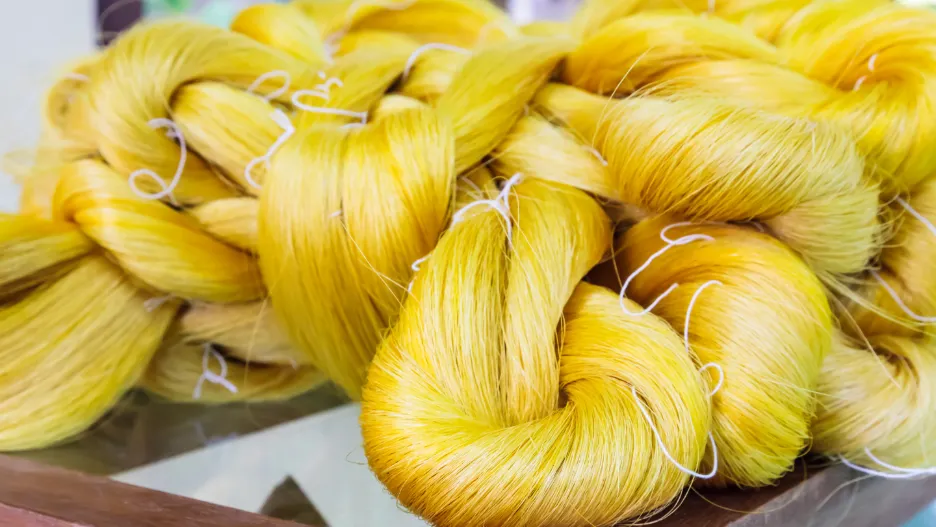 Taking it to the next level
If you'd like to find out more about silk and the techniques it can be used for, then why not consider one of our courses? Our online embroidery course in hand techniques is available in 3 different skill stages – two, three and four followed by a Master Practitioner course. We offer machine embroidery courses in 3 different levels too – one of our most popular is Advanced Machine embroidery at skill stage 4. 
For those preferring yarn crafts, then our online crochet course is available in 2 levels. 
You can find further details about our other courses on our site by going to the links below Machine Embroidery, Textiles, Crochet, Knitting, Felt and Stumpwork. 
About the School of Stitched Textiles.
We're the UK's largest distance learning centre for Textile courses distance learning and deliver City & Guild's accredited online textile courses in Patchwork and Quilting, Hand Embroidery, Machine Embroidery, Textiles, Crochet, Knitting, Felt and Stumpwork in skill stages 2-4. We have been contributing to and delighting in our student's success for the last 22 years. We offer beginner's courses for those just starting on their creative journey, but specialise especially in courses for those who already have pre-existing knowledge and can join straight onto our City & Guilds accredited online textile courses and Master Practitioner courses in either hand or machine embroidery or patchwork to extend and expand their existing knowledge whilst developing their own unique style in the process. 
About our distance learning online courses
All of our courses are studied at a distance by students from all over the world. There is never any need to attend in person, which our students love! Students study at home where they are most comfortable. But don't worry, you'll still have access to other students via the live textiles study group and social sessions. These are ran by us and all are welcome.
Work is submitted digitally to cut down on postage costs and delays. Course modules are sent out to students via a file transfer system. They contain written, pictorial, and video content as well as gallery spaces for each module. Every student is allocated their own personal tutor for their course journey to support them throughout their studies. Courses last between 1 and 2 years, depending on the level studied. To find out about FAQs on how to study textiles online with SST please visit our website. 
About enrolment
We enrol 4 times each year for our City & Guilds accredited courses, which are always oversubscribed, taking between 25 and 35 new students each enrolment date to supplement out existing students who are progressing on to higher level courses. Prospective students can Express an Interest in the next enrolment date via our website. Those who have done so will be invited to enrol on the next available date. We enrol students on a first come, first served basis, counting down from the 10am enrolment opening time. Study starts from around 10 days after the enrolment date.
How do you use silk?
We'd love to hear about how you use silk in Textile Art. Leave a comment below to let us know.