Last November we launched a brand new Creative Bursary Scheme, to enable talented students to study with us for free. This time round we were offering bursary places for our Skill Stage 2 courses and although these courses are aimed at absolute beginners, we were very impressed with the quality of the work being submitted.
We received a total of 56 entries which included a fantastic assortment of hand embroidered projects, coats, patchwork quilts, abstract felts and brilliant crocheted items which we then had to shortlist down to just 5. However, this proved to be very difficult for the SST team so we eventually decided on a final list of 6 entries.
The finalist were:
1. Jennifer Brown – Hand Embroidery
Title: For Astrid (Hand Embroidery)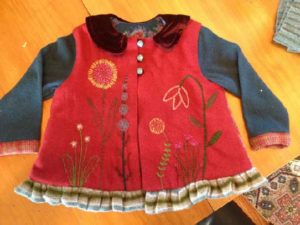 About Jennifer:
This is a coat I designed and made for my niece using recycled and new woollen materials featuring surface embroidery.
I have had a life-long interest in many crafts, including embroidery, knitting, crochet, patchwork and sewing. Over the years I have experimented with creating my own designs and love incorporating recycled materials into my work.  I have always wanted to increase my knowledge about different techniques and the design aspects of embroidery, however, living in a remote area of New Zealand means I am not able to attend formal classes.  I have looked many times at the SST courses and would love the opportunity to be able to participate in one to further my skills.
2. Gem Homan – Patchwork & Quilting
Title: Mbudzi Went Over The Gomo (Patchwork & Quilting)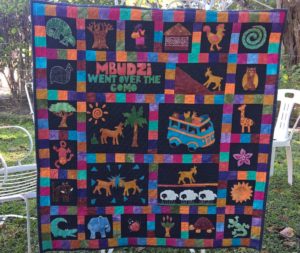 About the Piece:
A Mbudzi is the Shona word for goat and a gomo is a small hill. The panels of the quilt tell stories about my life in Zimbabwe before we left in 2002. The central panels are focused on goats – how you see goats all over the place in rural and urban areas, what hardy animals they are and the significance of the goat in my relationship with my family.
The panels are hand stitched raw applique using hand dyed fabric from the Amafu collection onto black cotton twill background panels. The entire quilt is hand stitched and is approximately 105 cm x 110cm. I have it hanging in my home.
3. Rebecca Tickle – Patchwork & Quilting
Title: Fox Wood Cushion Cover (Patchwork & Quilting)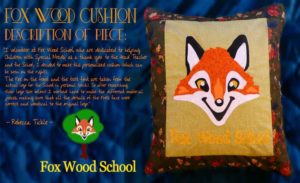 About Rebecca:
I started sewing lessons in March 2017 so I'm pretty much a beginner. After my sewing tutor closed her business last summer I have been left to my own devices, adapting on what little I already know to create my own personal 'themed' projects. From zipped cushions and wall hangings based on Beauty and the Beast, The Hobbit & Sherlock Holmes, to all-season phone and make-up pouches. I log all my project notes in my own sewing book and post photos of my work on social media. I would love to have the opportunity to study Patchwork & Quilting as I would like to be able to sell my own products, but need the guidance, constructive feedback and the right skills. Being able to receive the right help from the right people will give my confidence that much needed boost. Also, I believe that having a certificate/qualification for my work from a highly-ranked association would give me the credibility I need.
4. Emily Goate – Hand Embroidery
Title: Rain Forest Beauty (Hand Embroidery)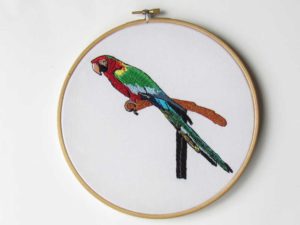 About Emily
I'm Emily Goate, I'm 13 years old and I'm interested in the Hand Embroidery course.
I have been home educated for 5 years so have always been able to follow my passions and interests, I have been doing hand embroidery for nearly 2 years and love creating the colours, patterns and shading in my artwork. I am also a keen photographer so I take my original photographs and turn them into hand embroidered wall art, here is a scarlet macaw I did as part of my Gold arts award. I would love to learn more hand embroidery stitches and techniques to improve my skills in this art form.
5. Marian Wyn Fearon – Machine Embroidery
Title: Stop the Music & Dance
(Machine Embroidery)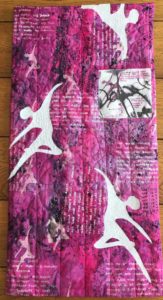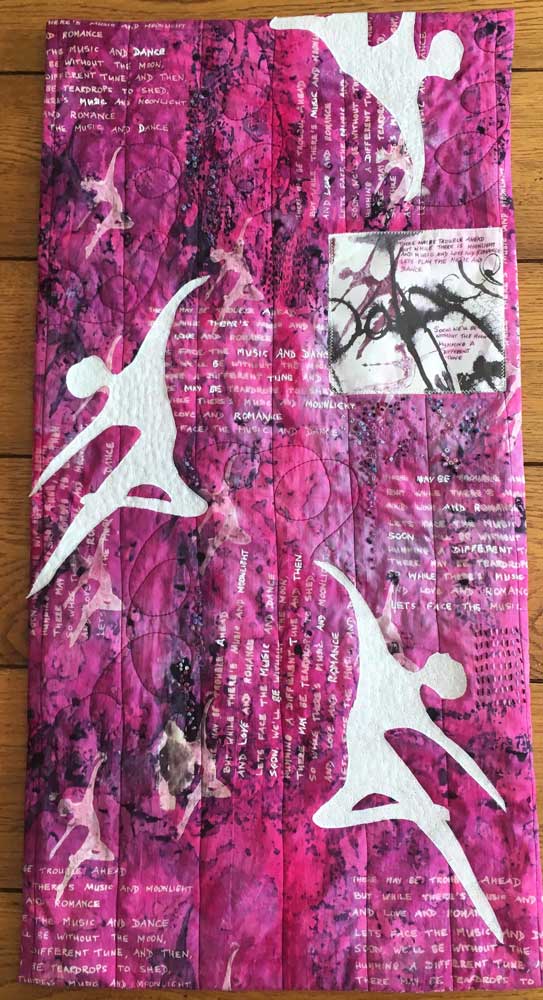 About Marian
This piece is a textile hanging, 18'' x 30''.
I would like to study the machine embroidery course because I have limited embroidery knowledge and skills.
I'm passionate about textile work and this course would help me develop my work to create a more accomplished outcome. I feel that my lack of embroidery skills are blocking my creativity. I'm retired and have time to devote to studying but I don't have the means to finance it. It would be very exciting to be able to create dynamic work with the help of this course.
6. Eve Webb – Felt
Title: Sakura (Felt)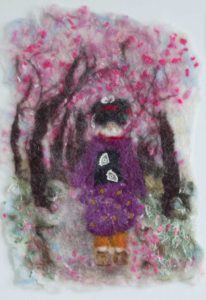 About Eve
Although Felting has only been in my life for a short time, I find myself utterly in love with it. Every spare moment is spent creating or thinking about the next woolly project and salivate when I open a fresh delivery of wool in vivid shades and hues. This piece is a wet and needle felted picture of Japanese cherry blossom featuring a Geisha. This lovely lady, I feel, is trying not to wobble on her high wooden sandals as she takes a stroll through the trees. I have so much still to learn with this wonderful craft and a bursary to study Felting would be the foundations of a new beginning.
And the winner is….
All of the pieces selected were worthy of a place on our shortlist, but there could only be one winner. We received 439 votes in total and we're very pleased to announce that the person with the most number of votes and the overall winner of our Creative Bursary is Jennifer Brown with her entry, Astrid's Coat.
The runner up with the second highest number of votes is Marian Wyn Fearon with her machine embroidery project, Stop the Music and Dance.
Both will receive a bursary to study their chosen subject for free, starting in March 2018.
A huge 'well done' to you both and congratulations to all of our finalists. We'd like to thank everyone who took part and voted and we look forward to reviewing some more entries when we open our Creative Bursary for our Skill Stage 3 courses.
If you'd like to be kept up-to-date with latest news of our Bursary Schemes and apply during our next opening then please subscribe to our mailing list.