Hello,
We have a very special announcement!
As many of you will be aware the courses we offer at the School of Stitched Textiles are unique. As comprehensive textiles educational programmes which are fully accredited by City and Guilds, these are highly valuable and sought after courses. However, we understand that our courses may not always be accessible to everyone.
As the UK's leading centre for accredited textiles distance learning courses, it is our aim to teach and promote creativity allowing students to reach their full creative potential. We strongly believe in the benefits of creative crafting and therefore aim to encourage everyone with an interest in these areas. We also understand the value of our courses and the launch pad they create for individuals wishing to progress their chosen career at the same time as helping to develop lifelong skills and creativity.
We're therefore extremely pleased to share details of our latest creative bursary scheme which will give not one, but two students the opportunity to study a Skills Stage 2 course of their choice at no cost to them. Course tuition will be covered by the School of Stitched Textiles.
Courses you can apply for
We're offering two creative bursaries for the Skills Stage 2 Level courses. These are aimed at beginners so you do not need a lot of technical or design experience. Courses available:
Each course has four core modules and students have 1 year to complete the course. All courses are taught via distance learning allowing students to work through the course materials and follow the tutorial videos when it is convenient for them.
How to apply for our creative bursaries
The aim of the bursary application process is to get to know more about you. We'd therefore like to take a look at a piece of work that you have produced that reflects you as an individual, as well as your passion and commitment to your craft.
Because our Skill Stage 2 courses are aimed at beginners you do not need to demonstrate a high level of technical ability. Instead we'd like to see your own personality and enthusiasm show through in your work. Submit a picture of your work (this must be no larger than 2MB ) by sending it to taster@sofst.org. Please provide your full name, the title of your work and the name of the course that you hope to be awarded a bursary for.  You should also provide a short description about your piece and why you would like the opportunity to study one of our accredited courses. No more than 200 words.  
Remember that your work should reflect the course that you're interested in so, as an example, please supply us with an example of your knitted work if you're interested in our knitting course.
You can either create a new piece, which can be anything of your choice. Or you can simply provide a picture of something that you have made that relates to the course that you're interested in studying.
How work will be selected
Our tutors will short list submissions at the beginning of January. The pieces which have been short listed will then be entered into a poll. Our followers will then be given the chance to vote for their favourite piece.
The piece that receives the most votes will win the bursary and the winner will be informed on 25th January 2018.
Application schedule
8th January 2018: Deadline for submissions
9-14th January: Shortlisting process 
16-23th January: Poll by School of Stitched Textiles followers
25th January: Winner announced
What to submit
If you're a crafting enthusiast like us, chances are you'll have already planned to make something for Christmas or to start a project over the festive period. Maybe you're making your own hand embroidered Christmas cards or planning to make a nice scarf or hat as a gift. Feel free to use any of these examples as your creative bursary submission.
Alternatively you may wish to submit something that you've already made. Just remember that we are looking for a piece that demonstrates your style, your personality or your interest. So, if you've created something that you're particularly proud of then why not share it with us. It could be your ticket to a place on our highly sought after courses.
You can also find some great inspiration on our Flickr and Pinterest boards. These will give you an idea of the type of work that you can expect to produce on each of our courses.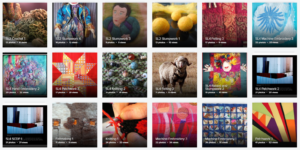 We look forward to seeing your wonderful creations and good luck. If you have any questions please feel free to leave a comment and we'll get back to you as soon as we can. 
Terms and Conditions
We cannot accept any submissions made after the 8th January 2018.
By submitting work to the School of Stitched Textiles you are providing consent for the images to be used across our social media networks and across other marketing communications, such as emails and newsletters and promotional materials. You are also consenting for your work to be entered into a vote that will be issued to the School of Stitched Textiles readers.
The successful student will be informed by the 25th January and announced to the other entrants and followers on the 26th January 2018. The bursary placement is for our March course commencement date. Entrants should ensure that they are available for this start date as we cannot carry the placement over. Courses are non-refundable and cannot be issued to a third party.
You will be responsible for supplying your own tools and materials, as the bursary covers only the course fees, not other outgoings. You will also need access to a computer, printer and camera, so please ensure these things are available to you before applying.